Story highlights
The wasp has a weird sting that knocks its cockroach prey silly
It is named after a flying Harry Potter fiend that sucks humanity out of victims
Branding can get you everywhere, even if you're just a bug. Boy, does the "Ampulex dementor" wasp know it. Over a year ago, officially, no one was aware that it even existed.
But on Wednesday, Harry Potter creator J.K. Rowling retweeted its photo, and the buzz helped propel the insect with a creepy sting to worldwide fame. Possibly for eons before, it had lived in obscurity in an enormous Southeast Asian jungle, until it was discovered last year.
But why would Rowling care? It's all in the name.
The Ampulex dementor is also called "Soul-Sucking Dementor." And the wasp was named for the sooty, skeletal, flying "dementor" character that appears in Rowling's novels and sucks the humanity out of its victims.
One almost got Harry at Hogwarts once, but a schoolmate sprang to Potter's aid.
A whatchamacallit
Over a year ago, when a group of German scientists discovered the wasp in Thailand's Mekong region, Ampulex dementor didn't yet have a name. And the researchers decided to give the public a say in its taxonomy – the scientific term for classifying a newly discovered species.
They took specimens back to Berlin, where they added them to some 30 million other exhibits at the natural history museum, the Museum für Naturkunde.
The Soul-Sucking Dementor looks like other wasps, flies like other wasps. But it has a particular appetite for cockroaches and a somewhat unique sting.
"A. dementor hunts cockroaches, injecting a venom into the mass of neurons on its prey's belly that turns the roach into a passive zombie," the World Wildlife Fund wrote in a statement. "Cockroach wasp venom blocks receptors of the neurotransmitter octopamine, which is involved in the initiation of spontaneous movement."
The roach loses control of its movements, as though it were stoned drunk, and the wasp schlepps it off to a quiet place where it feasts upon it.
The spine-chilling hunting method piqued the imagination of museum goers, who found it befitting of the Harry Potter ghoul's name.
A PR hit
The naming contest in May 2014 was a piece of publicity intended to generate more public interest in the discovery.
"I am convinced that events like this increase people's curiosity about local and global fauna and nature," said researcher Michael Ohl, who worked on the contest. He hoped it would garner more attention for conservation efforts.
It worked.
Though the bug was one of 139 new species discovered in the Mekong last year, including one new mammal, the "dementor" moniker got quick media coverage – though some of the other animals discovered were perhaps, well, way cooler.
After all, other wasps also sting their prey into paralysis – albeit with a less dramatic effect.
Long-fanged bat
That mammal, for example, was a bat with shark-like choppers. That got it the name "Long-Fanged Bat," in science Latin "Hypsugo dolichodon."
There was even another insect that could have easily upstaged the new wasp – an almost two-foot long stick bug, the second largest insect on record. Its name, "Phryganistria heusii yentuensis," doesn't exactly glide off the tip of the tongue.
Also, who hasn't heard of a "stick bug" already?
"Color-Changing Thorny Frog" is a catchy name, and it has a cool survival gimmick, too. At night, "Gracixalus lumarius" is pink and yellow, but during the day its back turns a dull brown to camouflage it.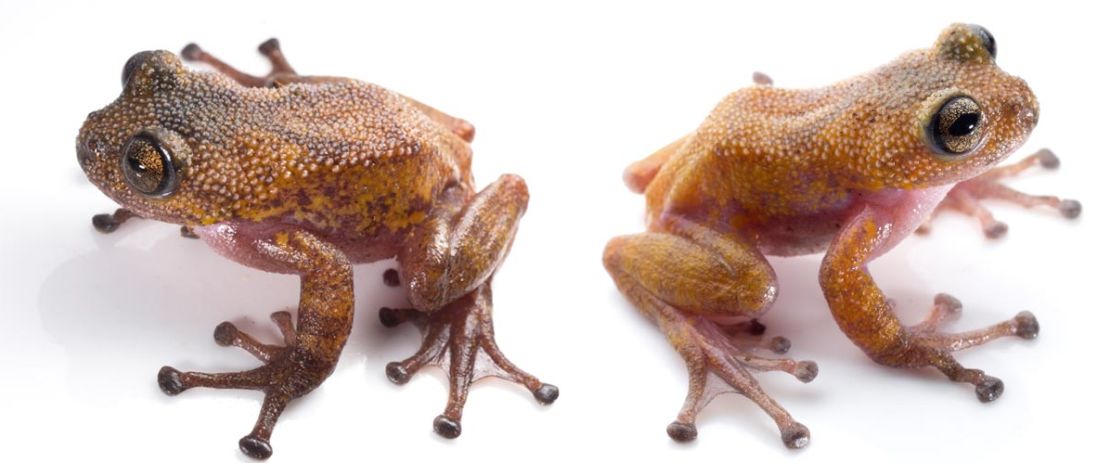 The bent-toed gecko probably got some kind of a door prize. Not for the name but for becoming exactly the 10,000th reptile species known to science, according to the WWF.
But with the Harry Potter name, the "Soul-Sucking Dementor" made top-ten lists and headed up the WWF's roster of the 139 new discoveries. When the WWF tweeted it out at J.K. Rowling (@jk_rowling), she retweeted it the same day.
It's hard for any other creature alive to beat that branding.