Are you affected by the flooding? Please share your images with CNN iReport if you can do so safely.
Story highlights
NEW: Authorities recover the body of a child from the banks of the Blanco River
Three are injured after a tornado hits an oil rig in Hemphill County, Texas
"We're very vulnerable right now," county commissioner says as more rain threatens
A man prepares to toss a rope into the Blanco River, unsure of what will happen next.
Someone is in the murky waters, rescuers believe – but they don't know yet whether the person is alive or dead. The team is hoping for a rescue, but bracing for a recovery.
In the end, this one turns out to be a false alarm. And the search for the missing continues in the flood-ravaged town of Wimberley.
It's a scene playing out over and over as Texas copes with widespread flooding from a storm system that swept through the region.
At least 35 people – 14 in northern Mexico, 15 in Texas plus six in Oklahoma – have died in the severe weather, both tornadoes and flooding from raging rivers. Another nine people are missing.
Stories from the flood: A 'harrowing' rescue, a teen's life cut short
"It's just very heartbreaking, that we have this loss of life," said Kristi Wyatt, city spokeswoman in San Marcos, Texas – one of the hardest hit areas. "Some of those people were in a home together, celebrating the holidays, and they were swept away in the stormwater. … It's just a terrible situation."
And it's not over yet.
More rain is coming, with the National Weather Service noting a chance of storms for at least the next six days in Houston. Areas farther north, including Dallas, are expected to get 2 to 4 inches from Wednesday to Sunday. And parts of eastern Oklahoma will get drenched with 4 to 6 inches of rain.
A storm system moving through part of Texas on Wednesday evening spawned a tornado that hit an oil rig, injuring three people, Julie Boydston with the Hemphill County Sheriff's Office in the Panhandle near Oklahoma said.
Bad weather conditions have made it difficult to get them to hospitals.
"We had tornadoes dropping everywhere," she said, "and ambulances driving through the mud."
Southwest of Houston in Wharton, Texas, officials called for a voluntary evacuation Wednesday on the western side of the city as forecasters warned that the Colorado River was likely to rise above flood stage overnight. Many homes on the west side of the city are already flooded with up to 3 feet of water, according to the National Weather Service.
In Parker County, Texas, west of Fort Worth, authorities issued a voluntary evacuation order for 250 homes along the Brazos River, which is expected to crest 3 feet above flood stage in the coming days.
"We're trying to get people to leave before dark tonight," county emergency management spokesman Joel Kertok told CNN.
As they scramble to search for the missing and clean up devastating flood damage, local leaders say they're well-aware that even a few inches of rain could have major consequences for their communities. River levels remain high, and the ground is already saturated from the recent torrential rains.
"We're very vulnerable right now," said County Commissioner Will Conley of Hays County in Central Texas. "We are preparing for the worst and hoping for the best. … If we were to receive a small amount of rain, we could be right back into an emergency situation."
A harrowing escape
Gayla McNeil barely made it out of her Wimberley home. Water raced inside, busting walls and windows – and smashing furniture in every direction.
With her husband, she tried to wade her way through the water to safety.
They made it higher ground and got in her car. But their escape plan didn't last. Soon, the vehicle was surrounded by water. Then the airbags went off. McNeil was trapped and afraid she wouldn't make it.
"And this man just appeared and pulled me out," she said as she described the harrowing experience to CNN on Wednesday.
Now McNeil, like so many others, is left with a muddy mess to clean up at home, and little that's salvageable. Officials in Texas say more than 4,000 homes may be damaged or destroyed.
She's also left wondering who the man was who helped her as floodwaters rushed in.
"His name is Chance," she said. "That's all I know."
Bodies found
Even as water levels fell, the horror continued Wednesday.
Searchers spent the day in Wimberley, the hardest-hit community in Hays County, looking for people there who are missing and, according to Wyatt, presumed dead.
Their efforts were hindered by the wreckage, as well as a near constant threat of thunderstorms – an inevitable part of late spring in this part of Texas, but a dangerous one if it whips up floodwaters into a frenzy once again.
"Every time in rains, it poses a problem for our guys on the ground," said San Marcos Fire Marshal Kenneth Bell.
This month has been the wettest May on record for the Dallas-Fort Worth area, with 16.07 inches as of Friday morning, according to the National Weather Service. The previous record was 13.66 inches, set in 1982.
On Wednesday, crews found a boy's body on the banks of the Blanco River, Hays County officials said. The search for the eight remaining missing people there were set to continue overnight.
In Houston, after using water pumps, crews found a 31-year-old Hispanic male in a car parked along an entrance ramp to U.S. 59, the city said.
That marked the sixth death so far in Houston, where one person is missing and more danger is possible if Mother Nature strikes again.
Outside the city in nearby Fort Bend County, deputies found a body Wednesday believed to be a 73-year-old woman who'd been missing since she failed to show up to work her shift at the convenience store Monday night. The next day, her daughter spotted her car submerged in a creek. The body was found just 50 yards from that spot, Fort Bend County Sheriff's spokesman Bob Haenel said.
1,400 structures in Houston damaged
In addition to hundreds of stranded vehicles, some 1,400 structures in Houston suffered severe damage as waters crept up.
Saundra Brown recalled her daughter waking her early Sunday with news "the bayou was rising." As the family rolled up their rug, someone knocked on the door asking for shelter after their vehicle got stuck. Soon, it became apparent nobody was going anywhere.
"We just told everybody, 'Get on the couches,' " Brown told CNN. "Then we put the family on the dining room table. (We moved to) the counters next. And if it was going to rise more, we'd go on the roof."
Six hours later, it was finally safe to get their feet back on the soaked ground. The few days since then have been spent bunking with friends and cleaning up.
"It wasn't fun," Brown said. "We're lucky to have a big support structure."
Miracles and tragedies
Good things do happen. So does tragedy. Joe McComb knows both.
His son Jonathan, daugther-in-law Laura, grandson Andrew and granddaughter Leighton were in their vacation cabin in Wimberley on Saturday night as the Blanco River swelled.
First, the family moved their cars uphill then went back into the house, which was on stilts. Within a few minutes, as the waters surged, it became evident they wouldn't be able to get to their cars.
Then came a bang, which Joe McComb thinks was something that knocked the cabin off its foundation and into the raging floodwaters. "All of them gathered in the rooms there, holding onto furniture," he said. They "started floating down the river," he said.
Laura McComb called her sister just before the house hit a bridge and broke apart, scattering the family. Jonathan McComb finally got to dry land about 7 to 12 miles away, his father said.
"He said he was fighting the whole time and saying, 'I've got to get out of here, I've got to get out of here,' " Joe McComb said Wednesday. "And he said, … 'Somehow, I was able to get up and catch a breath of air and finally … work myself up."
Jonathan McComb is now in a hospital with a collapsed lung and broken sternum. As much as he's hurting from that, he's hurting more from the fact his beloved wife, his ballet-loving daughter and his baseball-playing son aren't with him.
"We're hoping and praying that miracles will happen," Joe McComb said. "But at the same time, we're very realistic."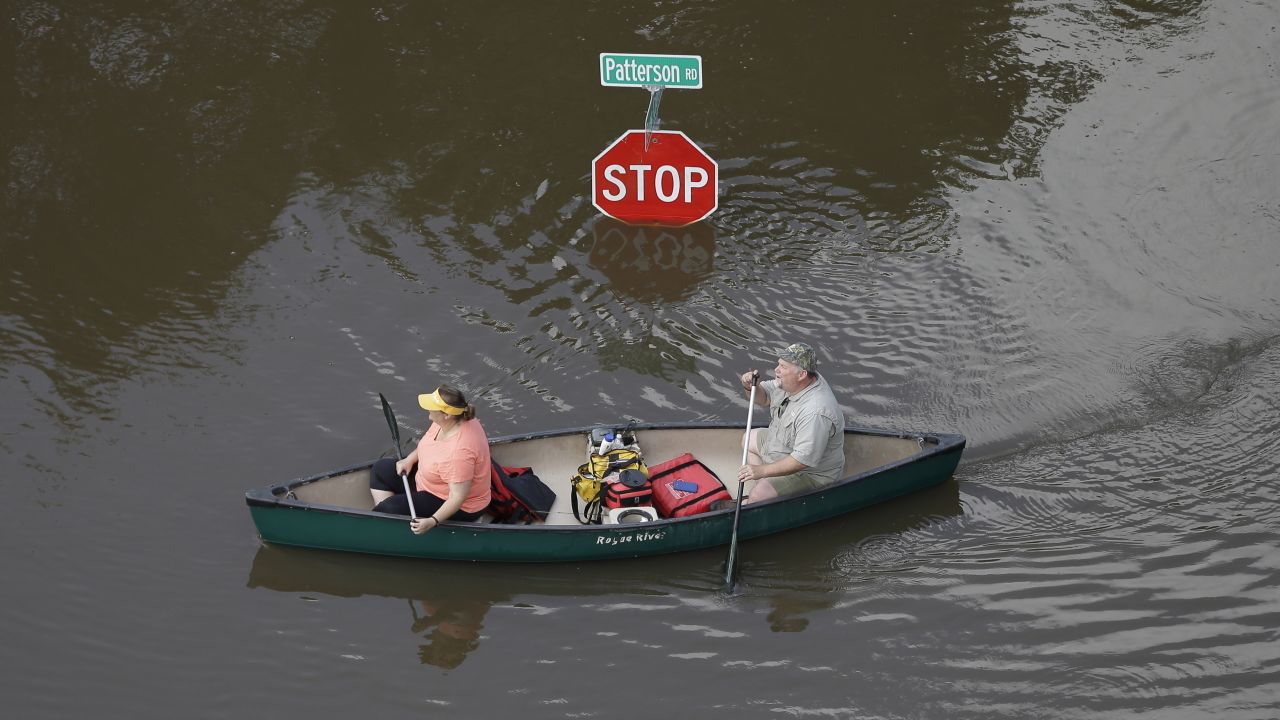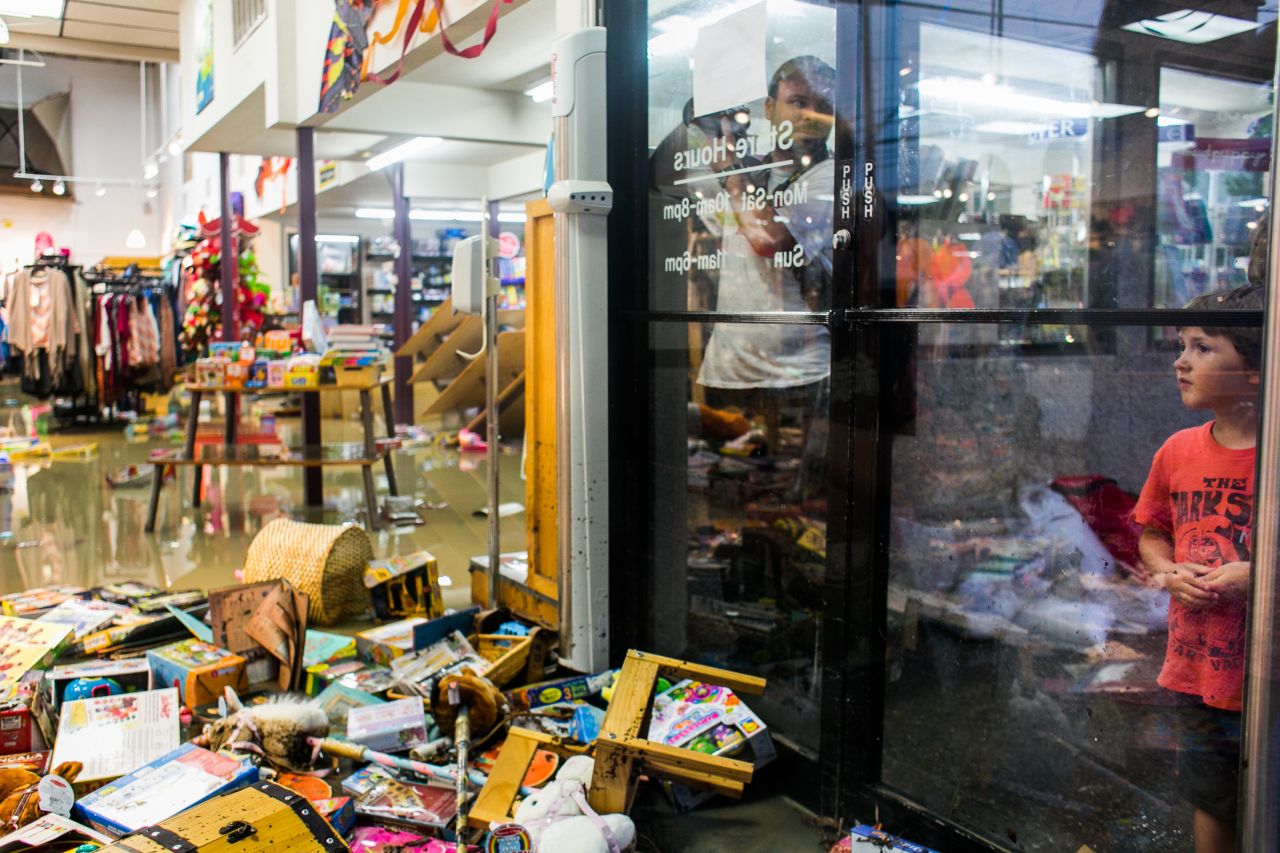 Texas flooding
CNN's Ana Cabrera reported from Wimberley. CNN's Greg Botelho and Catherine E. Shoichet reported from Atlanta. CNN's Holly Yan, Dave Alsup, Rosa Flores, Dana Ford, Christina Zdanowicz, AnneClaire Stapleton, Shawn Nottingham, Jennifer Gray and Ed Lavandera contributed to this report.