A source close to John Kasich said Sunday that the Ohio governor is "very likely" to run for president, but cautioned there would be nothing definitive for at least a few weeks.
In late April, Kasich made a round of appearances in Washington including at the New America Foundation's annual conference where he told CNN, "If I can win, I'm likely to run."
On Sunday, the source close to Kasich, a former congressman who is serving his second term as governor, said that fundraising was still an issue for any possible candidacy. Even so, sources close to Kasich have been sending out positive signals.
RELATED: Kasich presidential run looks 'pretty good'
Not surprisingly, Kasich has recently ramped up his pre-presidential activities, making media appearances, spending time in South Carolina and New Hampshire, and establishing a so-called 527 political committee. That advocacy group – "New Day for America" – allows him to raise funds and provides a litmus test of financial support for any eventual run.
In an April interview on CNN's "State of the Union," Kasich said at least one of his possible competitors – Hillary Clinton – could win his key battleground state of Ohio.
"Of course she could win. I think anybody on those lists are capable. It's just a matter of how they project themselves," Kasich said. "She'll be a very formidable candidate."
He declined to address specifics about the current controversy surrounding Clinton and the funding of the Clinton Foundation saying, "When you are involved in both public and private, you have to be very careful."
Kasich acknowledged his past – time spent working for Lehman Brothers before its collapse – could be a factor in his own candidacy. But he freely criticized the industry that used to employ him.
"I've said all along that I think there's too much greed on Wall Street," Kasich said last month. "The reason I say it is because I saw it. The fact is, there's nothing wrong with making money. There's a lot of good. But you can't just be totally dedicated to making money without, you know, sort of doing some good in the process."
Back in front of the New America audience, Kasich acknowledged being seen as a presidential contender had at least one advantage.
"One good thing about thinking of running for President is that I get invited to stuff like this, where I can talk about what I care about. If I wasn't doing this, I'd probably be serving the meal."
Photos: John Kasich's political career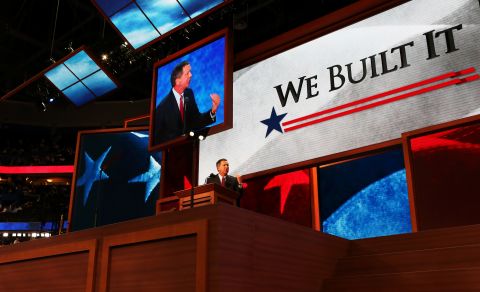 Photos: John Kasich's political career
Photos: John Kasich's political career
Photos: John Kasich's political career
Photos: John Kasich's political career
Photos: John Kasich's political career
Photos: John Kasich's political career
Photos: John Kasich's political career
Photos: John Kasich's political career
Photos: John Kasich's political career
Photos: John Kasich's political career