Story highlights
Executive Bob Gildersleeve is among the eight killed, his family says
Derrick Griffith, a college administrator in New York City, died in the crash
Rachel Jacobs, chief executive of the small tech company ApprenNet, is also among the victims
A U.S. Naval Academy midshipman. A Wells Fargo executive. An Associated Press video software architect. A chief executive of a small tech company.
They are among the seven people who died in Tuesday night's derailment of Amtrak Northeast Regional Train 188 in Philadelphia.
Amtrak's Northeast Corridor, which runs between Washington and Boston, is North America's busiest railroad, with 11.6 million riders in fiscal year 2014. Every day, trains reaching speeds between 125 mph and 150 mph carry government officials, college students, people getting away for the weekend and corporate commuters along 363 miles of track.
Every day, trains reaching speeds between 125 mph and 150 mph carry government officials, college students, people getting away for the weekend and corporate commuters along 363 miles of track.
What we know about the train's engineer
Train 188 was on its way from Washington to New York, carrying 238 passengers and five crew members at the end of another workday.
Here's a closer look at some of the victims:
Laura Finamore
"An incredibly loving and giving person," is how the family of Laura Finamore, 47, described her in a statement.
Finamore was raised in the Douglaston section of Queens, New York, with her three brothers. She was a graduate of George Washington University and most recently was as a managing director at Cushman & Wakefield.
The family said, "Laura's smile could light up a room and her infectious laughter will be remembered for many years to come."
Giuseppe Piras
Giuseppe Piras was visiting the United States on business, said Italian news agency ANSA. Italy's consul general in Philadelphia, Andrea Canepari, confirmed his death.
Piras, 41, was a wine and oil merchant, according to the Italian newspaper Leggo, which said he is from the small municipality of Ittiri on the island of Sardinia.
Piras took the train after missing a flight Tuesday, his family told the paper. He spoke to his father a few minutes before boarding the Amtrak train, according to his uncle Filippo, who said the younger Piras was in a hurry and told his father he would call him back later.
"He was very satisfied with his work" his uncle added. "(He) was a young man who was busy. We are shocked."
Justin Zemser
The U.S. Naval Academy midshipman described as a "great kid and genius" was identified from the name emblazoned on his uniform, a family member said.
Zemser, 20, was from Rockaway Beach in Queens. He was a sophomore at the Annapolis academy, according to his Naval Academy profile.
About 160 midshipmen from the Naval Academy's 17th Company, Sprint football team and Jewish Midshipman Club attended services for Zemser on Friday in Hewlett, New York. The full military honors included a bugler and burial detail from Naval Station Groton, Connecticut.
An additional memorial service for midshipmen, faculty and staff will be held at the Naval Academy on Sunday.
The academy notified his family of his death Tuesday night, a family member said. His parents "are beside themselves."
"The Brigade of Midshipman, staff and faculty were notified of the midshipman's death this morning," the Naval Academy said. "The Naval Academy is supporting the midshipman's family, friends and loved ones during this time of grief."
His roommate, Brandon Teel, told CNN that Zemser was "a phenomenal human being."
"He made me better," Teel said. "We made each other better. Just his desire to constantly get better – he wanted to better himself, he wanted to better this country. He cared so much. I think that's what really defined him.
"… He's like a brother. I've only known him for two years and I know him better than many people I've known for my whole life."
Zemser attended Channel View High School and was a two-year letter winner on the football team as a wide receiver. He was team captain in 2011 and 2012, when he was named to the All-Borough Team. He also was elected as the student government president.
"Justin was a talented, highly respected young man with a tremendously bright future," U.S. Naval Academy Superintendent Vice Adm. Walter "Ted" Carter Jr. told CNN affiliate WJZ on Thursday.
"He was a loving son, nephew and cousin, who was very community-minded. This tragedy has shocked us all in the worst way, and we wish to spend this time grieving with our close family and friends," said Zemser's mother, Susan Zemser.
Jim Gaines
The death of Associated Press video software architect Jim Gaines, who once won the company's "Geek of the Month" award, was confirmed by his wife, Jacqueline, the news service reported.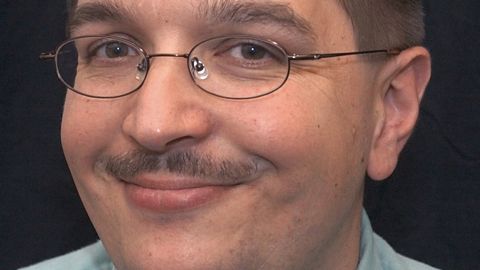 The Associated Press said Gaines was a 48-year-old father of two. He had been attending meetings in Washington and was returning home to Plainsboro, New Jersey. He is also survived by his 16-year-old son, Oliver, and daughter, Anushka, 11.
In a statement, Jacqueline Gaines said: "Jim was more precious to us than we can adequately express. We kindly request that you respect our wishes for privacy as we absorb this incredible loss. In due time, we will make a statement that will fully reflect the incredible person that Jim was."
Gaines had worked for the wire service since 1998. He was a video software architect, meaning he worked on the wire's distribution of news video to customers around the world.
Abid Gilani
The death of Wells Fargo executive Abid Gilani was confirmed by his company. He was senior vice president of its hospitality finance group and was a valued member of the division, a company spokeswoman said.
"Devastated by the death of my nephew Abid Gillani a senior executive of Wells Fargo Bank in the train accident," his uncle, Zahid Hussain, posted on Facebook. "He was returning to New York after attending funeral of my brother Shahid Husain in Washington."
Prior to joining the bank, he worked for Marriott International in various capacities, including the chief financial officer, according to his LinkedIn page.
"Abid was a dear person," said his wife, Diane. "He was a very kind person. … He was a kind family man, and we have suffered a tremendous loss. He will be sorely missed. He was really a wonderful person."
Rachel Jacobs
Rachel Jacobs was chief executive of the small tech company ApprenNet. She is survived by her husband and 2-year-old son.
Rachel Jacobs, 39, was chief executive of the small tech company ApprenNet and commuted from her New York City home to the company office in Philadelphia. She is survived by her husband and 2-year-old son. "We lost not just a CEO, but a friend. We are heartbroken," said Emily Foote, ApprenNet's COO.
"This is an unthinkable tragedy. Rachel was a wonderful mother, daughter, sister, wife and friend," her family said. "She was devoted to her family, her community and the pursuit of social justice. We cannot imagine life without her."
Jacobs was a passionate entrepreneur and community builder on behalf of Detroit expats. In 2007, she founded an organization called Detroit Nation. It has local chapters in cities around the country, aiming to unite Detroit expats and encourage them to stay active in the revitalization efforts of their home city, said Alex VanNess, who knew Jacobs through the organization.
Derrick Griffith
Dr. Derrick Griffith, a dean of student affairs for City University of New York Medgar Evers College, was also among the fatalities, according to Jamilah Fraser, spokeswoman for the university. He lived in Brooklyn.
He was the founding director of CUNY Prep in New York, Fraser said. He earned his doctorate in philosophy last month.
Bob Gildersleeve
Bob Gildersleeve, a businessman who'd been missing since Tuesday, was among the victims, his sister-in-law, Barri Grant, said Thursday.
He was an executive at Ecolab, a St. Paul, Minnesota-based chemical company. Grant told CNN that the father of two, who lived in Maryland, had been going to New York on business.
Gildersleeve worked for Ecolab for 22 years, according to chairman and CEO Doug Baker. "We are deeply saddened by the loss of our friend and colleague," a statement said. "Bob was an exceptional leader and was instrumental to our success. We will greatly miss him."
A statement provided on behalf of his wife, Danna Leiner Gildersleeve, said:
"He has been my best friend for 29 years and we just celebrated our 18th wedding anniversary and Mother's day on Sunday. He is a remarkable Dad to our daughter Ryan and son Marc. He is a loving son, brother and is definitely the 'fun' Uncle to his nieces and nephews.
"He is funny and sarcastic and lights up any room with his presence, humor and enthusiasm. He has been a dedicated employee and friend to his Ecolab family for over two decades. Our hearts are broken and we can't imagine a life without him. We will miss him with all our heart."
CNN's Lorenzo Ferrigno, David Shortell, Kristina Sgueglia, AnneClaire Stapleton, Brian Stelter, Sara O'Brien, Aaron Smith and Christine Bear contributed to this report.