Jeb Bush has his eyes on Nevada – a state that is aiming to become a bigger player in presidential politics.
Bush's attention – and that of the growing Republican field – could result in more competition here after much of the 2008 and 2012 presidential field ignored the state, despite its fourth-in-the-nation nominating status.
Bush, who hopes to appeal to Nevada's ever-growing Hispanic voting bloc, visited the state for the second time since March on Wednesday, just days after hiring well-regarded strategists to run his Nevada operation.
His visit is among stops made by a throng of other White House hopefuls who are hoping to seize momentum in a state dominated by Mitt Romney and Ron Paul in the past two contests.
RELATED: Student confronts Jeb Bush on ISIS
Nevada didn't become an early-voting state until 2008, so the past two cycles have also been experimental – and Republicans here will tell you the caucuses didn't go so well. "Confusing" and "complicated" are two words thrown around to describe the process. The state party is now pushing for a primary instead in 2016.
Thanks to support from the state's Mormon population, Romney won more than 50% of the caucus vote in 2008 and 2012, while Paul struck a chord with the state's more libertarian faction and won over a slate of delegates.
But with Romney off the ticket this cycle, Nevada's caucuses are wide open, and White House hopefuls are making the Silver State a more significant part of their calculation. Bush made Nevada his first early-state stop this year when he road-tested his stump speech in March, before going on to Iowa, New Hampshire and South Carolina.
"You're part of the big four in February. It's hugely important," Bush told local reporters after he held a town hall in Reno on Wednesday morning.
During the event, Bush told the crowd of about 150 people that he "had a blast" campaigning for his father in Nevada during the general elections. But he was quickly corrected on his pronunciation of the state. Like many out-of-staters, Bush pronounced the state's name "Nev-AH-da" at the top of his speech.
"Nev-AD-a," members of the audience shouted out.
"Nev-AD-a," he repeated back. "Well, got that out of the way. Thank you."
RELATED: Iraq haunts Jeb Bush in 2016
Further signaling his interest, Bush hired two well-regarded Republican operatives: Ryan Erwin, a top adviser to Nevada Rep. Joe Heck, who won re-election last year in a swing district, and a strategist from Erwin's firm, Scott Scheid.
The ground game in Nevada is certainly no cakewalk. While voters are largely concentrated in the Las Vegas and Reno areas, a sizable portion of Republican caucus-goers live in the rural areas of the sparsely populated state that covers 110,000 square miles.
"It'll be interesting to see how the candidates play that strategy," said David Damore, a political science professor at the University of Nevada, Las Vegas. "If you advertise in Vegas, you're getting three-fourths of the voters, but the most Republican parts of the state are the hardest to reach."
For Bush, Nevada also provides a bit of a blank slate. The state's presidential preference vote wasn't in play during the campaigns of his father and brother, so there's no significant primary history for Bush to compete with or live up to – unlike in Iowa, New Hampshire and South Carolina. (Since Nevada is a swing state, however, his father and brother both competed here during the general elections.)
Also of note, Nevada Gov. Brian Sandoval is, like Bush, a big backer of Common Core and can provide Bush with cover as he treads through strong sentiments against the controversial testing standards. Sandoval endorsed then-Gov. Rick Perry early on in the last cycle, but it's unclear whether he'll choose a candidate this time around, given that he could run to replace retiring Sen. Harry Reid on Capitol Hill.
RELATED: Bush tries to move past Iraq questions
The Nevada governor's support will nonetheless be courted.
Answering questions about whether Bush is considering Sandoval as a potential running mate, Bush told reporters Wednesday that he's a "big fan" of the governor.
"I enjoy our friendship," he said, but added, "It's way premature for someone who is considering running to be talking about that."
And with the sixth-most populous Hispanic electorate in the country, Nevada gives Bush further incentive to showcase his ties to the Hispanic community. Bush and his wife, who's from Mexico, lived in Venezuela when they were younger and now live in South Florida. Bush is fluent in Spanish and stands by his unpopular push for a path to legal status for undocumented workers.
While Bush meets resistance over his immigration proposal from Republican primary voters in other early-voting states, Damore expects "he'll get a pass" in Nevada because the issue is less of a fiery topic in the state, where more than one-quarter of the population is Hispanic.
"Immigration is not an animating issue here like taxes or the scope of government," Damore said.
Florida Sen. Marco Rubio, who's also angling to compete for Hispanic voters, lived in Las Vegas when he was younger and recently brought on Nevada Lt. Gov. Mark Hutchison as his state chairman. The son of Cuban immigrants, Rubio has said he still has family in Southern Nevada, where his father worked as a bartender at the Sam's Town Hotel and his mother worked as a housekeeper at the Imperial Palace hotel.
"We have great affection for Nevada," Rubio told the Las Vegas Review-Journal when he visited the state in February during his book tour. "We look forward to coming back many times."
Kentucky Sen. Rand Paul, however, has been perhaps the most organized on the ground in Nevada, with an infrastructure that he in part inherited from his father's presidential campaigns. While Romney snagged a majority of the vote in the 2012 caucuses, Paul ultimately won more delegates, and they protested loudly at the Republican National Convention later that year.
It's because of that situation that the state GOP chairman is now pushing for Nevada to hold a primary instead of a caucus. "It was a total disaster the way it was handled. It was an embarrassment for the state," Nevada GOP Chairman Michael McDonald told the Washington Examiner.
A primary, however, could potentially dilute the pro-Paul activists who are still organized at the caucus level and attract a broader pool of voters – a setback for Paul but a potential benefit for candidates like Bush.
But Team Rand doesn't see it as a problem.
"Rand can and will compete in whatever selection process chosen by the people of Nevada," said Doug Stafford, a top Paul adviser.
At the Bush town hall, one woman asked the former governor how he plans to unite the divided party in Nevada. Bush said Republicans aren't always going to agree with one another but that they need to focus on winning.
"We need to get back to 'How do you get to 50?'" he said. "My focus will be on not turning back and getting into a food fight with people that might not agree with me completely — put on your big boy pants and take it."
Other White House hopefuls have visited the state in part to court support from Republican megadonor and casino titan Sheldon Adelson, who supported Newt Gingrich and who's known for his staunch support of Israel. Last month, Texas Sen. Ted Cruz and Perry flocked to the Republican Jewish Coalition's spring meeting in Vegas.
In addition to his town hall in Reno on Wednesday, Bush headlined the Clark County Republican Party's Lincoln Day dinner at the Orleans Hotel in Las Vegas. Ben Carson was also in town on Wednesday night to headline a dinner that raises money for Opportunity Village, a nonprofit that helps people with intellectual disabilities.
"This time, I think we're going to be hugely competitive," said Aaron Sims, who's running for mayor of Carson City. "You're going to see a lot more of the percentage of the vote being divided among these candidates."
Photos: Potential 2016 presidential candidates
Photos: Potential 2016 presidential candidates
Photos: Potential 2016 presidential candidates
Photos: Potential 2016 presidential candidates
Photos: Potential 2016 presidential candidates
Photos: Potential 2016 presidential candidates
Photos: Potential 2016 presidential candidates
Photos: Potential 2016 presidential candidates
Photos: Potential 2016 presidential candidates
Photos: Potential 2016 presidential candidates
Photos: Potential 2016 presidential candidates
Photos: Potential 2016 presidential candidates
Photos: Potential 2016 presidential candidates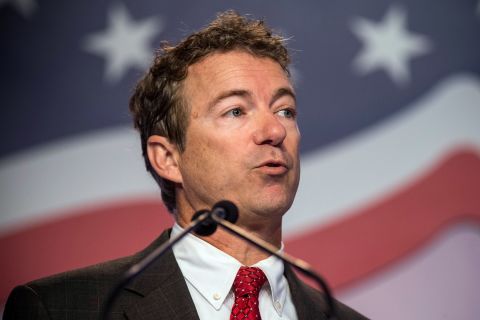 Photos: Potential 2016 presidential candidates
Photos: Potential 2016 presidential candidates
Photos: Potential 2016 presidential candidates
Photos: Potential 2016 presidential candidates
Photos: Potential 2016 presidential candidates
Photos: Potential 2016 presidential candidates