When President Barack Obama welcomes America's Persian Gulf allies to the White House and Camp David this week, he will be confronting a group of countries that are assertively strengthening their own alliance as a counterweight to Iran and staking out a new status quo with the United States.
Obama invited the heads of the Gulf Cooperation Council – a union of the oil-rich monarchies of Saudi Arabia, Kuwait, Bahrain, Oman, Qatar and the United Arab Emirates – for a summit beginning Wednesday night after reaching a nuclear framework deal in April curbing Iran's nuclear program.
READ: White House looks to upgrade alliance with gulf states
A formal U.S.-GCC gathering to discuss security is long overdue, and reflects the level of concern the gulf nations have over Iran's growing influence in the region. The gulf states, along with Israel, worry that the deal with Tehran will pave the way for a nuclear bomb rather than prevent one, and unlock billions of dollars that Iran will use to wreak havoc in the region.
That fear has forced the six nations to overcome a host of internal differences, heal long-standing rifts and show a level of unity that has been lacking. It has also led the bloc to show less deference to the United States, even as the countries are eager for heightened U.S. security guarantees given the growing threats in the region.
The meetings are also expected to address a long list of crises unfolding in the Middle East, from the civil war in Syria and the growth of ISIS to the conflict in Yemen and Islamic extremism in Libya.
'We don't have to ask America's permission'
"There is a determination among us now that if there are security issues, we have to take action and we will," one senior Arab diplomat said. "We don't have to ask America's permission. We of course will collaborate with the U.S., but we won't wait for America to tell us what to do."
The recent Saudi action against Iranian-backed Houthi rebels in Yemen and airstrikes by the UAE and Egypt against extremists in Libya are reflective, diplomats said, of a fresh determination by gulf states to manage security in the region, regardless of Washington's involvement or even approval.
U.S. administration officials said it makes perfect sense that the gulf countries want to take more responsibility, but cautioned that if they want a true partnership with the United States, Washington's viewpoint must be taken into account.
"You don't ask for our help and then say: 'Regardless of what you do or say, we are going to take action,'" one senior administration official said. "That would be hard to accept intellectually and would just not work in terms of U.S. interests because what they do impacts our own vital stake in this revision."
But gulf countries perceive a lack of U.S. engagement in the Middle East in recent years, particularly in relation to the civil war in Syria. That, in turn, has intensified the bloc's internal cooperation and willingness to take unilateral action.
Gulf diplomats said new Saudi King Salman bin Abdulaziz al Saud, who has quickly sought to reassert his country's dominant role in the region with the unprecedented military strikes in Yemen and against ISIS in Iraq and Syria, has ushered in a new spirit of GCC collaboration, under which their countries are working to present a common front against Iran and Islamic extremism.
"The GCC will come with new leadership," said Mohamed al-Kuwari, Qatar's ambassador to the United States, of this week's summit. "We want to see America engaged, but we will show our commitment to countering terrorism."
Gulf diplomats said the U.S.-led campaign against ISIS has repaired some U.S. credibility in the region, which had hit a historic low in recent years. But there are concerns the United States is eager to strike a nuclear deal with Iran in order to secure Tehran's cooperation in the fight against ISIS.
"We will have frank discussions with the President. We will be against ISIS, but that doesn't mean we are going to let Iran win," an Arab diplomat said.
New U.S. security assurances
Despite the differing views, the two-day summit is expected to produce a package of U.S. security assurances reaffirming the U.S. commitment to the security of its gulf allies as the U.S. seeks to conclude a final nuclear pact with Iran by the end of June.
Administration officials said the White House is moving toward significantly upgrading the status of its alliance with key Middle East states, and is likely to provide "major non-NATO ally" status to GCC members.
Such a designation provides privileges only otherwise available to NATO allies, including special military training and assistance. It could also loosen restrictions on weapons sales.
While these arrangements are ones the gulf states are eager for, the move falls short of the formal defense pact several gulf states are seeking.
READ: The Saudi leadership shuffle
"I think we are looking for some form of security guarantee, given the behavior of Iran in the region, given the rise of the extremist threat," said Yousef al-Otaiba, the United Arab Emirates ambassador to the United States.
"In the past we have survived with a gentleman's agreement with the United States about security. I think today we need something in writing. We need something institutionalized," he said.
The Obama administration is reluctant to provide a full-fledged security treaty akin to the ones the United States has with Japan and South Korea that ensure America will come to their defense. Such a legally binding pact would be too complicated for the United States to take on, and would in any case have to be ratified by Congress, which it is likely to resist doing out of concern for Israel's security.
But several U.S. officials said Obama is prepared to bolster assurances to gulf allies that the United States would come to their defense if they were under attack from Iran or other outside forces.
No written defense treaty
"A written treaty is not feasible and it's not necessary," one senior U.S. official said. "But the President will reaffirm and strengthen his commitment to strong security ties to these countries."
There has been speculation that gulf dissatisfaction with the security package on offer led the Saudi king to pull out of the summit at the last minute. Now only the leaders of Qatar and Kuwait are attending, with Saudi Arabia, Bahrain, the UAE and Oman dispatching deputies.
This changes the nature of the conversation, as heads of state can deliver to the President certain commitments that their deputies cannot. However, both Obama administration officials and diplomats from the region said they expect a strategy for long-term cooperation between the United States and its gulf allies to begin to emerge from the consultations.
Bahrain and Kuwait are already designated as major non-NATO allies. Bahrain, home to the U.S. Navy's Fifth Fleet, was given the designation by President George W. Bush in 2002. Bush then extended the status to Kuwait in 2004 for supporting the U.S.-led invasion of Iraq and serving as a staging ground for American troops.
Israel, Egypt and Jordan also enjoy major non-NATO ally status, as do Afghanistan and Pakistan.
Officials said the United States had already been making moves to reassure Arab allies of Washington's commitment to its security, pointing to U.S. support for Saudi-led airstrikes in Yemen and the moving of an aircraft carrier group to the Yemeni coast as a show of force against an Iranian convoy feared to be delivering weapons to the Houthi rebels there.
The additional assurances are likely to include joint training missions for American and gulf allies and additional weapons sales. The types of weapons, however, are governed by restrictions on American defense firms meant to ensure Israel maintains a military advantage against its adversaries in the region.
Washington also intends to discuss plans for a gulf-wide missile defense system at the gathering. Such a system would require the GCC countries to coordinate much more closely on defense issues.
While fears about Iran have created a new level of political coordination among the gulf states, the militaries of the region have yet to integrate their disparate security networks in a way that would allow for common security.
"I don't believe there's a single country (in the GCC) that doesn't think a defense shield for the region is a bad idea," al-Otaiba said.
"The challenge is, how do you turn on a regional defense system when different countries are purchasing different equipment and at different paces?" he said. "How do you get radars to talk to each other?"
And some gulf watchers said that even with the fresh deliverables the Obama administration is likely to offer them this week, U.S. Arab allies may leave Camp David wanting if they don't receive the ironclad security assurances they are seeking.
Differing Iran threat assessments
"I don't think the White House shares the same threat perception of Iran that countries in the region do," said Adam Ereli, a former U.S. ambassador to Bahrain. "Until the time that they share that threat perception and are willing to match Iran's power with power by confronting them in the region, I think the gulf states will remain unsatisfied."
Going forward, Ereli said, it will be incumbent upon the United States to provide its gulf allies with continued assurance that Washington has their back.
"Summits in and of themselves can be showpieces or stimulants to action," Ereli said. "I think it's going to take a lot of American persistence to set up regular consultations and a program of cooperation. There is definitely the need, but I'm not sure about the willingness."
Still, participants were expressing optimism leading up to the meetings, which starts Wednesday night with a dinner hosted by President Obama at the White House.
"This is a discussion about what we can do together – the United States and the GCC in dealing with these challenges," Deputy National Security Adviser Ben Rhodes said Monday in a conference call with reporters.
Kuwari, the Qatari ambassador, agreed.
"We want to have closer relations with the U.S., not just in crisis," he said.
Pointing to America's developing relationship with the GCC as a bloc rather than as individual countries with separate bilateral ties, he added, "This meeting should open a new era."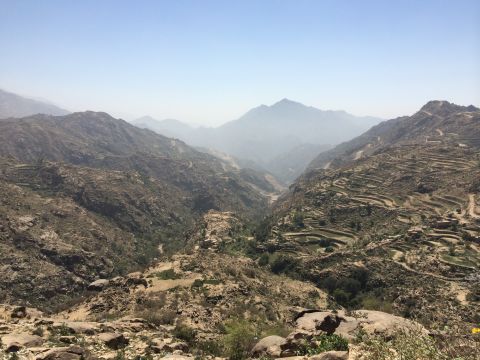 Photos: The thin line against terrorism: How Saudis struggle amid Yemen chaos
Photos: The thin line against terrorism: How Saudis struggle amid Yemen chaos
Photos: The thin line against terrorism: How Saudis struggle amid Yemen chaos
Photos: The thin line against terrorism: How Saudis struggle amid Yemen chaos
Photos: The thin line against terrorism: How Saudis struggle amid Yemen chaos
Photos: The thin line against terrorism: How Saudis struggle amid Yemen chaos