Have you been affected? Tell us your experiences but stay safe
Story highlights
NEW: The death toll in Nepal rises to 65; others killed in India and China
Aftershock sends survivors running from their homes before dawn Wednesday
U.S. officials: Helicopter with six Marines and two Nepalis goes missing
• At least 65 people have died in Nepal from Tuesday's magnitude-7.3 earthquake there, the Nepali government said Wednesday. The number of people injured now stands at 1,926, said Nepali Home Ministry spokesman Laxmi Prasad Dhakal.
• At least 17 people in India have also died as a result of the tremor, Indian Home Ministry spokesman Kuldeep Dhatwalia told CNN. A woman in Tibet, a region of China, was killed by falling rocks, the Chinese state-run news agency Xinhua reported.
• A U.S. military helicopter was declared missing Tuesday while in Nepal to support earthquake relief efforts there, officials said. The UH-1 Huey helicopter had six U.S. Marines and two Nepalis aboard at the time, the Pentagon said.
• Aftershocks continued predawn Wednesday in Nepal. A CNN team there felt one such big one at 2 a.m. local time that shook buildings and terrified survivors, many of whom were sleeping outside or ran from their homes.
Full story
Just over two weeks after thousands died in a mammoth earthquake, Nepal got hit hard again Tuesday by another powerful tremor that has left dozens more dead, more than 1,000 injured and questions about what's next for the already traumatized Asian nation.
Tuesday's disaster piled fresh horror on Nepalis still picking up the pieces from last month's quake and its legion of aftershocks. More buildings collapsed, more landslides rumbled and people once again scrambled for their lives.
"For the first seconds, it was complete silence. By the fifth second, everybody started to scream," said Marc Sarrado, a 41-year-old documentarian from Spain who was in Nepal's Nuwakot Valley, about two hours northwest of Kathmandu, when the quake hit.
"It was really, really intense. Even when the shaking stopped, people were still screaming. They were completely panicked, because they knew exactly what it was."
Tuesday's magnitude-7.3 earthquake struck about 9.3 miles (15 kilometers) deep, the U.S. Geological Survey said. In comparison, the magnitude-7.8 quake on April 25 – which killed more than 8,000 people – was centered to the northwest, rather than to the east, of Kathmandu and a little farther away (48 miles rather than 47 miles). Although at a similar depth, that earlier tremor was more than three times bigger and 5.6 times stronger, in terms of energy released, according to the USGS.
Tuesday's quake was weaker but still deadly.
Nepali Home Ministry spokesman Laxmi Prasad Dhakal said Wednesday morning that at least 65 people in his country had been killed. The number of injured stood at 1,926, he said. Dozens of people were rescued alive from rubble, according to officials.
The carnage wasn't confined to Nepal. China's state-run news agency Xinhua reported that a woman in Tibet died Tuesday afternoon after falling rocks hit the car she was in. At least 17 people were killed in northeastern India, according to Indian Home Ministry spokesman Kuldeep Dhatwalia. India's military was also involved inside Nepal, caring for casualties and flying them by helicopter from the village of Mrigu to Kathmandu.
This latest quake only adds to the stress for residents of a region who had been trying to return to normalcy, until Mother Nature reasserted her destructive power.
It was "like the whole Earth was alive," said Asim Rai, after huddling with his family in Kathmandu.
Throngs rush out into the streets of Kathmandu
Once again, residents of Nepal's capital and most populated city found themselves in the middle of a nightmare, in the middle of the day.
Open space is often a precious commodity in Kathmandu, but especially on Tuesday. The city's roads quickly clogged with people, many of them crying, according to Sajan Sharma.
CNN iReporter Prashup Rajbhandar initially huddled with loved ones as his four-story house swung back and forth, before rushing outside. Now, fearing a crack in his house, he's not sure whether he'll ever go back home – instead making do by cooking on his lawn and sleeping in cars.
"People are very scared," Rajbhandari said. "And they don't know what is going on."
Another resident of the capital, Mingma Sherpa, said he and his friends jumped out of his car when they felt the earth begin to tremble. They ran with crowds of other people desperately seeking open space in a congested area of Kathmandu where there are few.
The quake also caused a spasm of chaos at Kathmandu's airport, where Channel NewsAsia reporter Jack Board filmed hundreds of people running from the building as the ground rumbled.
Paul Dillon, a spokesman for the International Organization for Migration, saw "hundreds of people pouring out of … buildings (amid) a lot of confusion, a lot of anxiety" as he drove around Kathmandu. Colleagues reported many collapsed buildings and others on the verge.
"You never get used to seeing telephone poles swaying and surfing past you," he told CNN. "Or buildings just wobbling … as the earth moves beneath your feet."
A return of landslides, destruction and fear
While more people may have been affected in Kathmandu than anywhere else in the region, simply by virtue of its size, that doesn't mean it was hit the hardest.
Sabin Shrestha, a social activist, saw people run toward the hills in a village on the capital's outskirts as fresh cracks appeared in dozens of houses.
As happened late last month, the tremor set off landslides. Landslides also occurred around Sindupalchowk, the district that suffered so much late last month. Anil Thapa, a journalist there, reported multiple houses down.
People in Lukla, a town that serves as a gateway to the Mount Everest region, rushed to the airport so they could be in an open area as the earth shook again. Most of Lukla's buildings are perched precariously on hilly ground.
Many houses are damaged, he said, and the hospital in Lukla was tending to the injured, including four high school students from the village of Chaurikharka. The students were carried on stretchers on the half-hour walk uphill to Lukla. The only way to access Chaurikharka and other Sherpa villages is by foot.
The airport is in a risky setting because of the short runway that's surrounded by mountains.
But on Tuesday, Chungba Sherpa was glad to be there.
"People are here because there is open space," he said by telephone. "They are very scared."
Within a few hours of the main quake, tents dotted open spaces around Kathmandu and other communities – much like what happened in the days after April 25.
Bhrikuti Rai, a journalist, is not sure if she'll camp out in a Kathmandu park or in her house. She saw many people carrying tents and mats, planning to sleep outside.
"Just when people are thinking life is returning back to normal," Rai said, "this has once again created fear."
Expert: More aftershocks likely
The fact such a big quake hit so soon after the one last month indicates that more tremors could come at any time. Residents in the region dealt with a number of powerful aftershocks Tuesday, including one at magnitude 6.3 about a half hour after the initial quake.
Such seismic activity is hardly unprecedented for Nepal and the vicinity. After all, earthquakes created the country's signature mountains, such as Mount Everest.
"It's land crashing into land (and) it's going up, not going under," CNN meteorologist Chad Myers said of the collision of the Eurasian and Indian plates, warning of dangerous landslides as monsoon season approaches. "Every time it crashes, the Earth moves. Every time it shakes, there's strain."
Amy Vaughan, a USGS geophysicist, notes the 7.3 quake – while still, technically, an aftershock – has rattled things again. It may settle down eventually, but not right away.
"Generally, in the days and weeks and months (seismic activity) tapers off usually, and the intensity and frequency of the aftershocks will die down," Vaughan said. "But … this is going to temporarily increase (the aftershocks)."
And that leaves Nepalis having to continue to brace themselves for more seismic activity.
Sarrado, the Spanish documentarian, said he felt that people he saw managed to compose themselves after the initial shock of Tuesday's quake had eased.
"They know what it means by now," he said. "Everybody is reacting very well … The Nepalese society has learned so fast to deal with an earthquake from an emotional point of view."
Saugat Adhikari, a blogger and lifelong resident of Nepal, isn't so sure. He worries about poorly constructed homes and what he saw as some people's complacency, after being on guard for a few days last month.
"I don't think people were more prepared this time; people really felt like (the threat) was gone," Adhikari said. "Now they are more frightened."
Special report: Nepal's catastrophic quake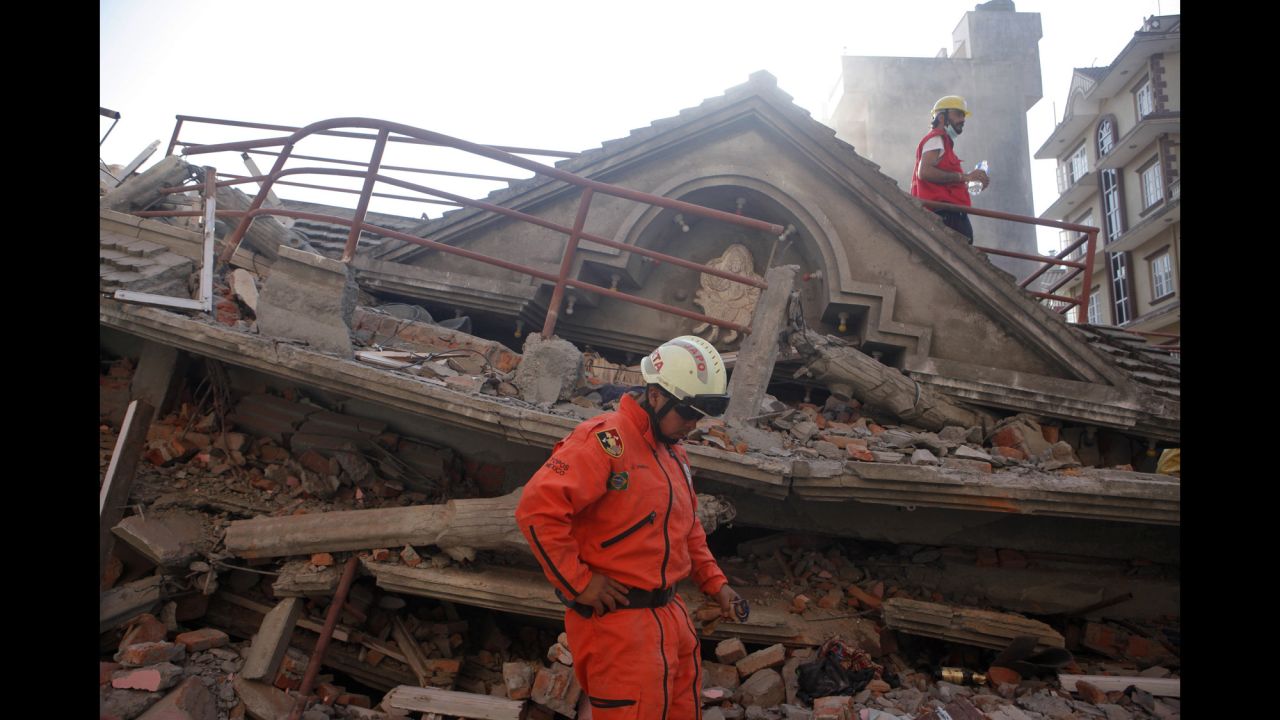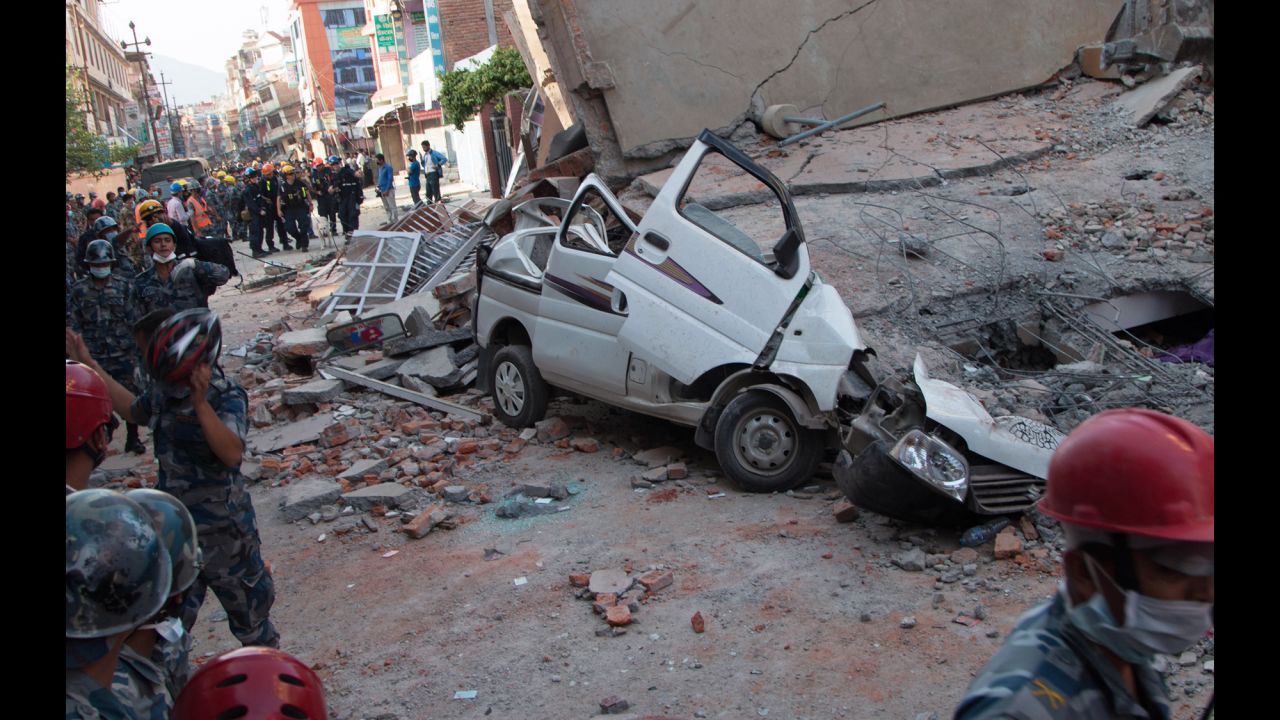 Nepal struck by another deadly quake
Latest developments
CNN's Moni Basu, Sugam Pokharel, Bharati Naik, Harmeet Singh, Wilfred Chan, Sarah Brown, Pamela Boykoff, Nimet Kirac, Bex Wright, Hilary Whiteman, Sumnima Udas, Will Ripley and Michael Martinez contributed to this report.