(CNN) —
The applause she received for charging the six Baltimore police officers involved in the arrest of Freddie Gray seemed short-lived. Since then, Marilyn Mosby has been a lightning rod.
The latest wave of criticism comes after the state's attorney for Baltimore took the stage Sunday with Prince during a "Rally4Peace" concert in honor of Gray, who died of spinal injuries following his arrest on a knife charge last month. Mosby reportedly received the concert tickets as a Mother's Day gift from her husband.
As you'd imagine, the appearance sparked a range of reactions, from the much-ado-about-nothing sort to those questioning how she could possibly prosecute the officers after she attended the concert in honor of the victim. Twitter, of course, was rife with wanton attacks on her character.
One of the more interesting responses came from a former assistant U.S. attorney for the District of Columbia, Laura Coates.
Coates had previously been one of Mosby's defenders – that is, until the Prince appearance.
In what appears to be a reaction to hearing the news, Coates took to Twitter to ask if she heard correctly that Mosby actually went on stage with the pop star and added the admonition, "Tsk tsk."
A few minutes later, Coates pointed out that defense attorneys are asking the court to replace Mosby because of alleged conflicts of interest, while accusing the prosecutor of charging the officers as part of a publicity stunt. Mosby, she wrote, should think before she acts.
In the days after Mosby filed charges against the six officers – eventually setting off a firestorm of criticism from those who say she overstepped her bounds or had ulterior motives – Coates stood by Mosby, writing on her blog that, in her estimation, Mosby did neither.
"People have criticized Mosby for taking swift action, calling her charging decisions a calculated form of crowd control or a rush to the spotlight," Coates wrote last week. "I don't think either is true. Bringing charges is not the same thing as convicting a defendant. Prosecutors and defendants have a shared interest in letting the jury system determine guilt or innocence."
The case seems to draw stark divisions even between people who often sit on the same side of the fence.
Harvard law professor Alan Dershowtiz, a self-proclaimed liberal Democrat, has accused Mosby of crowd-control justice and predicted the officers will be acquitted. He called the decision to charge the officers "a sad day for justice." Meanwhile, the American Civil Liberties Union called it a "historic moment" and the product of families who lost loved ones to police brutality fighting for justice across the nation.
"We know that today's announcement is only a first step in a state that has historically prosecuted less than two percent of police involved deaths, while prosecuting thousands of African Americans for petty offenses," the ACLU said in its statement. "Our systems of justice have been far more willing to treat officers as innocent until proven guilty than they are the communities who are being policed – communities where people are presumed guilty and stopped, searched and arrested without cause."
Attorneys for the six officers don't seem to agree, as they filed a motion in Baltimore City District Court, asking that Mosby be removed from the case.
The motion alleges that: She and her husband, City Councilman Nick Mosby, stand to gain financially and politically; one of her deputy attorneys has a relationship with a reporter from CNN affiliate WBAL; her office investigated the case, necessitating that her staff be called as witnesses; her office could be the subject of a civil claim related to the arrests; and she received $5,000 in campaign donations from Gray family attorney William Murphy.
Mosby, for the most part, has declined to address the criticism – other than to deny she has a conflict of interests – and has promised she would not try the case in the media.
It's only fair to point out, however, that per the allegation regarding campaign contributions, Mosby – the daughter and granddaughter of law enforcement personnel – has also received $3,250 in campaign contributions from the Baltimore Fraternal Order of Police PAC Fund since June 2013, according to Maryland campaign finance records.
At least one former policewoman – former Los Angeles Police Department Sgt. Cheryl Dorsey, the author of "Black & Blue," an unflattering critique of her ex-employer – has come to Mosby's defense, drawing parallels between how she's been treated versus how Robert McCulloch was treated when he declined to prosecute a Ferguson, Missouri, police officer in Michael Brown's shooting death.
"I hope that this prosecutor stays on because we didn't hear the kind of outrage we're hearing about Ms. Mosby as we did with Robert McCulloch when he came forward to prosecute – or failed to prosecute – Darren Wilson," she said of the motion to have Mosby removed from the case.
She can't speak to why they've been treated differently, she said, but pointed out that people give "great deference" to police officers and want to believe what law enforcement officers tell them.
"It looks like she's going full steam ahead, and I encourage her to do so and not be bullied by those who think she should not do her job," Dorsey said.
U.S. Rep. Elijah Cummings, D-Maryland, also came to Mosby's defense during a Monday interview with CNN, applauding her for insisting that the evidence be presented only in a courtroom.
"Obviously, there are some who want to try it in the media, and Marilyn Mosby has made it very clear that she's not going to do that," he said.
A former lawyer, Cummings further called Mosby "brilliant" and said he believes in her integrity. Even before she made the decision to charge the officers, he said, "based on what I know about her integrity and her excellence, whatever she had decided, I would've been fine."
The attacks on her character and the calls for her to step down "come with the territory," he said. They're to be expected.
"I understand what they're doing. They're going to throw everything including the spigot, the kitchen sink and the pipes at her, but again we need to let justice move forward," Cummings said. "If the officers are innocent, they'll be found innocent."
Complete coverage on Baltimore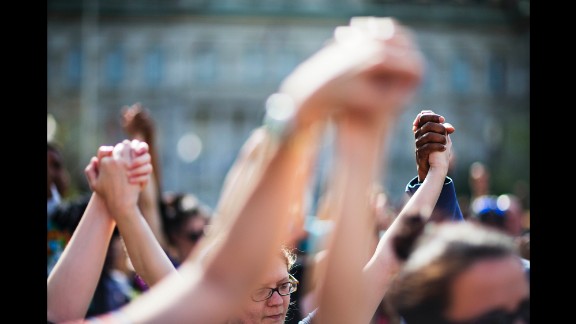 Photos: Baltimore protests
Photos: Baltimore protests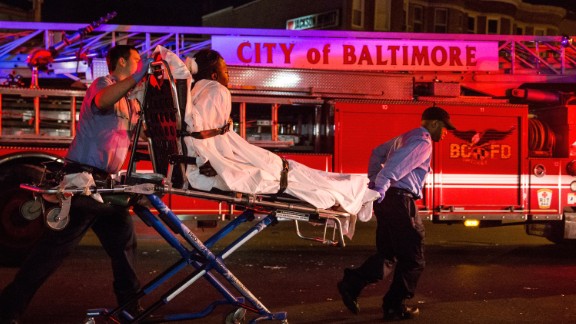 Photos: Baltimore protests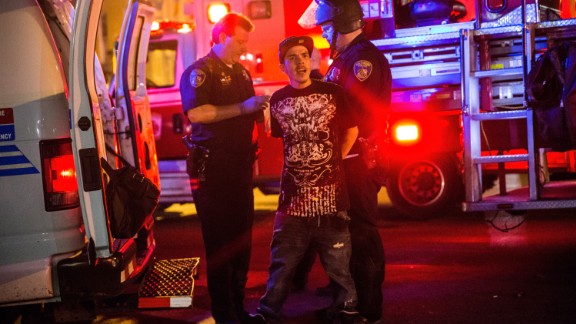 Photos: Baltimore protests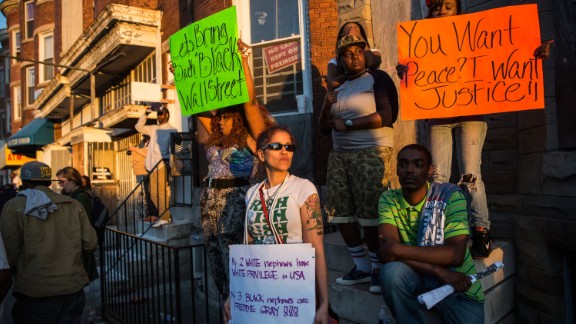 Photos: Baltimore protests
Photos: Baltimore protests
Photos: Baltimore protests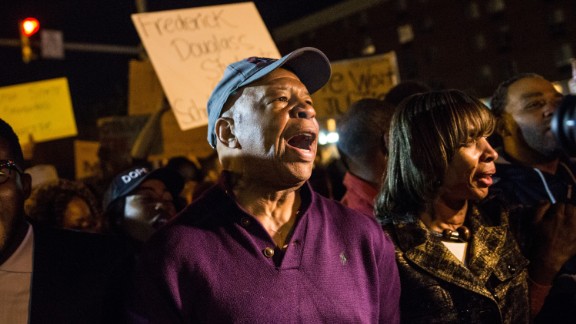 Photos: Baltimore protests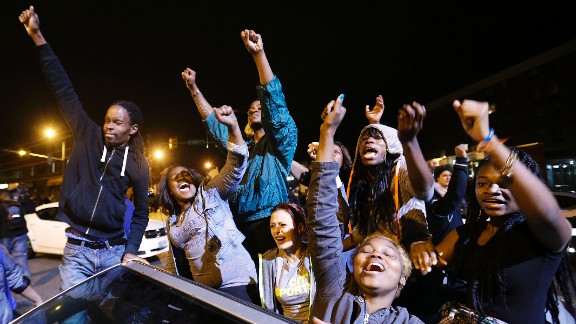 Photos: Baltimore protests