(CNN) —
Brushing aside attempts by two fellow Republicans senators to add controversial changes to the Iran nuclear bill, Senate Majority Leader Mitch McConnell moved Tuesday to cut off debate on the bill prematurely in order to prevent votes on those so-called "poison pill" amendments.
If the vote to end debate is successful, final passage of the bill could follow almost immediately or drag into next week. House GOP aides say that if the Senate passes the legislation the House of Representatives is expected to vote on it as early as next week.
RELATED: Rubio, Cotton throw Iran bill passage into question
McConnell's tough stance against members of his own caucus – Sen. Marco Rubio of Florida and Sen. Tom Cotton of Arkansas, who had employed a procedural sneak attack to try to force votes on their proposals – is designed to preserve bipartisan support and achieve a presidential signature for the bill.
The compromise legislation allows Congress to weigh-in on a deal the U.S. and other countries are negotiating to curtail Iran's nuclear weapons' abilities.
"The Iran Nuclear Agreement Review Act will ensure Congress gets a vote to either approve or disapprove of the comprehensive agreement," McConnell said last week speaking in support of the measure.
Senators and aides from each party said McConnell had no other choice but to cut off debate, because if he had allowed votes and the amendments were adopted a presidential veto was all but guaranteed. That would leave Congress with virtually no say in the wide-ranging agreement with Iran that is emerging from months of intense negotiations.
"People understand, certainly, what has occurred over the course of the last week," said a disappointed Sen. Bob Corker, R-Tennessee, a co-author of the bill and chairman of the Foreign Relations Committee as he left a Republican caucus meeting in the Capitol. "And yet at the end of the day no bill, no review, right? No bill, no oversight."
GOP senators privately grumbled that the unexpected floor maneuvers by the two freshmen senators prevented others Republicans from getting amendments to the Iran bill and may have been motivated to achieve personal political gains. Rubio is running for president and Cotton is burnishing his image as a leading Senate hawk.
Approached by reporters as he entered the private Republican meeting, Cotton declined to address the controversy.
The move by McConnell to cut off debate after just two roll call on votes on amendments runs counter to his repeated pledges to allow multiple amendments on bills, something Democrats rarely allowed in recent years when they were in the majority.
Corker said he and McConnell still were hoping to get a package of non-controversial amendments added to the bill to appease some senators anxious to make their mark.
"We're trying to get a few more amendments," McConnell vowed Tuesday afternoon. "But we're going to move quickly" to complete the bill.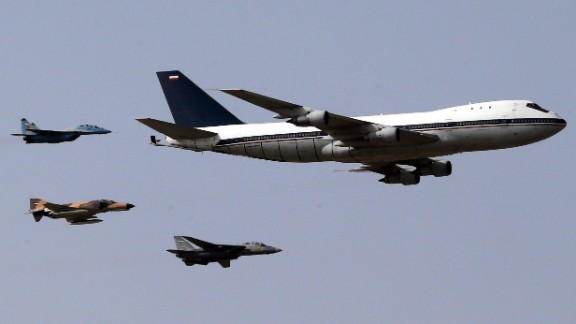 Photos: Iran parades military equipment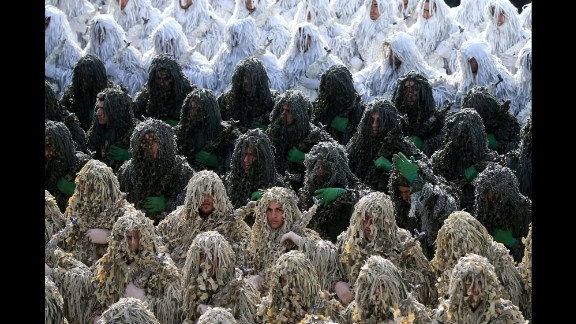 Photos: Iran parades military equipment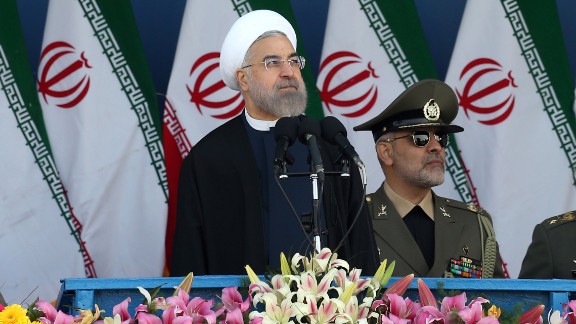 Photos: Iran parades military equipment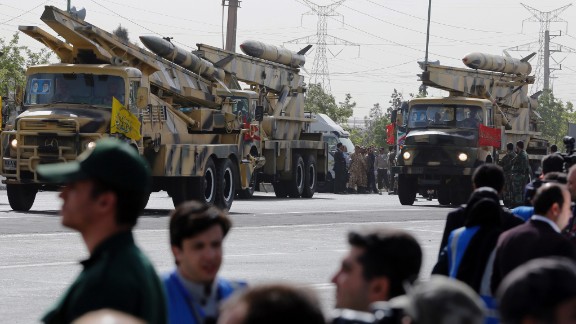 Photos: Iran parades military equipment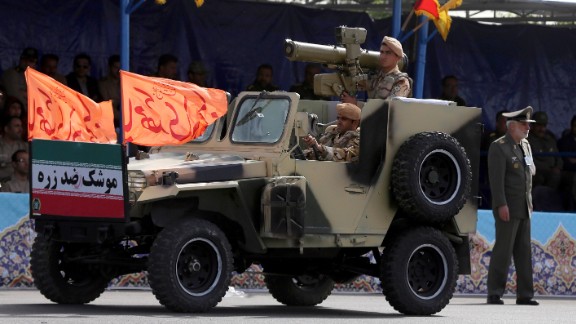 Photos: Iran parades military equipment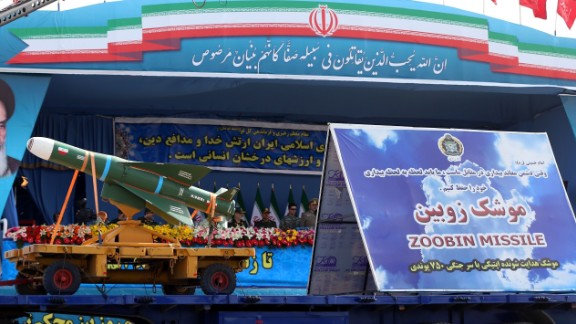 Photos: Iran parades military equipment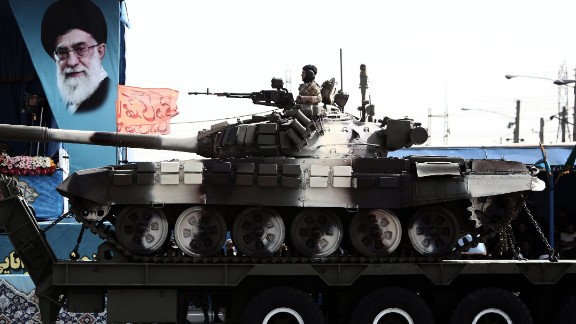 Photos: Iran parades military equipment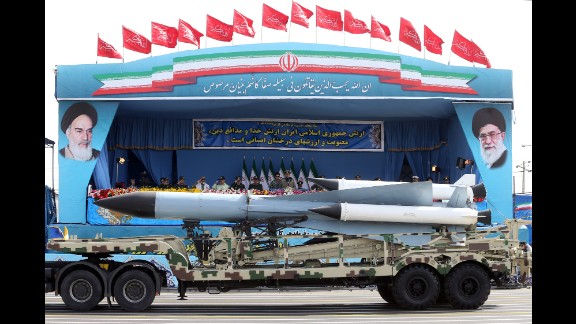 Photos: Iran parades military equipment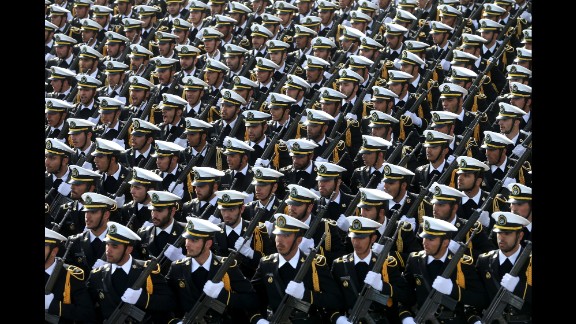 Photos: Iran parades military equipment
Democrats believe McConnell's gambit will succeed and when the procedural vote is cast Thursday, 60 or more senators will approve ending debate and voting on final passage on the bill. Senate Democratic Leader Harry Reid said he supports McConnell's push to end debate and save the bill.
"The delicate compromise that came out of the Foreign Relations Committee is really a fine piece of work," Reid said at a news conference. "We brought that to the floor and tried to cooperate as much as could until we realized that every amendment the Republicans offered was to denigrate and hurt and destroy that bill."
Rubio was pushing for a vote on a proposal that would require Iran to recognize the right of Israel to exist before longstanding sanctions against Iran are lifted.
"We are about to turn over billions of dollars into their hands and we have every to believe they will spend a significant portion of that money to destroy our strongest and most important ally in the region," Rubio said in floor debate last week.
The sentiment about Israel is popular with lawmakers, but the White House has argued the requirement is outside the scope of the nuclear talks and would be strongly opposed by the Islamic country's hardline regime.
Sen. Lindsey Graham, R-South Carolina, a likely presidential candidate, agrees with the White House. Graham said recently he was prepared to vote against the Israel amendment in order to save the bill. He said he would have to trust that voters would recognize his long support of Israel and understand why he voted against the amendment.
Cotton's amendment, 36 pages in length, requires a number of certifications from the Obama administration before a deal can be approved. Most are aimed at verifying that Iran is not cheating on the deal and that its nuclear infrastructure is dismantled and can't be used to develop nuclear weapons.
"The leaders of Iran continue to say we won't be able to access their military sites and there will be no intrusive inspections," Cotton complained on the floor last week.
Before Cotton and Rubio's procedural sneak attack last Wednesday, which they argued was the only way they thought they'd be able to get votes on their amendments, bill managers said they were close to a deal that would have allowed a number of votes on poison pill amendments like the ones the two senators proposed. But with them hijacking the floor process, leaders were forced to cut off debate.
"The procedural moves Thursday certainly ended our discussions that (were) going in a very positive and constructive way relative to amendments," Corker said.
CNN's Deirdre Walsh contributed to this report.