Story highlights
Police: 1 arrested man had a hammer, poles, rocks, wrench and knife
Protesters donned black clothes and masks
All three officers suffered serious injuries
Seattle's annual May Day march turned violent Friday, with protesters hurling rocks, wrenches and burning objects at police officers – three of whom suffered what authorities described as serious injuries.
One officer was treated for a dislocated shoulder, another sustained a broken wrist and the third officer had burns on a leg and ankle, said the Seattle Police Department.
The protest appeared to start peacefully, with video posted to Instragram showing throngs of people walking down the street holding signs that read "Honor Labor" and "No More Deportations."
"The march became violent early on," police Chief Kathleen O'Toole told CNN affiliate KIRO.
When it did, "we made a decision to stop it right then and there," O'Toole said.
But it's not like things calmed down right away, and the unrest lasted well into the night.
Video showed protesters pulling down fences, breaking and dragging trash bins and challenging police – with one man defiantly holding up a pair of middle fingers in front of a line of police on bicycles.
They also apparently left their mark by smashing glass, spray-painting anarchy symbols and words, cursing the police and setting fires like those reported by Seattle Central College on its campus.
Police ended up arresting 16 protesters on suspicion of assault, obstruction and failure to disperse. The department posted a photo of items they found on one of those taken into custody: a hammer, heavy wood poles, a large battery, rocks, a wrench and a knife.
Mayor Ed Murray, who visited the three injured officers in the hospital, said in a statement that the city "prepared extensively to protect the rights of peaceful protesters to express their anger at racism and injustice."
"What erupted tonight is a very different story," Murray said. "Tonight we saw assaults on police officers and senseless property damage, which cannot be tolerated."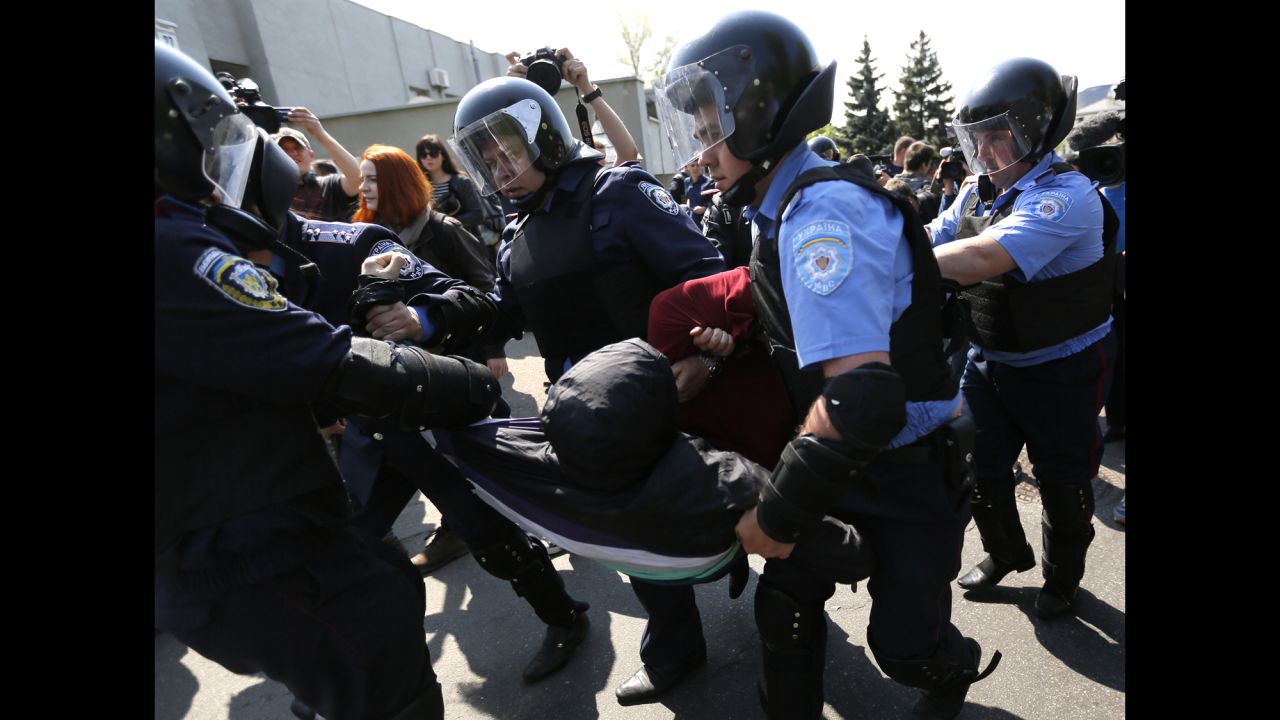 2015 May Day demonstrations