Story highlights
NEW: Anthony Batts was removed from his position Wednesday by Baltimore's mayor
Batts had to quell violent protests in Oakland over the killing of Oscar Grant
He holds a doctorate in public policy and made a name for himself with community policing
For Anthony Batts, Baltimore's riots were déjà vu.
The city's now former police commissioner was previously police chief in Oakland, California, when protests there spiraled into a vandalism spree in 2010.
The protests began after a white transit police officer was convicted of involuntary manslaughter, not murder, for fatally shooting Oscar Grant, a 22-year-old African-American, who was unarmed, on a local train platform.
Multiple people had caught the shooting on camera, and the videos stoked public outrage.
Batts supported the peaceful protests, but when groups started smashing cars and ripping up fences, he deployed riot police to stop them. More than 150 people were arrested.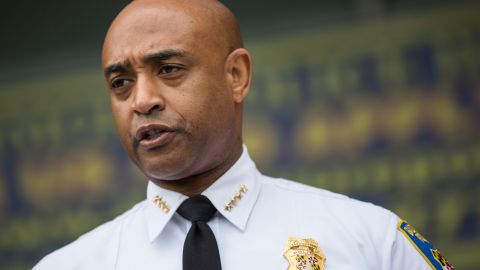 Batts, who was removed Wednesday from his post by Baltimore's mayor, probably had bargained for challenges when he took the top job in both troubled police departments. He could have had a much quieter life, resting on the laurels of his law enforcement and academic career in sunny Southern California.
Three decades of success
Police Commissioner Batts is out
Batts had nearly 30 successful years with the police department in Long Beach, California, a city with a more moderate crime rate, thanks in great part to his work. He had earned a doctorate in public policy with a dissertation on police use of force.
He had risen to police chief and taught at California State University, Long Beach.
He could have stayed put.
What we know, don't know about Freddie Gray's arrest
Childhood, drugs and gangs
But Batts had planted a seed with his ideas on policing, and the fruits of his labor would eventually take him away.
He felt for a long time that the relationship between police and communities, particularly less privileged ones, needed to become gentler and more trusting. The roots of his sentiments may have gone back to his childhood, when Batts grew up in South Central L.A.
When he took the Oakland job, in a speech, he talked about how gangs, street crime and drugs pervaded his young life, the San Francisco Chronicle reported then.
The untimely violent deaths of so many young men who, like him, were black, is close to his heart as well.
When he was young, he asked his mother, "Does anybody care that young people who look like me are losing their lives on these streets?" the Chronicle reported.
Rodney King beating
Then came 1992 and Rodney King.
His beating, also caught on video, triggered outrage.
Riots spread down to Long Beach from Los Angeles – 23 years ago this week – over the acquittals of white officers in the beating of the African-American man. Long Beach police were deployed to control crowds.
The experience markedly formed Batts' ideas on cooperative policing, current Long Beach Police Chief Robert Luna told the local newspaper, the Press-Telegram.
"One of the things we learned in the '92 riots was police work wasn't all about suppression," Luna told the Press-Telegram. "In order to police effectively you have to create positive interactions with people."
It wasn't good for poor families and their children to see cops only when they were coming to their buildings to take people away.
Harvard, Oakland
Community policing became Batts' calling; he made a name for himself with it in Long Beach and beyond.
"He established an Office of Community Policing and reduced excessive force complaints, while simultaneously reducing crime," according to his biography on President Barack Obama's Task Force on 21st Century Policing.
The Kennedy School of Government at Harvard University recognized Batts as an innovator, and for seven years, it invited him to be a part of its Executive Session on Policing and Public Policy, which tries to find answers to issues of modern policing – the transition of police officers from warriors to guardians.
Aside from his doctorate, Batts holds an MBA, according to the presidential bio. He has a reputation for pushing officers to get more education to develop brains over brawn.
As his reputation spread, Oakland offered him the top job, the Chronicle reported. He said no.
Killed cops touched him
But then four Oakland police officers were gunned down at a traffic stop in Oakland in March 2009, three months after Grant's death – and Batts saw his calling.
From the outset of his tenure as head of the OPD, he was stuck between a rock and a hard place – between disaffected communities and police facing mortal danger.
Oakland looked like a good place to apply his talents, so he moved.
But the job didn't work out for Batts, local newspaper the San Jose Mercury News reported when he departed in October 2011.
Bureaucracy and dwindling resources in the middle of the economic downturn made fighting Oakland's crime problem an ordeal. His force shed 150 officers.
There were reports that he did not get along well with city officials.
Batts resigned shortly after receiving a strongly critical report from a court-appointed monitor on the progress of reforms the department had been ordered to implement, the Chronicle reported at the time.
Baltimore, murder, brutality
He reportedly said then that he would go back to academia, as a researcher at Harvard. Nearly a year later, he turned up in Baltimore, one of the most crime-plagued cities in the country.
Mayor Stephanie Rawlings-Blake was impressed with Batts as an innovator, The Baltimore Sun reported, and with his success in driving down crime rates in Long Beach. But that success may have eluded him in Baltimore.
The FBI ranked it fifth in the country for murder in 2013. And while the murder rate nationally has continued to trend downward, Baltimore's rose that year.
As for reducing excessive use of police force: Two years after Batts' tenure began, the Sun broke an investigative report on police brutality. It detailed settlements of nearly $5.7 million that the city had reached with residents, mostly African-Americans, who were victims of undue use of force by Baltimore officers since 2011. The city also spent $5.8 million defending against the claims in court, the Sun reported.
Then came Freddie Gray, who died from a fatal spine injury, that prosecutors are pressing charges over – against Batts' officers, who they say made an illegal arrest.
And then came the riots on the watch of the law enforcement leader renowned for his expertise on the use of force by police.
On Wednesday, Batts lost his job in Baltimore, effective immediately. Rawlings-Blake commended his actions during his almost three years as commissioner but said the spike in crime after the unrest and the attention on Batts wasn't helpful.
"It is clear that the focus has been too much on the leadership of the department and not enough on the crime fight," the mayor said. "It is with the utmost urgency that we get the crime surge under control."
Deputy Police Commissioner Kevin Davis was named interim commissioner.
CNN's Steve Almasy contributed to this report.