He's the boxing hall of famer that's never thrown a jab, the tuxedoed showstopper with the voice that packs a punch and the owner of a knockout hook as recognizable as any of the sport's finest champions.
George Foreman, Mike Tyson, Bernard Hopkins, Sugar Ray Leonard, Roberto Duran, Marvelous Marvin Hagler – Michael Buffer has introduced them all over the course of a remarkable 35-year career as a ring announcer.
More than that, he has come to be feted as a cult hero for his suave demeanor and instantly recognizable catchphrase: "Let's get ready to ruuuuuummmmbbbbllleeee!"
These days, major fights just don't seem the same if not preceded by the 70-year-old's raucous, rollicking, rambunctious calling card.
But it's not something, he admits, that's always been as polished and loved as it is today.
"The first time I did it, it was quite terrible," Buffer tells CNN during a telephone interview from his home just south of Los Angeles, California. "(But) I worked on trying to get better, got another chance and it took off."
There were even other phrases in his early announcing days that have long since been consigned to the scrapheap. "I tried 'man your battlestations,' I tried 'ladies and gentlemen, fasten your seatbelts,'" he said. "There wasn't much of a reaction."
Then he thought back to his hero Muhammad Ali and his favored pre-fight jive-talk, "I'm ready to rumble." Buffer modified Ali's bombast, added his own stylistic interpretation and has been thrilling fight fans with the results ever since.
It's become a pre-fight ritual that elicits just as enthusiastic a response in Berlin, Belfast or Moscow as it does in the modern capital of boxing, Las Vegas.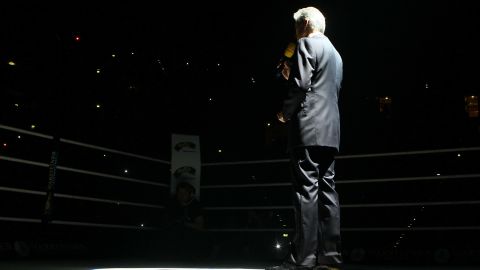 Christof Koepsel/Getty Images
Battle of the ring announcers
Despite its global popularity, however, Buffer's much loved tagline may not grace what is being billed as the most lucrative fight of all time.
When Floyd Mayweather meets Manny Pacquiao in Las Vegas Saturday, Buffer will share MC duties with Jimmy Lennon Jr, another hall of fame announcer. The painstaking agreement that brought the two fighters together will see each introduced by the lead announcer of his respective TV network backer.
Buffer, who is independent but has long worked with HBO, will welcome Pacquiao while Lennon, employed primarily by Showtime, will do the honors for Mayweather. There was similar deal in place when Lennox Lewis and Mike Tyson squared off in 2004.
Buffer describes that fight as a "strange" occasion, not least because the promoters decided to separate the two men with security personnel pre-fight after a scuffle broke out during the weigh-in.
At the time of speaking to CNN, it still hadn't been decided whether Buffer will lead Saturday's bout with his famous catchphrase. "I'll be doing whatever final arrangements are, which haven't been made yet," he said.
When I venture if he can give CNN a "lets get ready to rumble" preview to accompany its coverage, he politely declines for copyright reasons. Although he quickly offers a snappy alternative (listen below.)
Buffer trademarked "lets get ready to rumble" in 1992, a wise move in hindsight. The line has since been used in songs, countless advertisements as well as popular TV shows The Simpsons and South Park and movies like and Rocky Balboa.
If you believe figures bandied about online, these five golden words have earned Buffer $400 million. But the man himself says that's nowhere near the case, despite the fact he's been well-rewarded for his work.
"I guess you could use the word lucrative," he said. "I have nothing to complain about financially."
With such a recognizable profile, however, ring announcing is no longer the most profitable part of Buffer's business. Mayweather vs. Pacquiao will be a "healthy payday" but he'll earn more money from making appearances around Las Vegas before and after the fight, he revealed.
"There's a concert on the Friday night that I'm going to do the introductions for New Kids on The Block," he said. "Then there are a few different parties where I'll make personal appearances and … some appearances at night clubs which happen to be a very big business in Las Vegas."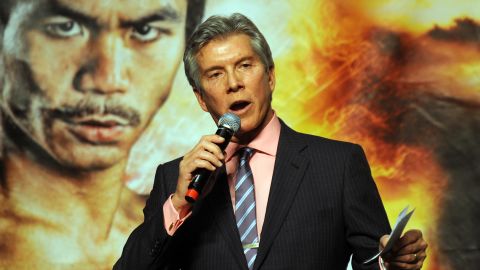 GABRIEL BOUYS/afp/getty images/file
Such is the value of Buffer's voice that when he had cancerous cells removed from his throat in 2009, the first thing he said upon waking up post-op was "ladies and gentlemen" in his announcer voice to ensure he still had his game.
Within a month of the operation he was back in Vegas doing what he loves best, introducing the light heavyweight world title bout between Joe Calzaghe and Bernard Hopkins.
The Trump card
Yet the bright lights of the Nevada casinos and the multi-million dollar rewards of today are a far cry from humble beginnings in Philadelphia, Pennsylvania.
Buffer began ring announcing in the early 1980s after returning from the Vietnam war and embarking on a short-lived singing and modeling career. He describes how one night when watching boxing at home, his young son told him he could do better than the guy on TV.
"I kinda thought, well 'yes i guess could,'" he recalled. "So, I made few phone calls, wrote a few letters, tried to find out how one gets licensed, how one gets themselves into the ring and eventually it happened."
Soon Buffer was announcing boxing matches for Bob Arum's Top Rank promotions (Arum is now Pacquiao's promoter) and then at Donald Trump's hotels in Atlantic City.
It was the mid 1980's by this point and the publicity savvy Trump had made it a priority to host as many fights featuring an exciting young heavyweight named Iron Mike Tyson as possible. Trump was insistent that Buffer be the main announcer whenever Tyson fought.
"Tyson's career was just on fire. Literally everyone in the world was obsessed with watching (him) fight," Buffer said. "He just became the dominant force in boxing. That was quite a big impact and maybe one of the biggest factors in my career taking-off."
Al Bello/Getty Images
And take-off it certainly did. Buffer has since borne witness to some of the most dramatic and chronicled events in boxing – like a showbiz sentry on the sidelines of history.
He highlights being ringside when Foreman knocked out Michael Moorer in 1994 to become the oldest ever heavyweight champion at the age of 45 as a particularly memorable occasion. Roberto Duran's victory over Iran Barkley on points after a brutal 1989 contest was another "magnificent" moment, he added.
In 1993, Buffer also spent 20 minutes calming a 20,000 crowd in Las Vegas during the infamous "fan man" episode that disrupted the heavyweight title bout between Riddick Bowe and Evander Holyfield.
However, even these great occasions seem quaint when compared to the hype and hullabaloo surrounding Mayweather vs. Pacquiao. "It's quite overwhelming when you think about the money involved," Buffer said.
The fight purse is estimated to be worth over $300 million to the fighters alone, split 60-40 in Mayweather's favor. Tickets sold out in under a minute and some are reportedly changing hands on the black market for as much as $128,000 apiece.
Yet there are many in the boxing community who say the match-up can only disappoint as both men (Pacquiao is 36 while Mayweather is 38) are past their best. Buffer disagrees.
"A lot of people are saying it really would have been better if it happened five years ago. But its just as compelling now because they're both more mature," he said.
"With age comes wisdom and perhaps they'll both be able to be more focused as athletes and I see no reason why it should be any less a quality fight than it would have been five years ago."
Few are as qualified to assess this occasion's place in the sport's pantheon of mega-fights as Buffer.
Many consider Pacquiao and Mayweather the finest pound-for-pound fighters of their generation. And the ever brash Mayweather likes to refer to himself as TBE (The Best Ever.)
But classifying this fight it in the same epoch-defining league as the likes of Ali vs. Frazier, Hagler vs. Hearns or Morales vs. Barrera is something Buffer is hesitant to do – at least before the action unfolds.
"When we finally decide … if it was one of the greatest fights of all time, we won't know really until the day after," Buffer said. "When we can look at it and say 'that was the greatest fight I ever saw' or 'it was a pretty good fight, they got paid well for it.'"
Either way, it's yet another historic occasion that this much loved boxing hall of famer will grace.
And, as always, he'll be ready to rumble – whether the TV networks give him the green light or not.
Photos: 11 of the biggest upsets in boxing throughout the years
Photos: 11 of the biggest upsets in boxing throughout the years
Photos: 11 of the biggest upsets in boxing throughout the years
Photos: 11 of the biggest upsets in boxing throughout the years
Photos: 11 of the biggest upsets in boxing throughout the years
Photos: 11 of the biggest upsets in boxing throughout the years
Photos: 11 of the biggest upsets in boxing throughout the years
Photos: 11 of the biggest upsets in boxing throughout the years