Story highlights
NEW: Death toll rises to more than 6,200
Pemba Tamang, 15, shows no apparent signs of serious injury after rescue
U.S. special forces helicopter 30, including 3 Americans, to safety
(CNN) —
On Day Six of Nepal's tragedy, life triumphed as rescuers pulled an 15-year-old from the rubble of a multistory residential building in one of Kathmandu's hard-hit neighborhoods.
A large crowd erupted in cheers as Pemba Tamang was carried out on a stretcher. He was wearing a New York shirt and a blue neck brace, was blanketed by dust and had the look of a deer in the headlights.
His rescuer, Inspector Lakshman Basnet of the Nepalese Armed Police Force, said Tamang was responsive and showed no apparent signs of serious injury.
He was given an IV drip and rushed from the Gongapur area to a temporary emergency hospital run by an Israeli aid team.
The Nepalese rescuers had been working for five hours to locate Tamang after they heard his voice coming from under the debris.
Group helicoptered out by U.S. special forces
Also Thursday, a U.S. special operations forces team rescued 30 people, including three Americans, by helicopter from an area of Nepal called Bamboo Village, according to the U.S. ambassador to Nepal.
The group was trapped in the village and living in a makeshift shelter, Ambassador Peter Bodde said. The families had contacted the U.S. government to let officials know where their relatives were stuck, he said.
They had no other way to get out of the area, Bodde said.
'It's dangerous, but it's what we do'
An American disaster response team was also involved in the rescue of the 15 year old boy. The team was at a nearby damaged bus station when it got word that someone might be alive.
Andrew Olvera, the head of the U.S. team, said his men rushed over with search dogs and equipment ranging from breaching tools to sophisticated cameras that can probe under the rubble.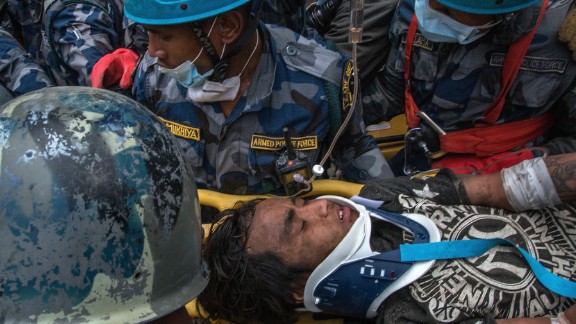 Omar Havana/Getty Images
He said the operation carried enormous risk, as chunks of the collapsed building hung precariously on rebar. Entire floors of what used to be people's homes were visible – ceiling fans and beds still draped with cotton sheets. It was a mountain of loss and sorrow.
"It's dangerous, but it's what we do," said Olvera, who has a daughter and twin 11-year-old boys. "It's risk versus gain. To save a human life, we will risk almost everything.
"The way the building is, it's definitely a miracle," he said.
Man 'survived by good faith'
Tamang cried for water in a muffled voice. He had been buried for five days under a building that pancaked. He dodged death because of a motorcycle that shielded him from the pressure of the concrete and steel, according to Basnet.