Story highlights
NEW: Death toll in Nepal reaches 5,489, officials say; casualties in India and China, too
U.N. children's agency says 1.7 million children are in urgent need of aid in Nepal
President Obama calls Nepal's Prime Minister to discuss disaster response
(CNN) —
Half a million tents are urgently needed for the huge number of people forced from their homes by Nepal's devastating earthquake, a government minister said Wednesday.
Minendra Rijal, Nepal's minister of information and communications, said relief operations were underway but that much more needs to be done.
"Life is returning to normal, but it will be some time to be completely normal," he said. "We have still not been able to properly manage to provide relief."
Want to learn more about Nepal? Get the Fast Facts
Rijal wasn't able to put a precise number on those made homeless by Saturday's devastating quake, but he said the government had so far provided more than 4,700 tents and 22,000 tarpaulins to those in need of shelter.
Aircraft loaded with tents are expected from India and Thailand in the next day, he said, with another 100,000 tents expected from Pakistan.
Two UNICEF flights arrived Wednesday with supplies such as water-purification tablets, family hygiene kits and tents and tarps.
UNICEF Regional Communication Advisor Jean-Jacques Simon said the supplies "are desperately needed by those living in camps, and other areas in Kathmandu, the Kathmandu Valley and in hard-to-reach remote areas, where UNICEF plans to distribute the items as soon as possible."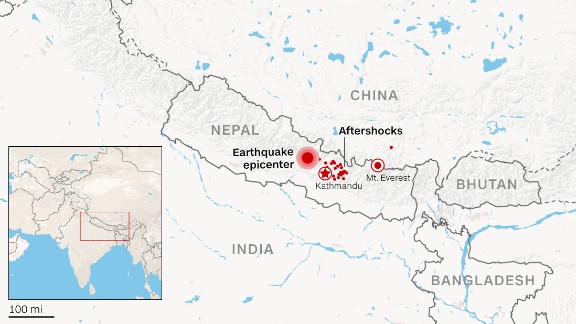 Google Maps / USGS
The United Nations has said the quake has affected 8 million people across 39 districts.
Rijal said 21 helicopters, including seven provided by India, were helping in the rescue and relief efforts, with 866 people rescued by air and a little more than 1,000 rescued using land transport.
As rescue workers seek to reach people who desperately need help, the weather is making things worse.
Heavy rain has intensified the hardships for the countless Nepalis who are sleeping out in the open because their homes were destroyed or they don't feel safe inside buildings amid continuing aftershocks.
At Tundhikal Park, known now as Tent City, the crowds are thinning, but it's not necessarily a sign of improvement.
On Wednesday, some had enough of sleeping huddled in a tent and were readying to return to their houses. That's the correct term – houses; they were no longer homes, no longer places of sanctuary.
U.S. President Barack Obama called Prime Minister Sushil Koirala on Wednesday to express condolences, the White House said. This is the first time Obama has spoken with the Prime Minister since Saturday's first earthquake.
Obama and he talked about disaster response efforts and Obama pledged that the United States "will do all that it can to help the people of Nepal in their time of need," the White House said.
Vital supplies
In the district of Gorkha, where the magnitude-7.8 quake was centered, a large storm rumbled over the mountainous terrain Tuesday afternoon.
"That essentially shut down helicopter missions for the entire afternoon, except for a small window before sunset," Matt Darvas, an emergency communications officer for the humanitarian group World Vision, told CNN on Wednesday. He's currently in the main town in Gorkha.