Gen. David Petraeus, once a widely celebrated military leader who oversaw operations in Afghanistan and Iraq and was touted as a potential presidential candidate, was sentenced to serve two years on probation and to pay an $100,000 fine on Thursday for sharing classified information with his biographer and lover, Paula Broadwell.
"Today marks the end of a two-and-a-half-year ordeal," Petraeus said outside the Charlotte federal courthouse following his sentencing. "I now look forward to moving on with the next phase of my life."
Petraeus, who resigned as director of the Central Intelligence Agency in November 2012 after the relationship became public, avoided jail time as part of a plea deal. Prosecutors agreed to not send Petraeus to jail because the classified information was never released to the public or published in the biography of him that Broadwell wrote.
Some of his supporters believe that he can recover his reputation – and argue in some ways, he already has.
"I don't want to wallow in 2012, and luckily neither has he," said Michael O'Hanlon, a close friend of Petraeus and a scholar at the Brookings Institution.
Petraeus: I thank those who have supported me
READ: FBI agent testifies in Paula Broadwell cyberstalking case
Armed with a Ph.D, Petraeus rose to military brass and led United States Central Command and later all forces in Afghanistan as the war there petered out. He retired from the military to lead the CIA at the request of President Barack Obama in 2011. But after only about a year, Petraeus delivered Obama a resignation letter, sinking into shame as the news that his one-time chronicler was actually his lover.
Petraeus spent some time maintaining a low profile, but then began to emerge in mid-2013, accepting positions at universities and the private equity giant Kohlberg Kravis Roberts. Most of Petraeus' friends and family – including his wife, Holly – have been supportive of the four-star general and stood by him, friends of Petraeus said, though no Petraeus family members joined him in court on Thursday.
"The world has deemed it clear that we recognize that we're all human," said O'Hanlon.
John Duffield, a friend of Petraeus from his graduate school years at Princeton University, described the past few years as "painful to watch," especially given how much promise the general had even beyond his already impressive resume.
"It didn't seem like he had reached the apogee of his career," said Duffield, who added Petraeus may yet rehabilitate his reputation. "I don't know if it'll be relegated to a footnote, but maybe only one chapter in a lengthy book of accomplishments."
SEE: Petraeus still advises White House
That rebranding is made easier thanks to a plea deal that allowed Petraeus to escape jail time by paying $40,000 and serving two years on probation. But a federal judge on Thursday in Charlotte, North Carolina instead ordered him to pay $100,000 in order to "reflect the seriousness of the offense."
"Make no mistake: This is a serious matter," Judge David Kessler told the courtroom, adding that his actions "stood in stark contrast to the 37 years of achievement and his remarkable public service."
Petraeus pled guilty in March to one federal charge for giving 5-by-8 inch black notebooks containing some classified information to Broadwell, who wrote "All in: The Education of General David Petraeus" in 2012.
Those notebooks included notes from national security meetings, the identities of covert officers and more classified documents.
Some have characterized the agreement, in which Petraeus only pleads guilty to a misdemeanor, as too lenient.
Abbe Lowell, a lawyer who represents a government leaker currently in jail for sharing information with the media, said in a letter to the Justice Department that the deal showed a "profound double standard."
"High-level officials (such as General Petraeus, and, earlier, Leon Panetta) leak classified information to forward their own agendas (or to impress their mistresses) with virtual impunity," wrote Lowell, referencing Petraeus' predecessor as CIA director.
But Petraeus defenders have called that charge rough on him.
"It's not like he was giving this to the National Enquirer," O'Hanlon said, who nevertheless said the behavior "shouldn't have happened and shouldn't be excused."
Now, Petraeus – who had continued to advise the current administration – is perhaps positioning himself for a full-throated return to public leadership in the next one.
"The personal shortcomings ultimately, I would hope, will be seen as in the same light as Grant's whiskey or Eisenhower's mistress, or whatever else," said O'Hanlon, referring to the military leaders' known foibles. "The inevitable human dimensions of people who are still great Americans."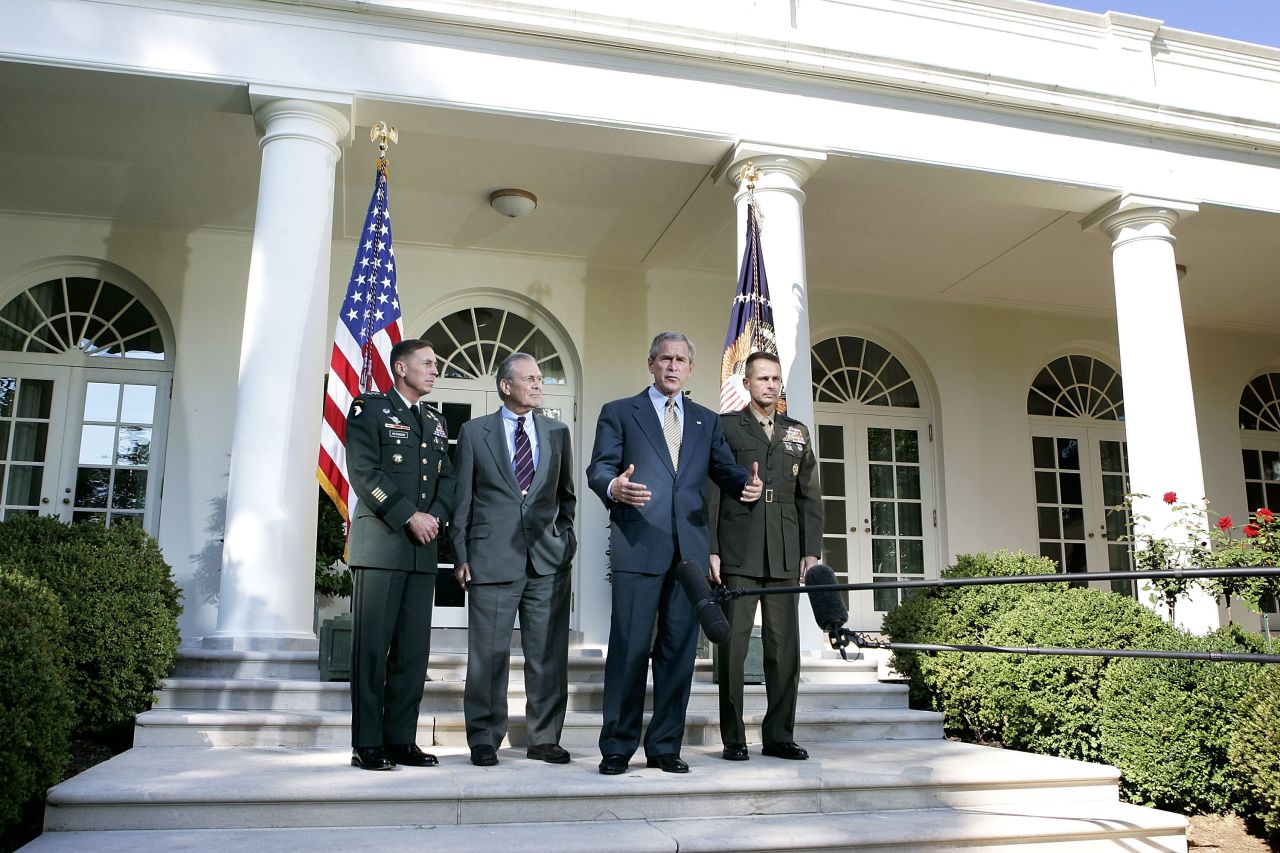 Photos: Career of former CIA Director David Petraeus
CNN's Mary Kay Mallonee and Kevin Bohn contributed to this report.