Kenilworth, New Jersey
CNN
—
This is Chris Christie's house. A full day of prep work has gone into prepping for his latest town hall. Sinatra, Bon Jovi and Springsteen have been blaring. Now the New Jersey governor quickly lays out his rules for the audience:
No. 1: Raise your hand. "Don't yell out questions," he says.
No. 2: Wait until you have a microphone in your hand, then give your name and hometown.
No. 3: It's less of a rule and "more of a bit of advice," he cautions. "When you get this microphone in your hands, you will feel an indescribable, yet undeniable, gravitational-like pull to give a speech." Christie tells the audience when they start to drag on, he'll look at them and say "uh-huh, uh-huh." That's their cue to move on.
No. 4: Christie looks around the room and counts out loud the number of media cameras recording the event. "What happens when we have that many cameras at something like this? There will be some of you who will decide, 'Yeah. This is my day. This is the day I'm going to become famous … if I try to take the governor out for a walk.'"
But Christie reminds the audience where they live.
"We are all from New Jersey: You know what that means, if you give it, you are getting it right back," he says.
And with that, Christie declares it's time for questions, takes off his coat, and throws it to an aide.
"You always take your jacket off when it's time to work," he told CNN backstage before a town hall in Kenilworth last month.
Taking town halls to New Hampshire
The ritual has been honed over the course of his time as governor and through more 134 town hall meetings. The latest such meeting will happen Wednesday — this time in New Hampshire, where Christie will test the water ahead of a presidential announcement that could come later this year.
A former U.S. attorney, Christie has grown so comfortable with the town hall style that he's taking it on the road. He'll hold two town halls as part of what's been dubbed the "Tell It Like It Is" series when he makes a four-day swing through New Hampshire this week ahead of his likely presidential bid.
Taking unscripted questions from audiences is both an art and a skill and Christie is a master. The forums highlight his blunt, direct style helped put him in the national spotlight during his first term. When Christie tangles with folks in New Jersey, it can bring negative attention, but it's a disposition he's embracing as he seeks to distinguish himself from other White House contenders.
"We've always known that the governor is his own best communicator," said Kevin Roberts, a spokesman for Christie. "Whenever possible we try to put him in his own words and let him do his own talking.
At Christie's events, audience members are screened by state police before entering, but they're not screened for political ideology. In an ear when many politicians and campaigns select their audiences, a Christie town hall is different. Anyone who hears about the town hall is allowed to show up.
Neil Levesque, executive director of the New Hampshire Institute of Politics at Saint Anselm College, said town halls are popular because people like getting the chance to ask follow-up questions.
"It's almost like you're jumping into a pool and you're subjecting yourself to the voters," he said. "I think voters love the fact that they can come and really press candidates."
A new approach to hecklers
While most of the hour long Q&A consists of questions about local issues, fireworks emerge when people "break" the so-called rules.
Hecklers make regular appearances at Christie's town halls. At the event in Kenilworth, a small group of demonstrators stood up in the Q&A portion to loudly protest the governor's handling of a recent environmental settlement with Exxon.
"Arrest Christie!" they shouted as they were escorted out by police.
Christie hasn't shied away from taking on protesters in the past, but he has offered more restraint recently. In Kenilworth, he simply waited for the young protesters to leave, then called on the next person to ask a question. It was a high school English teacher who grilled the governor on the same Exxon deal and pension reform.
The two spent the next 10 minutes sparring over how Christie could have demanded more money in the settlement, among other issues.
"I'm not here to be bullied," she declared.
"You're not being bullied," he shot back. "You're asking me questions. I get to ask you questions back."
Two other people were escorted out in that same town hall: A protester and a man who yelled out questions at the end.
Ann Marie Duda, 62, said she was pleased with how Christie handled some of the more colorful moments from the day.
"He's been known to be a bit abusive and rough, but I thought he conducted himself very well," she said.
She found the experience – her first Christie town hall–"informational," even though she didn't get to ask the governor her question.
"We all love New Jersey, we're all from New Jersey, everything here is about New Jersey," she said, with a laugh. "While we were waiting, why was 'New York, New York' playing?"
Like clockwork
It's true. Moments before Christie was set to walk out, Sinatra's "New York, New York" started to play. The warm-up soundtrack was heavy on New Jersey artists. Christie is famous in his devotion to the music of Bruce Springsteen, but it is actually Bon Jovi – "Have a Nice Day" – that he prefers to open a town hall.
As usual, a stool with two waters bottles sat waiting for the governor in the circle where he'd be speaking, a space his staff calls "the round." Also in the round was a black music stand with a small timer.
Christie has held town halls in all 21 of New Jersey's counties, and the venue varies each time. While the set-up looks simple enough — a bunch of chairs arranged in a circular format — Christie's advance team arrives a day ahead of schedule to start turning whatever gym, civic center, church or meeting hall where they're gathering into a recognizable Christie town hall space.
His office brings in two camera crews that are positioned with the press in two opposing corners of the room, making it easier to capture Christie's movements as he walks around in a full circle. More recently, his team has been live-streaming the full event.
A local official typically introduces Christie. The governor stands quietly behind the curtain for a brief moment to gather his thoughts before he walks out to applause and kicks off a monologue that usually runs close to half an hour.
At the town hall in Kenilworth, Christie explained why he's willing to reform New Jersey's pension system and blamed the state's fiscal woes on the Democratic legislature for refusing to lower taxes.
"I say to people, listen, if you're not a millionaire, but you want to feel like one," he says, "come to New Jersey."
Mastering the craft
When Christie first started doing the town halls, he addressed the audience from the front of a room. But his aides soon decided that he should be positioned among the audience in a less formal, in-the-round format.
They also stopped asking people to line up to ask questions, favoring instead a process by which the governor calls on someone already sitting with their hand raised. That, his aides suggest, creates a more intimate feel.
As Christie prepares to take the town hall on the trail, he told CNN he'll keep the format largely the same–except for maybe the "four rules."
"It's not New Jersey, so we can probably take one or two of them off," he joked. "It depends on how people behave themselves."
Photos: Potential 2016 presidential candidates
Photos: Potential 2016 presidential candidates
Photos: Potential 2016 presidential candidates
Photos: Potential 2016 presidential candidates
Photos: Potential 2016 presidential candidates
Photos: Potential 2016 presidential candidates
Photos: Potential 2016 presidential candidates
Photos: Potential 2016 presidential candidates
Photos: Potential 2016 presidential candidates
Photos: Potential 2016 presidential candidates
Photos: Potential 2016 presidential candidates
Photos: Potential 2016 presidential candidates
Photos: Potential 2016 presidential candidates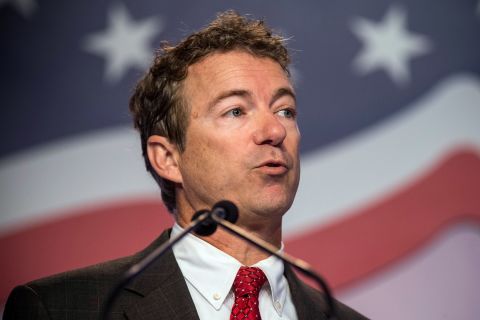 Photos: Potential 2016 presidential candidates
Photos: Potential 2016 presidential candidates
Photos: Potential 2016 presidential candidates
Photos: Potential 2016 presidential candidates
Photos: Potential 2016 presidential candidates
Photos: Potential 2016 presidential candidates