They're both Spanish-speaking Republicans from Florida. And they both want to be president.
There's a battle brewing between Marco Rubio and Jeb Bush over who is best-positioned to help the GOP make inroads with Latino voters, a crucial voting bloc for the party if it hopes to win the White House in 2016.
Rubio will make his case on Monday when he formally announces his presidential campaign. He'll speak from Miami's Freedom Tower, where Cuban exiles who fled Fidel Castro's regime stood in line for processing, and introduce himself as the son of Cuban immigrants whose candidacy is the embodiment of the American Dream.
READ: Rubio's presidential challenge
But Bush – an immigration reform advocate who is married to a Mexican woman and took some ribbing for accidentally identifying as Hispanic on a voter registration form – isn't likely to cede much ground when he launches his anticipated 2016 campaign in the coming months.
Rubio's campaign is already making Florida politics a little awkward. The senator is a longtime Bush protege and his bid is leaving activists and donors feeling divided over which camp to join. The looming push for the Latino vote could add another layer of complexity – and personal animosity – that might split allegiances of Republicans in this crucial swing state.
'Torn'
"Many of the older Cubans were with Jeb early on but for many of those exiles, Marco is the fulfillment of the American dream," said Nelson Diaz, the chairman of the Miami-Dade County Republican party. "They will be torn between Jeb, who they adore, and Marco, who is almost like their grandchild."
The outcome of the Bush-Rubio tangle will be critical for Republicans as they look to reverse the party's declining fortunes among Latino voters, a growing demographic group that made up a record 10% of the electorate in 2012 and backed President Barack Obama over Mitt Romney 71% to 27%.
A matchup of a Cuban senator against a white former governor from one of the nation's most prominent political families wouldn't normally be much of a contest.
But the trappings of Rubio's speech suggest that the senator intends to compete aggressively for the Latino vote despite Bush's longstanding record of success with the Latino community.
But Bush has some demographic advantages.
Less than 5% of Hispanics are Cuban, and Florida remains their epicenter. But outside of Florida, Mexicans dominate — roughly 75% of Latinos have roots in Mexico. Bush's wife, Columba, is among them.
"The difference with Bush is he has access to the Mexican American experience, which is really different than the Cuban experience," said Matt Barreto, who has extensively polled Latino voters and teaches at UCLA. "Rubio's biography is not unlike other immigrants, but Cubans had advantages that other immigrants don't. His experiences don't have the same resonance."
READ: How does Marco Rubio stand in the polls?
An October 2014 survey by Barreto's firm, Latino Decisions, found a national cross-section of Latinos splitting their support between Rubio, Bush and New Jersey Gov. Chris Christie. (Former Secretary of State Hillary Clinton, who outpaced Obama among Latinos in 2008, was not included in the poll).
Bush family
The Bush family has successfully courted Latino voters in Florida and Texas, and in swing states across the country.
George W. Bush grabbed over 40% of Latino votes in 2004. And in his 1998 race for Florida governor, Jeb Bush walloped his Democratic opponent, getting 61% of the Latino vote on the strength of Cubans. He approached that mark in 2002 when he won re-election.
Bush, who hasn't announced a run, is expected to make his appeal to Latino voters a central part of his electability argument. In speeches, he often lapses into Spanish.
"If Bill Clinton is the first black president, I'm definitely the first Cuban at least — or Latino — governor of the state Florida," he boasted at gathering of the Hispanic Leadership fund in 2012.
(Florida's first Latino governor was Bob Martinez.)
And, at 62, Bush is almost two decades older than Rubio. That's a potential edge for Rubio since eligible Latino voters are younger than black and white eligible voters — nearly a third are between 18 and 29. A candidate who can namedrop Jay-Z on the Senate floor like Rubio did during a drone filibuster, and is comfortable on social media and chatting it up on the Daily Show, will likely resonate better with millennials than Bush, who can come across as a standard issue politician.
"Youth attracts youth," Diaz said.
Florida
Florida comes relatively late in the primary calendar, and before that, Rubio and Bush will compete in states with few Latino voters, where comprehensive reform is a nonstarter among conservatives.
And even in early caucus states like Colorado and Nevada, Latino Republicans won't likely be decisive – though laying a groundwork for the general election will be crucial for the GOP.
"About a quarter of Hispanics lean toward the Republican Party. Democrats have a large advantage and it's gotten bigger in the last years," said Mark Hugo Lopez, of the Pew Research Center. "In Nevada, the population is largely Democratic-leaning and in Colorado, it's similar. In Florida, you can get biggest clustering (of Latinos) in a primary."
In Florida, Bush and Rubio will battle over 471,000 Latinos who are registered Republicans. In the fall general election, the Republican and Democratic nominees will vie for 1.7 million Latino voters in Florida, and millions more in the heavily Latino swing states that will decide the election.
With Bush, Rubio, and Texas Sen. Ted Cruz, who has been described as "post-Hispanic," all in the race, Latino voters will see a level of visibility and outreach from Republicans not seen in previous primaries.
But the trick will be navigating immigration reform, which is considered a gateway issue among many Latinos. Both Bush and Rubio have staked out moderate positions on immigration reform, with Cruz emerging as a hardliner.
Ultimately, for the GOP, having a presidential field that includes two Latinos and a "Latino by association" gives them a better chance at fixing their perception problems about Latino voters and closing the gap with Democrats that has cost them two national elections.
"Ted Cruz will do well among voters of Cuban background who are not supportive of immigration reform, which is a small group," said Bob Quasis, president of the national Latino group Café Con Leche Republicans. "I would slightly favor Jeb Bush, but Marco Rubio is a strong contender too. We have great prospects for winning the Latino vote."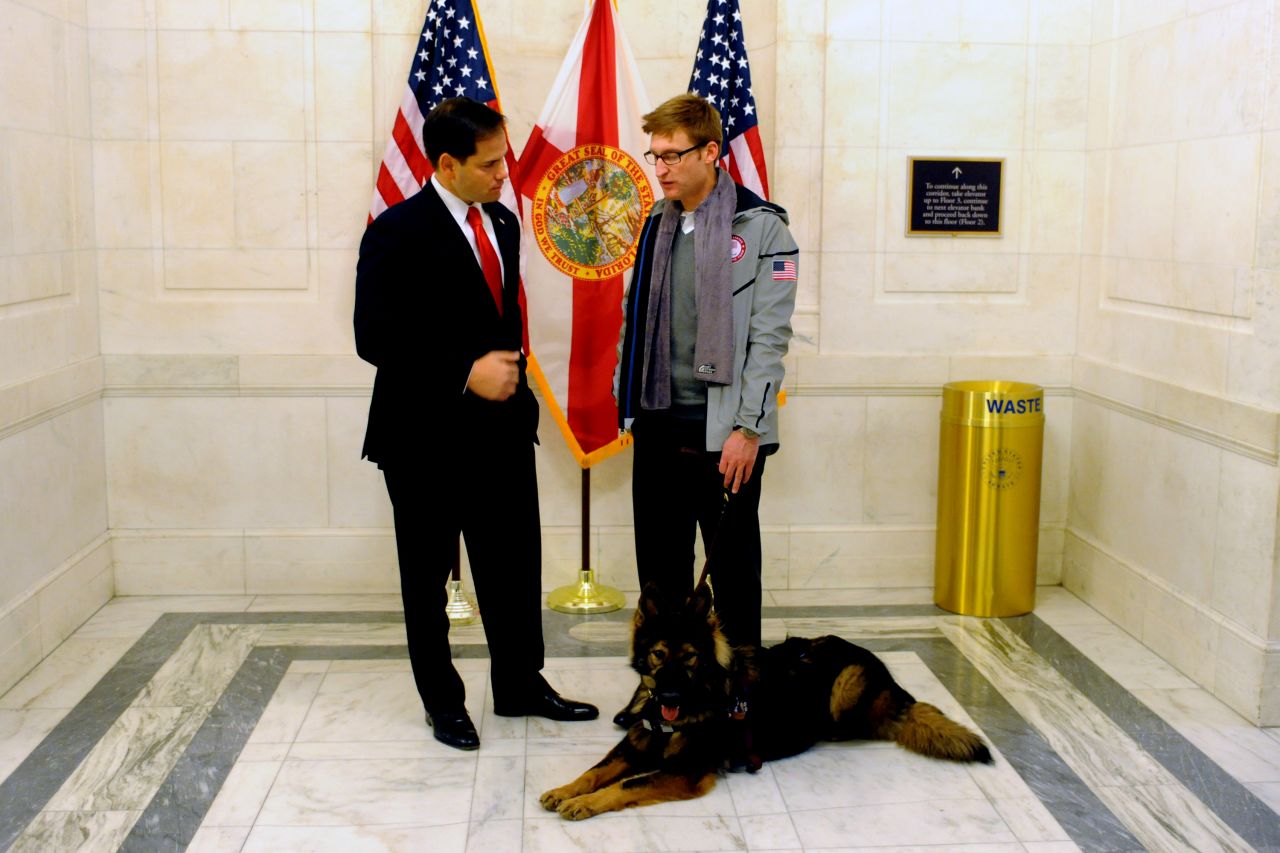 Moments from Marco Rubio's career