A diehard New York Democrat sits in her congressional office, looking over details of one of her pet bills. In walks a far-right Republican, a woman from the West who was part of the Tea Party Caucus – the sort who'd seem an obvious adversary.
"Nice view, missy!" the visitor says, taking in the postcard-perfect sight of the U.S. Capitol. The two greet each other with big smiles and settle in for a nice long chat, vowing to work together.
The host is Rep. Carolyn Maloney, a staunch pro-choice veteran of Capitol Hill who created a stir in 2012 when she demanded of a panel of men testifying on birth control: "Where are the women?"
Beside her, exuding warmth, is Rep. Cynthia Lummis of Wyoming, an equally proud conservative Republican who boasts of her "100% pro-life voting record."
Here in Washington, where party politics divide and erect thick walls, these two are pushing aside barriers for a common goal: They both want to see the Equal Rights Amendment – language that would explicitly protect women's rights and prohibit discrimination on the basis of sex – in the U.S. Constitution.
Their backgrounds and what motivates them may differ; one raises the specter of sharia law, the other illegal abortions. But partisanship has no place when it comes to the importance of the ERA, these unlikely allies insist.
"The key here is just reminding people that equal rights have to be fought for, sought and obtained in writing," Lummis says.
"If we don't do it, who else is going to do it?" says Maloney. "The best legislation is always bipartisan."
'Men don't like to ask women for money'
Maloney, 69, remembers when classified ads in newspapers separated job listings by gender. She's heard too many accounts of women who became sick or died after getting back-alley abortions. She never participated in athletics at school while growing up in North Carolina because the option didn't exist for girls.
"When I first started working, discrimination and harassment was part of the job. There was no one there to protect you," she says. "It wasn't really long ago when you couldn't get credit in your own name."
All of this fuels the fight she brings to the Hill, where she's been for 22 years. She's worked to combat sex trafficking, clear the backlog of untested rape kits and eliminate campus sexual violence. She's introduced bills to boost access to child care and expand family and medical leave. She's been at the forefront of legislation to create a National Women's History Museum.
But so much of the time, she says, she's battling to hold on to rights women have already won. Without a constitutional basis to protect women and enshrine their rights, she says, legislation can be rolled back and judicial decisions changed.
"You can have rights, and they can be taken away," she says.
Her concerns helped drive the formation of the new ERA Coalition, which is mobilizing a renewed crusade to finish business that started more than 90 years ago.
The ERA, first introduced in 1923, finally passed in Congress in 1972. It was sent to legislatures for ratification, but only 35 of the necessary 38 states ratified it before a 1982 deadline. The movement to pass it, after coming so close, seemed to grow quiet. Maloney is among those beating a drum to stir up noise.
"I'm becoming too tired, too old, too fat to keep on with these fights," she says with a laugh. "I'd just like to get into the Constitution and get it over with."
Since 1997, Maloney has been introducing the ERA in every congressional session. Last time around, she got 176 House members to sign on – only five of them Republicans. But Lummis was one of them, and she's stepping up to help build Republican support.
Not since the early '80s has the ERA made it out of committee in the House and onto the floor for a vote. Supporters can't – or won't – point to specific adversaries; they just know the amendment hasn't gotten the traction they feel it deserves. The ERA needs to be seen as a priority, they say. It needs to be seen as separate from hot-button issues that divide, like abortion. Men and women, liberals and conservatives alike, must realize its value for all Americans.
Lummis, 60, gets this. The relative Washington newbie – she entered office in 2009 – came to know Maloney when they were both active in the Congressional Women's Caucus. Both women are mothers to daughters – Lummis has one, Maloney two – and have long careers in politics.
Lummis, too, has advocated for the women's history museum and brings with her a heavy dose of Wyoming pride.
Her state, before it was even a state, was the first to grant women the right to vote in 1869. When that right threatened Wyoming's admission to the union in 1890, she says, "The quote was, 'We're not coming into the union without the women.' "
Wyoming boasts the nation's first woman governor, first woman bailiff and first all-woman jury. It had the first woman statewide elected official, the first woman justice of the peace and sent the first woman delegate to the Republican National Convention.
The state's motto is "Equal Rights," and Wyoming ratified the ERA in January 1973. Supporting the ERA, Lummis says, "is very much in keeping with Wyoming's history, its tradition and its commitment to equality."
She, though, is no stranger to discrimination.
Approaching her graduation from the University of Wyoming, Lummis interviewed for a job as a loan officer. She was told she wouldn't get it because "men don't like to ask women for money," she remembers. "I was just stunned. … When you face those kinds of realities in life, they stay with you."
Lummis, who insists on being called congressman, not congresswoman – "only because it is a title, not a statement of gender" – says her state cannot rest on its history of women's rights and female firsts.
"My state currently has the largest gap in pay between men and women of any state in the nation," she says. "My state has fallen behind in understanding the importance of equal pay for the same job, for equal work. So it makes clear to me that these are rights that should not be taken for granted."
Religious freedom vs. women's rights
The heart of Maloney's bill reads: "Women shall have equal rights in the United States and every place subject to its jurisdiction. Equality of rights under the law shall not be denied or abridged by the United States or by any State on account of sex."
While many supporters of the ERA, Maloney included, might argue that constitutional protection of women is necessary to beat back state attempts to chip away at women's reproductive rights, Lummis insists she can remain steadfast against abortion while advocating for the amendment. The two issues, she says, are separate – and that's a pro-ERA argument she plans to take to members of her party.
"It's a heavier lift for me in that the Republican Party and its platform and many of its elected members are pro-life, and they don't want to give a camel's nose under the tent to the pro-choice position," she says. But after pointing out her "100% pro-life voting record," she says, "I'm not the least bit afraid of this legislation, and I'm happy to work with them to ensure that this is not intended in any way to expand abortion rights."
Furthermore, Lummis adds, the ERA would protect against sex-selective abortion, a concern she says weighs on conservatives.
What also drives her stance is what she sees happening around the world. A visit to China, where the country's one-child policy means many girls are given up for adoption, if not aborted, increased her commitment to making sure both genders are equally valued. And in Europe, she sees the influx of groups she fears may someday try to institute "sharia law, which is very unfavorable to women," she says.
"I want to make sure that here, in the United States, if we have those sorts of religious communities forming, that there is a clear line between freedom of religion and women's rights," she says.
An economic argument
Maloney may not wade into the ERA discussion the same way as Lummis – she's more prone to raise issues such as pregnancy discrimination or college campus rapes – but that's what they say makes their alliance so important. They can approach conversations with their respective colleagues differently. The end goal, however, remains the same.
"Equality, rights and opportunity are basic values in our country," Maloney says. "And the world is changing. We can't compete and win in the global economy if we don't use the skills of all of our people."
Signing on to support the ERA doesn't hurt anyone, Maloney adds.
"This is something you can do to strengthen the country, and it doesn't run up the deficit," she says. "It just runs up women's self-esteem."
And the effort fits perfectly with what matters to her party, Lummis says.
"One of the Republican themes is, 'A rising tide lifts all boats.' This is a rising tide, and it will lift all boats," she says.
"Wow," Maloney says, her eyes and smile wide.
Lummis continues: "When women are out of poverty, their families are out of poverty, their children, their husbands, their significant others are out of poverty. … Why wouldn't we want their tide lifted? They'll lift the entire economy."
Maloney looks at her colleague and agrees.
"It's an economic bill," she says. "When women succeed, America succeeds. And, another thing: I would say countries that treat women well and empower them have less terrorism. … We're a positive force."
As of April 1, Maloney's bill has 111 co-sponsors, with another 25 lined up pending confirmation, a Maloney aide says.
When she introduces her bill in the coming weeks, Maloney won't stand alone. She'll be flanked by other lawmakers proposing similar legislation: Rep. Jackie Speier and Sens. Robert Menendez and Ben Cardin.
Maloney's House bill, along with sister legislation to be introduced in the Senate, proposes that the ERA process start from scratch – with Congress first voting to pass it by two-thirds, followed by a new push to ratify the amendment in 38 states.
Another strategy is also being floated which calls for lifting the 1982 deadline that stopped the last push when it fell three states short.
The lawmakers, though, insist there is no competition. Whatever approach gets the job done, they'll take.
Turning trauma into tools
Jackie Speier traces her connection to the ERA back to her early 20s, when she was first working in Rep. Leo Ryan's office. The California Democrat was deciding if he'd support the ERA when it came up for a House floor vote in 1972, and she grew nervous as she watched him "like a hawk" from the gallery.
'Shouldn't be a heavy lift'
"It was the one time in my time with him when I was unsure whether or not he was going to do the right thing," she says. "I sat there thinking, 'What am I going to do if he votes the wrong way?' "
He was slow to vote, making her squirm, but when he did, he didn't disappoint her.
"I have a very vivid recollection of that experience," Speier says. "It was the quintessential issue around womanhood."
A lot happened to Speier in the years that followed. She was a congressional staffer with Ryan in November 1978 when a fact-finding mission in Jonestown, Guyana, turned deadly. They were investigating the Rev. Jim Jones and his Peoples Temple followers when they came under fire. Five people were gunned down and killed, including Ryan. Speier was shot five times. As she barely clung to life, more than 900 people died that day in a mass murder-suicide.
Speier went on to have her own political career, eventually filling the seat once held by her mentor, Ryan. The Democrat believes what scars a person can be turned around and used as a tool for empowerment.
Speier, 64, has worked on behalf of women survivors of military sexual trauma. She's taken on campus sexual assaults and human and sex trafficking. She's advocated for women small-business owners and for access to insurance-covered birth control. She once spoke openly on the House floor about the time she underwent an emergency abortion because of complications in a wanted pregnancy.
Last spring, she became the latest lawmaker to introduce ERA legislation when she proposed lifting the 1982 deadline.
Speier dove into the cause, co-hosting a rally with Maloney outside the U.S. Supreme Court in which they handed out red bandanas and had all the young women around them tie up their hair like "Rosie the Riveter."
The congresswoman talks about how Republican women lawmakers are beginning to flex their collective muscle. She knows there's support among them for the ERA and is hopeful that more of them will step forward.
"There's no downside risk. And there's a lot of upside to our daughters and our granddaughters and our great-great-granddaughters who have yet to be born," Speier says.
"I'm in the business of optimism," she adds. "I wouldn't be here if I wasn't."
Fighting on, under a cloud
The political future of Sen. Robert Menendez may be up in the air – the New Jersey Democrat is facing federal corruption charges – but his support of the Equal Rights Amendment stands on solid ground. Staffers say he's "150%" committed to continuing the fight and sponsoring legislation this spring,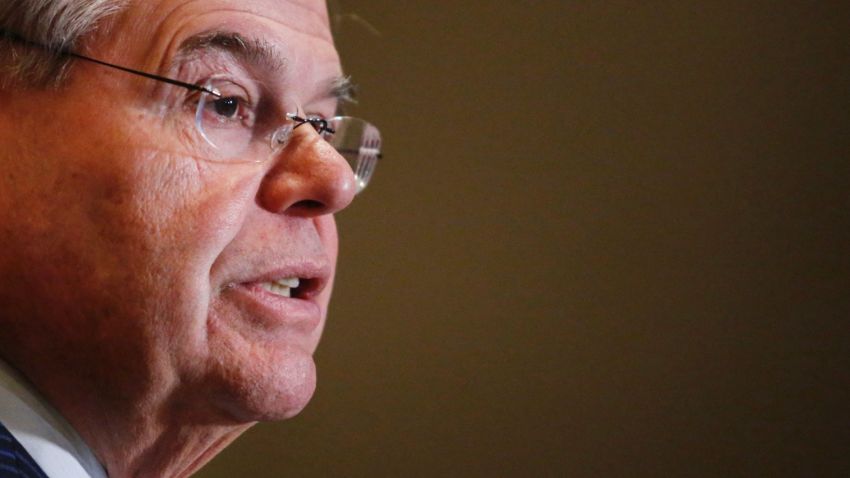 Why men should back the ERA
He took up the ERA charge from Sen. Ted Kennedy after he died in 2009 and plans to reintroduce a sister bill to Maloney's start-from-scratch approach.
The senator says his interest is rooted in the experiences of his own mother, who emigrated from Cuba like his father and worked in a New Jersey factory.
"She ultimately rose within the factory to do what, in essence, was the manager's job. But she never got paid as the manager, and the other guys who were on the floor with her, they did," Menendez says.
Though he didn't fully appreciate the significance then, he says as he grew older he understood this was "a real life example to me of the challenges that women have in our society."
He fights this fight because he believes without explicit language in the U.S. Constitution, too much can be left up to interpretation. And the lack of such language can prove a roadblock for women seeking their rights.
"It's about remembering my mother. It's about the history of what this means," he says. "It's about my daughter being able to fulfill all of her capabilities with no limitations placed on her by our society or our government." His daughter, Alicia Menendez, wrote her Harvard honor's thesis on women's social capital and is a TV host for Fusion, a cable partnership between ABC and Univision.
Passing the ERA, Menendez says, requires more from constituents across the country. They – women and men alike – need to be reaching out to their own members of Congress who may have not made the ERA a priority themselves.
"I believe in Adlai Stevenson's admonition that 'When I get the heat at home, I see the light in Washington,' " Menendez says. "If daughters and wives spoke to their dads and husbands, that would be a great start."
A Republican issue
Back when he served in the Maryland State House of Delegates, Ben Cardin fought to get a lavatory for women members.
He grew up in a progressive household and around strong women. His mother, a teacher, was active in issues affecting women in education and health care, he says. She died young but left an impression. All his female cousins, who he says were older than him, went to college. His oldest aunt was the chief financial officer of the family business.
Cardin, now 71 and a U.S. senator, wants his two granddaughters to have every opportunity available to them, just as he's wanted the same for his wife and daughter.
He first introduced a Senate bill to lift the ERA deadline in 2012, and he plans to introduce it again along with Speier's sister legislation in the House.
He points to the history of the 27th Amendment as a precedent for the approach. That most recent amendment, which prohibits members of Congress from giving themselves raises during the session in which they're serving, was ratified in 1992 – more than 202 years after it was introduced – and was clearly unencumbered by a deadline.
While a number of states have Equal Rights Amendments in their own constitutions, including his home state of Maryland, "it's not the same as having the federal umbrella protection," Cardin says.
The ERA represents a fundamental value, Cardin says, one that should be embraced by Republicans and Democrats alike – just as it once was. Its original author in 1923, Alice Paul, was a Republican. For decades, it remained on the Republican Party platform. It was signed by President Richard Nixon as soon as it passed in Congress in 1972.
"I really don't think these are partisan issues. Only in Washington do they become partisan; not with the American people. So Republicans out in the communities are rooting for us," he says.
The opposition, he speculates, comes from those who worry that the ERA would somehow conflict with religious beliefs, lead to big government intrusion or foster a slew of lawsuits. Or, he says, maybe those who haven't yet signed on simply don't see it as a priority.
But it should be a priority for everyone, says Cardin.
"It's just not fair to say someone can't achieve their full potential because they happen to be a woman," he says. "There are so many times we turn a blind eye because we say, 'Is it really our fight?' The answer is: It is our fight."