Indiana is the new ground zero in the battle over the Republican Party's future.
The GOP's years-long existential debate over how to expand the party's reach is exploding in the Hoosier State after Republican Gov. Mike Pence signed a controversial religious freedom bill into law last week.
The measure, which is being criticized for allowing companies to deny services to gay customers in the name of religious belief, is catching Republicans at cross-currents heading into next year's election. The party's leaders – and potential presidential candidates – risk alienating young voters and important allies in the business sector by fully embracing the law. But criticizing the legislation would guarantee the wrath of evangelical leaders who are crucial in early-voting states like Iowa.
READ: Republican 2016 hopefuls back Indiana's 'religious freedom' law
The complicated balancing act was on display Monday as possible 2016 contenders sought to appeal to the conservative base without isolating more socially moderate Republican voters.
"Nobody is saying that it should be legal to deny someone service at a restaurant or at a hotel because of their sexual orientation. I think that's a consensus view in America," Florida Sen. Marco Rubio said on Fox News. "The flip side is, should a photographer be punished for refusing to do a wedding that their faith teaches them is not one that is valid in the eyes of God?"
Jeb Bush also backed Indiana's law, telling conservative radio host Hugh Hewitt that "Governor Pence has done the right thing."
"This is simply allowing people of faith space to be able to express their beliefs – to be able to be people of conscience," Bush said. "I think once the facts are established, people aren't going to see this as discriminatory at all."
Franklin Graham, the evangelical preacher, and presidential contenders Rick Santorum, Bobby Jindal and Ben Carson also backed the Indiana bill on Monday.
The backlash is piling up. Everyone from Miley Cyrus to M.C. Hammer and Apple CEO Tim Cook have blasted the state while Wal-Mart criticized a similar measure in Arkansas. The band Wilco canceled a May show in Indianapolis while the AFSCME, a union for government workers, canceled a conference for later in the year. Meanwhile, the governor of Connecticut and several big-city mayors banned official travel to Indiana.
In a press conference on Tuesday, Pence pledged to "fix" the law to clarify it doesn't allow discrimination against gays and lesbians. And as the drama unfolded, a similar measure in Georgia appeared to stall.
The debate is the latest example of the GOP establishment's national message running into conflict with laws borne out of state legislatures. A similar religious freedom law in Arizona was so polarizing and potentially damaging to the state's economy that Republican Gov. Jan Brewer vetoed the bill last year.
READ: Pence's struggles illustrate gay rights challenge facing GOP
Scott Smith, the former GOP mayor of Mesa, Arizona, who opposed his state's religious freedom bill, said he was "surprised" that some Indiana Republicans seemed unprepared for the level of backlash against the law.
"If Republicans truly want to expand their base and broaden the tent, they have to avoid these kinds of situations," Smith said. "There's no doubt that Republican candidates would be better off not being drawn into this kind of dialogue. They had nothing to do with Indiana."
Pence tried to regain control over the situation on Monday night, arguing in a Wall Street Journal op-ed that the law doesn't open the door for discrimination.
"If I saw a restaurant owner refuse to serve a gay couple, I wouldn't eat there anymore," Pence wrote. "As governor of Indiana, if I were presented a bill that legalized discrimination against any person or group, I would veto it. Indiana's new law contains no reference to sexual orientation. It simply mirrors federal law that President Bill Clinton signed in 1993."
The heated debate over religious liberties continues as the country as a whole is shifting towards backing gay rights. Support for same-sex marriage, for example, is at an all-time high in the U.S. – 59% of Americans today support same-sex marriage, compared to just 30% in 2004, according to a recent Wall Street Journal/NBC News survey.
But Bob Vander Plaats, an Iowa conservative power broker who supports Indiana's law, said religious liberty will be a key issue in 2016.
"No one's going to be able to walk away from this issue," Vander Plaats said, adding that a Republican candidate that doesn't support the Indiana law "will not be the nominee."
Of course, it will be tough for GOP candidates to ignore the business and corporate backlash against the Indiana law, as they attempt to sell their vision for strengthening the economy and creating jobs in the coming months.
And the criticism from the business community is pouring in.
Cook wrote in The Washington Post that "very dangerous" laws like Indiana's would "allow people to discriminate against their neighbors." Tech giant Salesforce announced it would cut some of its ties to the state – a tough blow, since the company recently bought Indianapolis-based ExactTarget for $2.5 billion and had plans to expand there.
The sports world is also ramping up the criticism ahead of the NCAA men's basketball Final Four, which Indianapolis is hosting this weekend. NCAA President Mark Emmert said Monday that the organization needs to see Indiana lawmakers clarify their law – or his organization, which is based in Indianapolis, could begin moving out of the city.
Meanwhile, aside from the Wall Street Journal piece, Pence – himself a possible presidential contender – is burrowing in.
After appearing on ABC's "This Week" on Sunday where he declined to answer yes-or-no questions about whether the new law allows discrimination against the LGBT community, the governor canceled appearances at a local law school Monday night and at a Lincoln Day dinner in Bloomington, Indiana, on Tuesday.
And though GOP state legislative leaders said they'd consider changes to the law, they said they'd refuse to pass legislation prohibiting discrimination based on sexual orientation – despite calls from Indianapolis Mayor Greg Ballard, a Republican, to do just that.
Ballard said at a Monday press conference that the law "threatens what thousands have spent decades building."
"Discrimination is wrong. And I hope that message is being heard loud and clear at our Statehouse," Ballard said.
Other allies of state house Republicans are making similar arguments. The Indiana Chamber of Commerce, long a top financial backer for Republican state legislative candidates, said Monday that the threat of losing customers and business revenue is real – and dire – for the state.
"The business community is concerned about losing contracts and customers," Chamber President Kevin Brinegar said, "for a law that it did not support and did not want to see happen."
Photos: Potential 2016 presidential candidates
Photos: Potential 2016 presidential candidates
Photos: Potential 2016 presidential candidates
Photos: Potential 2016 presidential candidates
Photos: Potential 2016 presidential candidates
Photos: Potential 2016 presidential candidates
Photos: Potential 2016 presidential candidates
Photos: Potential 2016 presidential candidates
Photos: Potential 2016 presidential candidates
Photos: Potential 2016 presidential candidates
Photos: Potential 2016 presidential candidates
Photos: Potential 2016 presidential candidates
Photos: Potential 2016 presidential candidates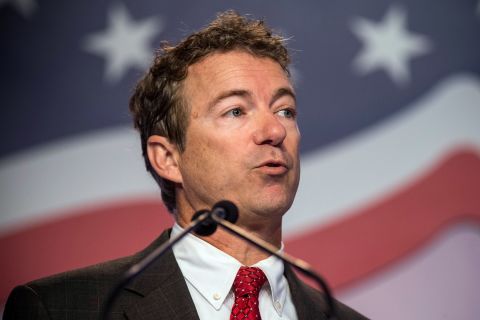 Photos: Potential 2016 presidential candidates
Photos: Potential 2016 presidential candidates
Photos: Potential 2016 presidential candidates
Photos: Potential 2016 presidential candidates
Photos: Potential 2016 presidential candidates
Photos: Potential 2016 presidential candidates