U.S. troops who served alongside Sgt. Bowe Bergdahl on the day he disappeared told CNN that the emerging "whistleblower" defense being prepared for him makes no sense.
Bergdahl's lawyer is making the case that Bergdahl left his post on foot to report his unit for troubling behavior, but his fellow troops say the platoon was already scheduled to drive back to their Forward Operating Base, or FOB, just hours after his disappearance.
READ: Army report says Bergdahl intended to walk to nearest base
"We were literally going back to the FOB Sharana the next day," then-Sgt. Evan Buetow, Bergdahl's team leader, told CNN. "If for whatever reason Bergdahl had complaints, he could have brought them to the attention of senior officers before our five-day mission, or easily could have waited a few more hours till we returned to the FOB."
Then-Specialist Josh Cornelison, the platoon medic, said the base was "a lengthy drive away from" Observation Post Mest, where Bergdahl was last seen by his fellow troops.
"And he wanted to walk back? Knowing full well how many times we'd been blown up on the way there and back? Everyone knew bad dudes were around and watching us move to and from OP Mest," Cornelison said.
The U.S. Army has yet to make public the investigative report into Bergdahl's disappearance, but on March 25 Bergdahl's defense attorney, Eugene Fidell, released a letter sent to Gen. Mark Milley, the commanding general at U.S. Army Forces Command at Fort Bragg. Milley last Wednesday announced his ruling that Bergdahl would face a potential court martial for desertion and misbehavior before the enemy.
SEE: New Bergdahl letter outlines torture
Asking for leniency due to many circumstances, including a detailed description by Bergdahl as to his torture over several years by insurgents, Fidell wrote that the Army's report hedged its bets but "basically concludes that Sgt. Bergdahl did not intend to remain away from the Army permanently, as classic 'long' desertion requires. It also concludes that his specific intent was to bring what he thought were disturbing circumstances to the attention of the nearest general officer."
Sources familiar with the Army investigation told CNN's Barbara Starr that Bergdahl told the military he left his unit intending to walk to the nearest U.S. military outpost to report wrongdoing, believing he could not trust the commanders of his own unit to deal with his concerns. One senior official told Starr that Bergdahl intended to report what he believed to be problems with "order and discipline" in his unit. A second official said Bergdahl had "concerns about leadership issues at his base."
It is for the judicial process to decide if his claims are valid and even relevant to the charges against Bergdahl, the sources familiar with the investigation told CNN.
Those who were there, however, say that these claims are inexplicable.
Then-Private 1st Class Gerald Sutton, who once considered Bergdahl a friend, told CNN he was shocked and confused by these claims. Shocked because he didn't think Bergdahl would ever admit to leaving the observation post on his own free will; confused because "the nearest base he could report whatever he thought was wrong would be at FOB Sharana."
The platoon was scheduled to leave Sharana later on the very day Bergdahl's disappearance was realized, Sutton recalled. The platoon was to hand over responsibility for the Observation Post to the local Afghan National Police.
"It just doesn't make any sense," Sutton said.
If Bergdahl waited to return to FOB Sharana he could have used a computer at the Morale, Welfare and Recreation center at Sharana "to send out a mass email to whoever he wanted or he could have used to phones to call any news outlet about the misdeeds that we never committed," he said.
Buetow told CNN that "any person who has ever served in the military and been on a deployment knows how ridiculous this sounds."
There is still much the public does not know about the details of this case.
"Once the facts become known, perhaps those who were quick to condemn him will see him and his conduct in a different light," wrote Fidell, Bergdahl's lawyer.
Asked to respond to Bergdahl's fellow troops' confusion that he would leave his post on foot to reach the nearest U.S. base given that the platoon was prepared to drive there within hours, Fidell told CNN, "There's a time and place for all of this to be laid out so that the American public can make some sense of it."
"A good step would be for the Army to release Gen. Dahl's report," he said.
Soldiers killed after Bergdahl left unit
Maj. Gen. Kenneth Dahl headed the investigation into Bergdahl's disappearance and interviewed Bergdahl. Fidell has seen the executive summary of the Dahl investigation, but not the final report nor its supporting and related documents.
Col. Daniel J. W. King, the chief of public affairs at U.S. Army Forces Command, declined to release the Dahl report, or even to comment, saying the next step in the court martial process is an Article 32 proceeding under the United States Uniform Code of Military Justice, not unlike a preliminary hearing in civilian courts.
"In deference to the judicial process, as well as the rights of the accused, we must avoid speculation while the Article 32 process is pending," King told CNN. "Our goal remains to ensure the fairness and impartiality of the military-judicial process."
King referred CNN to former Army Judge Advocate General Lt. Col. Geoff Corn, now retired, to offer further analysis.
"I don't think the Army felt that Bergdahl's explanation was compelling," said Corn, adding the first general order soldiers are taught is "I will guard everything within the limits of my post and quit my post only when properly relieved."
In addition to questions as to why Bergdahl would walk on foot to FOB Sharana to report alleged malfeasance instead of waiting a few hours to drive there, his fellow troops note that Bergdahl, against protocol, left his weapon and other equipment behind.
"He was going to violate military protocol to report violations of military protocol?" Full asked. "There are so many ways you can do things like this in the Army. The Army has an open door policy."
Bergdahl also mailed many of his essential items back to the U.S. before disappearing, Full said.
All of the fellow troops with whom CNN spoke – Full, Buetow, Sutton, Cornelison and Bergdahl's squad leader then-Staff Sgt. Justin Gerleve – said they had no idea what behavior Bergdahl would be reporting.
"I would love for Bergdahl to elaborate on the 'disturbing circumstances' that were going on in his unit," said Buetow, repeating a common refrain from Bergdahl's platoon in 1st Battalion, 501st Infantry Regiment, 4th Brigade Combat Team, 25th Infantry Division. "Because I have no idea what he would be referring to. I am an open book and would testify to anything."
Full called Bergdahl's defense "laughable."
"I would like him to tell me what awful things we did. I would testify to all of this under oath," he said. "He deserted and this is his weak and laughable defense."
Weeks before Bergdahl went absent, The Guardian published video on its website showing some of Bergdahl's fellow troops not wearing helmets in the field as they built the outpost – digging into the side of a hill, filling up sandbags, driving posts to hang wire – in heat that troops described as having reached more than 100 degrees Fahrenheit.
Troops told CNN that they had been told they could take off some of their gear, which weighed more than 80 pounds, so they wouldn't pass out; security was in place and there seemed no obvious danger.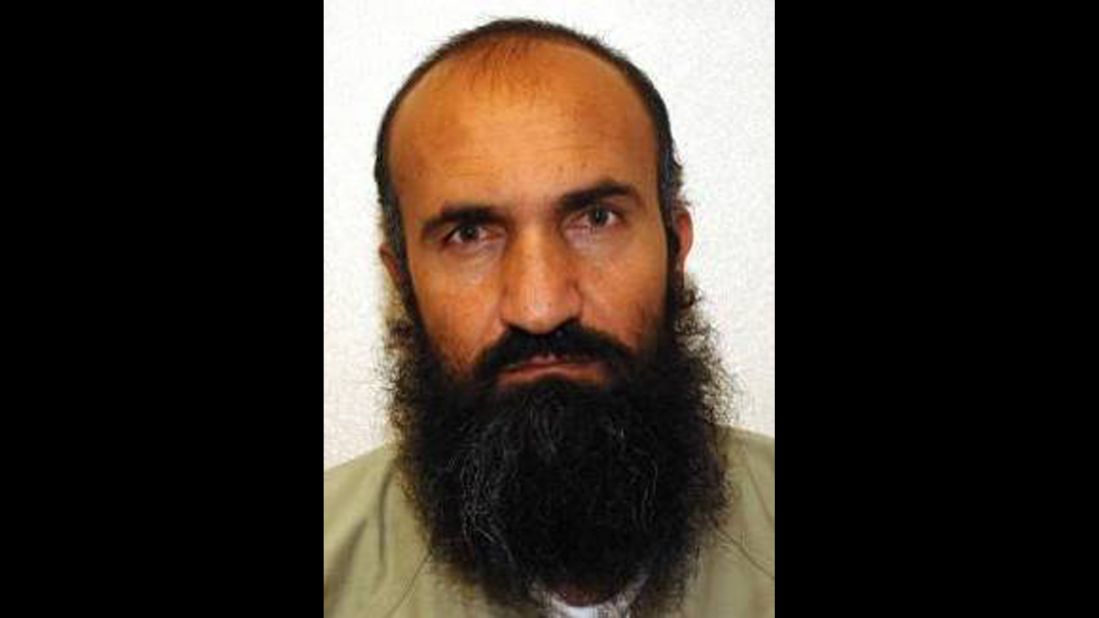 Guantanamo detainees swapped for Bergdahl
Once the video was published on The Guardian website, however, commanders objected to the violation of protocol; one sergeant was demoted and two others were reassigned. Former troops tell CNN that none of the three were with Bergdahl on June 30, 2009.
Buetow has described the incident to CNN as "something that got exaggerated way bigger than it should have."
"Gene seems to be preparing a 'greater good' defense," observed former JAG Corn, speculating that Fidell is preparing to argue that somehow Bergdahl's "interest in exposing some sort of malfeasance in his unit was more important than his official duty."
"I don't think it's credible," Corn said. "His conduct in leaving that equipment behind is so damaging … If your intent was to go from one COP to another in order to make a report you would never leave your equipment behind. It just defies common sense."