Story highlights
D'Oyley: Mainstream shows featuring black characters are a sign of progress, but more are needed
She says the suggestion that the pendulum has swung too far is off base
Editor's Note: Demetria Lucas D'Oyley is a contributor to theGrio and the author of "Don't Waste Your Pretty: The Go-to Guide for Making Smarter Decisions in Life & Love." Follow her on Twitter: @abelleinbk. The opinions expressed in this commentary are hers.
(CNN) —
Deadline's TV editor Nellie Andreeva created a stir with her latest column, originally titled "Pilots 2015: The Year of Ethnic Castings – About Time or Too Much of Good Thing," and now headlined simply "Pilots 2015: The Year Of Ethnic Castings."
In the piece she suggests that television may have gotten too diverse and that blacks may now be overrepresented on cable and broadcast television programs.
Andreeva says some wonder, in this "sea of change" if "the pendulum might have swung a bit too far in the opposite direction." This is like wondering if there are too many kids with high SAT scores at college, too many women in the workforce or too many gays getting married.
theGrio.com: Rave-Symone's latest fail: 'I'm from every continent in Africa except for one'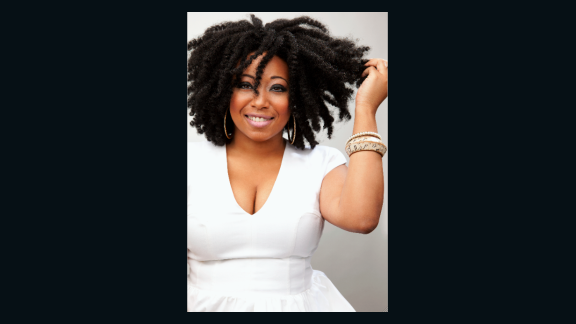 My grandpa was born in 1922 and was nearly 30 by the time the first black TV show, "Amos 'n' Andy," debuted in 1951. He didn't have a television set at the time, just a radio.
My mom says he bought a black-and-white TV for the family in the early '60s. His favorite TV shows were the news and anything with "colored people" on it. He'd sit in his favorite chair, flipping through maybe six channels, stopping excitedly on whatever channel showed the rare black face.
From "The Flip Wilson Show," "Good Times," "The Jeffersons" and "Sanford and Son" in the '70s, to "The Cosby Show," "A Different World" and "Amen" in the '80s, he was enthralled. In the '90s, a heyday of black folk on TV, he just went overboard, because he could. Grandpa's downtime was packed with "The Steve Harvey Show," "Hangin' With Mr. Cooper" and "Living Single." He couldn't get enough of black faces.
theGrio.com: State senator who stood by SAE frat member is no 'Uncle Tom' or hero
Today I watch, and occasionally hate-watch – the act of watching a show where the lead characters drive you nuts – "Scandal," "Empire," "How to Get Away With Murder" and "Being Mary Jane" nearly every week.
Like my grandfather I can't get enough, not only of black faces but my options of them. There are finally enough black people on TV that I can skip a couple of predominately black shows and not feel bad about not "supporting."
I no longer feel obligated to watch the bad black show just because it's got black people. (Yes, many black people think this way.) This freedom is what I imagine white people feel like except they can always, at any time of day, any day of the week, any month of the year and in any year since the dawn of television – including today – turn on the television and see their faces and culture reflected. I still have designated nights.
But this is progress, however, small it might be. Diversity on TV is worth celebrating, even if Andreeva, feels "ethnic" people have overrun television like Atlanta zombies in "The Walking Dead." This year is one of the first since the '90s, where black folk can flip around from channel to channel on an occasional night and see a variety of themselves.
From ghetto fabulous (Taraji Henson as Cookie Lyon and Terrence Howard as Lucious Lyon) to beyond bourgeoisie (Gabrielle Union as Mary Jane) to conniving and complicated (Viola Davis as Annalise Keating) to so damn confusing (Kerry Washington as Olivia Pope), black thespians, black actresses, especially, have been making big waves in prime time despite their minuscule numbers. Yes, minuscule. Two to three predominately black shows per network – and I'm being very generous – per week isn't domination; it's an introduction to the possibilities. And while I'm loving this start, it seems Andreeva isn't.
theGrio.com: Liking blacks on TV so long as it's not 'too much'
Another concern of hers is that "there has been a significant number of parts designated as ethnic this year, making them off-limits for Caucasian actors." Oh, the horror! White actors whose faces have been overrepresented on television since its origins are losing (some of) their exclusivity and privilege and must (finally) make (just a little) room for people with more melanin.
I'm curious as to exactly what will happen because there are people of color taking up an exaggerated "half" the roles for new shows. Will white actors starve in the streets of Hollywood? Will white viewers stop watching TV because you know, relating to a character or family "of color" must somehow be impossible for them? Will white people stop winning nearly all the acting awards? The end is nigh.
Andreeva asserts that the market for ethnic shows has reached its saturation point among black viewers. "(African-Americans) were grossly underserved," she writes. "But now, with shows such as 'Empire', 'Black-ish,' 'Scandal' and 'HTGAWM' on broadcast, Tyler Perry's fare on OWN and Mara Brock Akil's series on BET, they have scripted choices, so the growth in that fraction of the TV audience might have reached its peak."
Hold up. There are dozens of shows on TV at any given moment, and no one wonders if white people will ever get tired of watching white people. But black people get a half-dozen scripted shows in one season, and Andreeva thinks the black audience is at capacity. Did she bother to ask a black person about this instead of assuming for an entire TV audience she clearly knows nothing about? Because no one black and self-respecting is spent.
This season of programming has been a good start, and the lengthy list of pilots with faces of color detailed in Andreeva's exhausting article, sounds promising, and fun, and after a long wait, progress. My grandfather would be pleased.
Read CNNOpinion's new Flipboard magazine
Follow us on Twitter @CNNOpinion.