Senate Minority Leader Harry Reid's decision to retire at the end of his term elevates Nevada to one of 2016's premier political battlegrounds.
Not only will the Silver State be the site of a hotly-contested Senate race that's already being rated as the first pure "toss-up" of the cycle by the Cook Political Report, it's also playing host to a key leadoff presidential caucus for both parties and will almost certainly maintain its status as a swing state in the coming presidential race.
Democrats and Republicans clamoring to replace Reid will be sharing stages – and precious television airtime – with Hillary Clinton, Jeb Bush, Rand Paul and the rest of the presidential field from now until election day in 2016.
Jon Ralston, the state's leading political pundit and journalist, could hardly contain his glee on Twitter.
"Next year in NV: Open presidential race. Open Senate seat. Open congressional seat (at least one). #wematter," Ralston wrote.
Awash in money and flecked with colorful personalities, Nevada has long been an irresistible and sometimes bizarre milepost on the American political landscape for journalists on the hunt for a good story. And Reid has been the reigning champion of the scene since his first election to the Senate in 1986.
READ: Reid endorses Schumer to replace him
As he rose in the Washington ranks, serving as Senate Majority Leader from 2007 to 2015, Reid leveraged his shrewd backroom presence and a hardball political machine to amass power back home, even making allies with some top Republicans and their fundraisers.
From issues that range from gaming to water rights to tourism to the controversial Yucca Mountain nuclear waste repository, no modern political figure has been more consequential to Nevada than Reid, a onetime amateur boxer from the flyspeck town of Searchlight.
"I think he has been the most impactful senator in the state's history," said Sig Rogich, a prominent Las Vegas businessman, Republican, and Reid ally. "I don't agree with 50% of his politics, but I love him, and he has been my friend for almost 45 years. I think the state loses a great deal."
Democrats close to Reid strongly suggested Friday that the senator would throw his organizational muscle behind Catherine Cortez-Masto in the race to replace him. The former Attorney General is a well-connected Hispanic with fundraising chops who might actually give Democrats a better chance at keeping the seat than they would have with Reid – and his underwhelming approval ratings – on the ballot.
The Nevada electorate, 20% of which is Hispanic, has started to favor Democrats in presidential years with heightened voter turnout. The vast majority of the population lies in Clark County, home to the tourism and gaming hub of Las Vegas. The sprawling region is packed with unionized service workers and skews Democrat.
The rest of the state is less-populated and painted a deep Republican red, in recent cycles dominated by small government libertarians and Mormon voters. Those conservative grassroots have squared off against the business community for control of the Republican Party, memorably in 2010, when Republicans nominated Sharron Angle, an untested tea party candidate who blew a chance to defeat the vulnerable Reid in his last re-election bid.
With Reid out, more than a half dozen Nevada GOP leaders may take a look at the race, a source of concern for some Republicans.
RELATED: Harry Reid fast facts
"Nevada Democrats have always been much more disciplined in their primary process," said Robert Uithoven, a Reno-based Republican strategist. "The good news for Republicans is we have a lot of good Republicans and a deep bench. The bad news is we have a good Republicans and a deep bench, and that can lead to an expensive and bruising primary. The question is how do we avoid a 2010 scenario when there were eight or 10 candidates in the race, and Sharron Angle becomes the nominee?"
That crowded establishment-versus-grassroots dynamic will likely flare next February in the state's GOP presidential caucuses, as well.
Most of the potential Republican candidates, including Bush, Chris Christie, Marco Rubio and Scott Walker, have already passed through Las Vegas to court the deep-pocketed casino magnate Sheldon Adelson and other donors.
But the state's conservative voters are often wary of the establishment side of the Republican Party, and Rand Paul, with his libertarian roots, is thought by many in the GOP to have an early edge in the caucus fight. In the 2012 caucuses, Ron Paul, Rand's father, won almost 20% of the Nevada vote despite his gadfly status in the race.
In the Senate contest, Republicans in Nevada and Washington hoping to avoid a repeat of the 2010 disaster see Gov. Brian Sandoval as their best chance to pick-up the Senate seat, but Sandoval is unlikely to run, multiple sources said.
Instead, GOP professionals are hoping that Rep. Joe Heck, an Army reservist and veteran of the Iraq war, makes a run. But many Republicans are eyeing the seat, including Attorney General Adam Laxalt, the tea party-friendly Las Vegas City Councilman Bob Beers, Nevada Senate Majority Leader Michael Roberson, and Heidi Gansert, a former Assemblywoman and chief of staff to Sandoval.
Another possible candidate, Mark Hutchison, the lieutenant governor, was in Washington on Friday meeting with Sen. Dean Heller, who escorted Hutchison around the Capitol and took him to meetings with the GOP super PAC American Crossroads as well as the Republican-friendly U.S. Chamber of Commerce.
Photos: Harry Reid's life in photos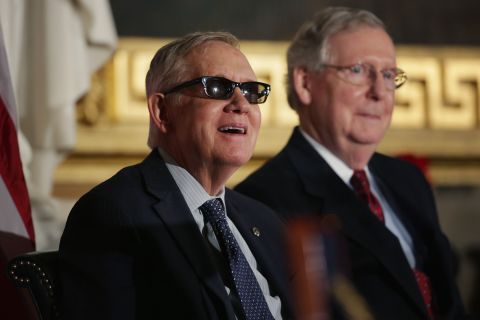 Photos: Harry Reid's life in photos
Photos: Harry Reid's life in photos
Photos: Harry Reid's life in photos
Photos: Harry Reid's life in photos
Photos: Harry Reid's life in photos
Photos: Harry Reid's life in photos
Photos: Harry Reid's life in photos
Photos: Harry Reid's life in photos
Photos: Harry Reid's life in photos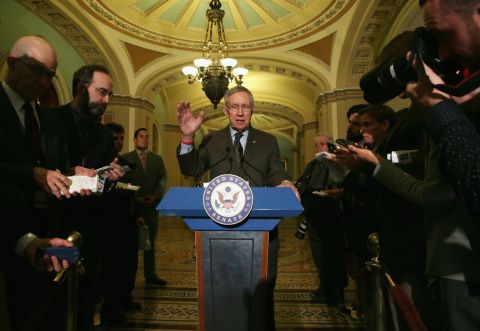 Photos: Harry Reid's life in photos
Photos: Harry Reid's life in photos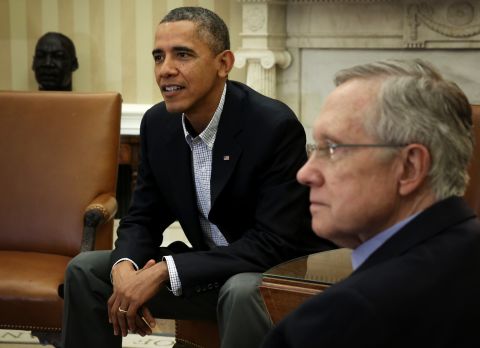 Photos: Harry Reid's life in photos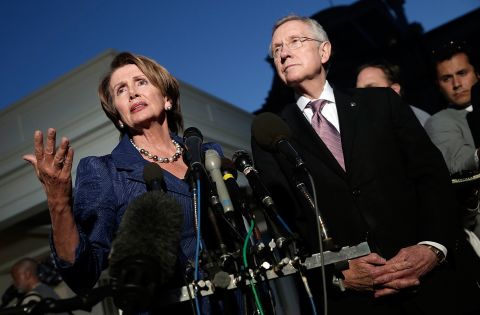 Photos: Harry Reid's life in photos
Photos: Harry Reid's life in photos
Photos: Harry Reid's life in photos
Photos: Harry Reid's life in photos
Photos: Harry Reid's life in photos
Photos: Harry Reid's life in photos
Photos: Harry Reid's life in photos
Photos: Harry Reid's life in photos