Former Florida Gov. Jeb Bush's fundraising swing through Texas this week will be a family affair.
Both former Bush presidents will reportedly attend fundraising events for the expected presidential hopeful in Jeb Bush's home state.
According to The Dallas Morning News, George W. Bush and his wife Laura will both attend a Wednesday evening reception at the home of wealthy Dallas Banker Gerald Ford. Donors have reportedly been asked to contribute $100,000 per couple for the event, which features a roundtable discussion with Jeb Bush and a reception and photo opportunity for supporters.
READ: Lindsey Graham's long-shot campaign
According to a copy of the invite, Bush's Texas fundraising team includes former GOP Sen. Kay Bailey Hutchison, former Rep. Tom Loeffler, former U.S. Ambassador to Switzerland Pam Willeford and beer distributor John Nau, among others.
George H. W. Bush's spokesman confirmed the former president and his wife will attend a fundraiser for the youngest Bush in Houston on Thursday night, which was first reported by Bloomberg.
Both events will benefit Bush's Right to Rise Super PAC, where he's been amassing funds in preparation for a probable presidential bid.
The fundraisers mark a rare foray into politics for the two elder Bushes, who have largely stayed off the campaign trail in recent years.
Bush 41, as the family affectionately refers to him, has long been an icon in the GOP, so much so that the Republican National Committee raised money by selling H.W.-branded socks. But he's not typically seen on the campaign trail, in part because of his age and fragile health.
George W. Bush has also enjoyed a renaissance of sorts since leaving office with near-record low approval ratings, after taking up painting and otherwise avoiding the spotlight on controversial issues.
Photos: Jeb Bush's life
Photos: Jeb Bush's life
Photos: Jeb Bush's life
Photos: Jeb Bush's life
Photos: Jeb Bush's life
Photos: Jeb Bush's life
Photos: Jeb Bush's life
Photos: Jeb Bush's life
Photos: Jeb Bush's life
Photos: Jeb Bush's life
Photos: Jeb Bush's life
Photos: Jeb Bush's life
Photos: Jeb Bush's life
Photos: Jeb Bush's life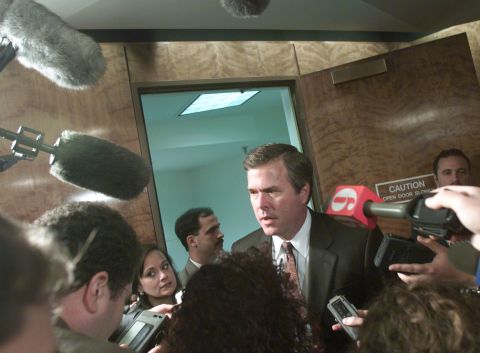 Photos: Jeb Bush's life
Photos: Jeb Bush's life
Photos: Jeb Bush's life
Photos: Jeb Bush's life
Photos: Jeb Bush's life
Photos: Jeb Bush's life
Photos: Jeb Bush's life