Story highlights
Cruz announces candidacy in a video on Twitter
He follows up with a speech at Liberty University in Virginia
Lynchburg, Virginia
CNN
—
Sen. Ted Cruz, the conservative firebrand from Texas, became the first Republican to announce his campaign for the presidency, and he spent Monday morning telling a crowd at the largest Christian university in the world to imagine what the country will be like when he takes office, and pitching his personal history as a key part of his campaign.
"These are all of our stories," Cruz told the audience Monday, roaming around the circular stage at Liberty University, in Lynchburg, Virginia, opening his remarks by spotlighting his family history and his own path to Washington. "These are who we are as Americans. And yet for so many Americans, the promise of America seems more and more distant."
Cruz drew on the past only to focus on the future, repeatedly and emphatically asking the Liberty University student audience to "imagine" the U.S. under conservative leadership – laying out his vision for the country and a Cruz presidency.
The senator from Texas, who burst into the national limelight with his staunch opposition to Obamacare and his willingness to shut down the federal government, presents a direct challenge to the expected bids of establishment Republicans such as Florida Gov. Jeb Bush – candidates Cruz coyly refers to as the "mushy middle."
Monday's event was the last part of a carefully coordinated media rollout, following Cruz's announcement of his candidacy in a 30-second video message posted on Twitter shortly after midnight on Monday, roughly 24 hours after the Houston Chronicle first reported his planned announcement.
Ten thousand students from Liberty University crowded into the university's main arena for Cruz's announcement. The venue choice at this socially conservative campus aims to give Cruz an early boost among evangelical voters, who will be key to boosting presidential hopefuls in states like Iowa and South Carolina that have early nominating contests. It was a youthful crowd, as students are required to attend the University's tri-weekly convocation address.
Not all in the audience were guaranteed Cruz supporters: Several attendees sported red "Stand with Rand" shirts, repping Kentucky Republican Sen. Rand Paul, who is slated to announce his candidacy early next month.
Jerry Falwell Jr., the university's president and son of its founder and evangelical icon, introduced Cruz as a senator who "has gone against the tide" and a "man of great character," all while stressing that the university does not endorse candidates for office.
Falwell picked up on Cruz's assertion that millions of evangelical Christians did not vote in 2012, pointing out that "if any candidate can energize that group, it will make a huge difference in any national race."
Asked after the speech how he prepared for the event, Cruz said he "spent some time in prayer" thinking about the message he wants to convey.
"At the end of the day it's listening to the people about the vision for turning the country around," Cruz told CNN, adding that he was "incredibly" encouraged and inspired by the support.
Cruz's announcement came on the five-year anniversary of the passage of the Affordable Care Act, also known as Obamacare, which Cruz has fought in the Senate to repeal. Cruz marked the anniversary by pledging to repeal "every word" of the healthcare law as president.
Cruz also jabbed at Common Core education standards – which Bush supports – and repeated his pledge to abolish the IRS, instead suggesting Americans could file their taxes on a postcard.
And Cruz drew the longest and loudest applause from the audience when he prompted the audience to "imagine a President who stands unapologetically with the nation of Israel."
Cruz's advisers envision a three-pronged strategy that focuses on dominating the tea party faction and competing in the libertarian and Christian conservative circles.
A constant and vocal critic of the Obama administration, Cruz is perhaps best known for his stalwart fight against Obamacare in 2013, which led to a tense standoff between Democrats and Republicans and ultimately resulted in a 17-day government shutdown. The showdown was punctuated by Cruz's 21-hour speech on the Senate floor.
While popular in conservative and tea party circles, Cruz has a long way to go in terms of broader support in the GOP base, according to public opinion polls. A CNN/ORC International survey conducted this month on the hypothetical Republican primary showed Cruz came in with 4% support among Republicans and independents who lean Republican.
But the field is still relatively open, with the top contender – Bush – coming in at 16% support, followed by Scott Walker at 13%.
But Cruz has relatively strong favorability numbers. According to a recent Quinnipiac University poll, he is viewed in a positive light by 45% of Republicans, compared with only 8% who don't have a favorable opinion of him. Still, 46% say they haven't heard enough about him to form an opinion.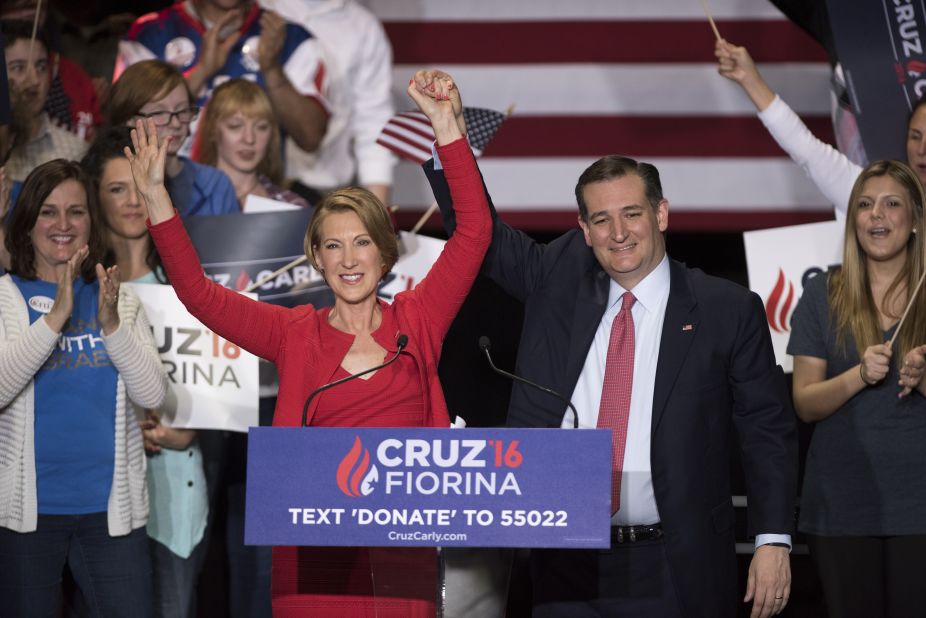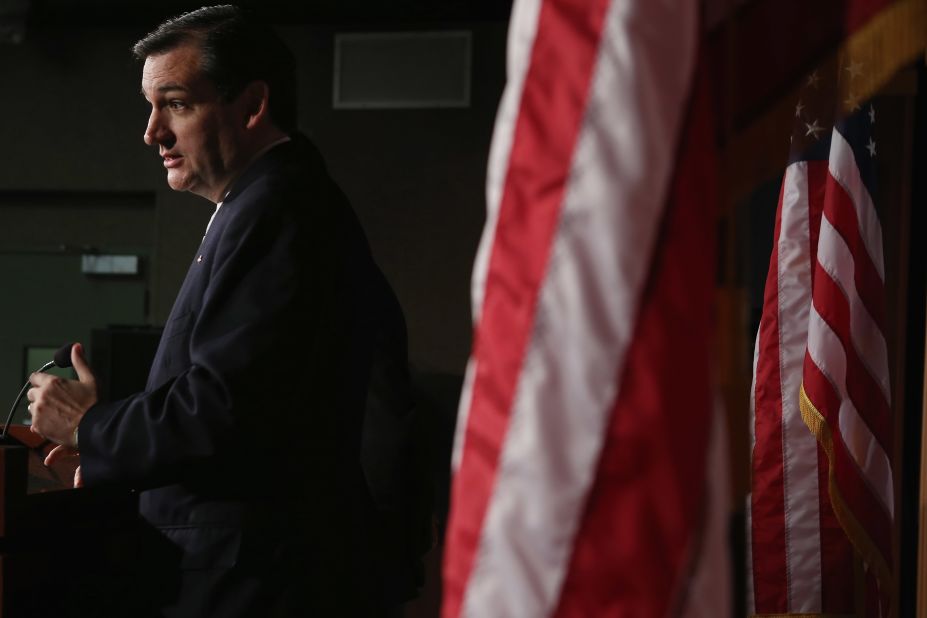 Moments from Ted Cruz's career
Jason Miller, an adviser to Cruz's campaign, confirmed that the campaign's fund-raising target is $40 million, and the campaign believes it can raise $1 million in the first week.
Cruz this month finished an early-voting state tour to Iowa, South Carolina and New Hampshire – and he's scheduled to return to New Hampshire on March 28 to speak at a brunch in Rockingham County. Depending on the Senate schedule this week, he could possibly make more early-state trips, according to advisers.
After his speech Monday, he'll head up to New York for media appearances and a fund-raiser.
Cruz developed a loyal following when he won his 2012 primary battle in Texas as a little-known candidate, forcing then-Lt. Gov. David Dewhurst into a surprise runoff and ultimately defeating the establishment Republican.
Along with two other first-term senators who are expected to run for president (Rand Paul and Marco Rubio), Cruz will likely face questions over experience, an issue that Republicans brought up in 2008 against Barack Obama, who was also a first-term senator at the time.
Before running for the Senate in 2012 – his first campaign for public office – Cruz was solicitor general of Texas and argued before the Supreme Court. He graduated from Princeton University and Harvard Law School.
Born in Canada to a Cuban father and American mother, Cruz was a dual citizen until he renounced Canadian citizenship in 2014. He faced questions over whether he would qualify for the presidency, though law experts consider him a natural-born citizen because he was born to an American mother.
Cruz was swarmed by students and reporters after he descended the stage and started to exit the arena. He took photos and signed autographs for about a half hour, as his team tried to escort him through the crowd.
One girl who was raising money selling baked goods offered to give Cruz a dozen cupcakes for free but he pulled out his wallet and gave her $20.
A pair of enthusiastic sisters shouted out to Cruz to tell him that, like his own daughters, they were also named Caroline and Catherine and were two years apart.
"That's just cool," he said, as he gave them both high fives. "That is awesome."
One student who said she was Hispanic said she and her whole family were behind him. "You have the Hispanic vote," she joked, then proceeded to start talking to him Spanish.
While Cruz's father is Cuban, he's not fluent in Spanish.
"We grew up speaking Spanglish. My grandmother would be like 'Nino, throw me the remote control'," he said This is who we are as a people. We got to tell that story," Cruz said.

CNN's Adam Levy and Kevin Bohn contributed to this report.