Joe Clancy, the longtime agent President Barack Obama picked to reform a troubled Secret Service, appeared before outraged lawmakers on Tuesday, who demanded to know why incidents of misconduct continue to plague the agency.
Testifying in front of the House Appropriations Committee, Clancy was peppered with inquiries about the latest episode at the White House, which involved a late-night disruption at a White House command post during an investigation of a possible bomb.
The Secret Service director said he didn't learn about the March 4 incident until five days later from an anonymous email, a delay he described as unacceptable. He said he delivered a "good, stern talk" to his staff upon learning he was kept in the dark.
Visibly nervous but firm in his answers, Clancy acknowledged there were employees of the agency who abuse alcohol, causing "great distress" to other agents and officers. But he defended his ability to reform the once-storied Secret Service, whose reputation has been deeply damaged after repeated scandals.
"It's going to take time to change some of this culture," Clancy said. "There's no excuse for this information not to come up the chain. That's going to take time because I'm going to have to build trust with our workforce."
Two top-ranking officials were suspended following the latest incident. Clancy said he was awaiting the results of an investigation by the Department of Homeland Security's Inspector General to determine whether the agents in question should be fired.
That, some lawmakers alleged, was too slow a response.
"I am disappointed you have not waged your own vigorous, tough investigation" into the incident, said the panel's Republican Chairman Rep. Hal Rogers. "To say you're not investigating because you want the inspector general to investigate is hogwash."
Clancy, who once headed up Obama's own personal protection detail, was appearing before the House Appropriations panel Tuesday in a hearing meant to explain his agency's budget request. But questioning largely focused on the latest Secret Service incident.
READ: What happened the night of the Secret Service crash?
Some lawmakers told Clancy they doubted his ability to bring change to the agency.
"I don't sense at this moment that you have the determination to make that happen," Rogers said.
The top Democrat on the committee, Rep. Nina Lowey, suggested Clancy was stalling on taking appropriate action against agents accused of misbehavior.
"There seems to be more evidence of a cultural issue which has not been adequately addressed by changes in leadership," she said.
On Tuesday, Clancy also met privately with top lawmakers who sit on the House Committee on Oversight and Government Reform, the panel that's pressed the Secret Service to explain past incidents, including the September fence-jumping that cost then-Director Julia Pierson her job. Those lawmakers reviewed surveillance video of the March 4 incident.
"You're left with more questions than not," said Rep. Jason Chaffetz, the Republican chairman of the oversight panel, after viewing the tape. He said his committee planned to hear testimony from Clancy about the incident next Tuesday.
Rep. Elijah Cummings, the Democratic ranking member on the committee, said hearing about yet another Secret Service scandal was frustrating.
"It seems as if we're going on a merry-go-round," Cummings said after the closed-door briefing.
One month after naming Clancy as Pierson's replacement, Obama maintains full confidence in the agency boss, according to White House officials. As the man once directly responsible for keeping Obama and his family safe, Clancy is deeply trusted by both the President and the first lady.
But his appointment as Secret Service director prompted dismay from some lawmakers, who had encouraged Obama to follow the guidance of an independent review panel that suggested an outsider assume control of the agency amid repeated embarrassments and scandals.
Those black eyes date back three years, when a dozen agents were accused of bringing prostitutes back to their hotel rooms during a summit in Colombia. Months later, an agent was found passed out drunk in his hotel room in the Netherlands after a night out in Amsterdam.
SEE: Law enforcement officials push back against latest flap
Now, similar accusations of drunken impropriety are again being raised, though the details of what happened earlier this month near the White House are in dispute.
Originally reported by The Washington Post, the incident involved two highly placed Secret Service officials steering their government-issued vehicle into a security barricade at a White House checkpoint after celebrating a colleague's retirement at a Washington bar.
While the Post reported the officials drove through an ongoing investigation into a suspicious package, law enforcement officials later told CNN the two men merely drove to the edge of the scene.
Upon watching the video of the incident, Chaffetz said it was clear the car interfered with a crime scene.
"I recognize it was a late, rainy night, but there is no excuse for impeding on a potential crime scene," Chaffetz said.
The original report also indicated the two men appeared intoxicated at the time, according to witnesses, who added that uniformed officers wanted to conduct sobriety tests on the pair, but were overruled by supervisors.
Chaffetz said those details couldn't be confirmed by the surveillance tape.
"From the video alone it's very difficult to tell whether these two had too much to drink, or whether they had anything to drink at all," he said.
Photos: Video stills released from Capitol shooting
Photos: Video stills released from Capitol shooting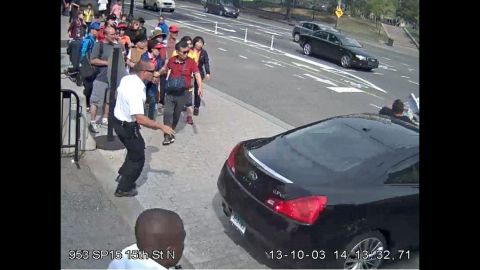 Photos: Video stills released from Capitol shooting
Photos: Video stills released from Capitol shooting
Photos: Video stills released from Capitol shooting
CNN's Michelle Kosinski and Deirdre Walsh contributed to this report.