Story highlights
With police surrounding hiding place, sixth suspect kills himself, Russian media say
One of the men arrested reportedly served as an officer in a Chechen police battalion
Four of the five suspects are ethnic Chechens, law enforcement official tells media
A sixth suspect in the shooting death of a top Russian opposition figure blew himself up after a standoff with police in the capital of the Chechen Republic, state-run television reported Sunday.
Beslan Shavanov, 30, was holed up in a building in Grozny when police arrived to arrest him Saturday afternoon, Russia 24 reported. Police surrounded the building and Shavano tried to escape, throwing a grenade at police officers before blowing himself up, the station said.
The news came as Russian authorities reported making five other arrests in connection with Boris Nemtsov's killing.
One of those arrested claims to have an alibi, according to Russia's Sputnik News.
"At the time of the murder, I was at work as I usually am every day. There are many people, my colleagues, who will confirm this," the news agency quoted Tamerlan Eskerkhanov as saying in Moscow's Basmanny District Court.
Two of the suspects have been formally charged and three "remain under the status of suspects," court spokeswoman Anna Fadeyeva told Sputnik.
Nemtsov, one of President Vladimir Putin's most outspoken critics, was shot in the back on a Moscow bridge as he walked with his girlfriend near the Kremlin in late February.
Surveillance video showed someone darting from the sidewalk and into a nearby car right after Nemtsov collapsed.
Putin has been informed of the arrests in connection with Nemtsov's death, Russian media said, citing Federal Security Service director Alexander Bortnikov.
Two of the other suspects are Anzor Gubashev and Zaur Dadayev, Bortnikov said in a televised statement. The others are Ramzan Bakhayev and Shagit Gubashev, Anzor's younger brother, according to a Sputnik report that also said Dadayev was the only one of the five to plead guilty – though to what crimes was not clear.
Bortnikov said those detained are from the southern region of the North Caucasus, which for years has been a hotbed of unrest and rebellion against Moscow.
The suspects
Dadayev had previously served as an officer in a Chechen police battalion, Albert Barakhayev, secretary of the Security Council of the Caucasian republic of Ingushetia, told the official news agency TASS.
Dadayev was the deputy commander of one of the Chechen Republic's Ministry of Internal Affairs groups, Sputnik reported, adding that Gubashev worked at a security firm in Moscow.
Gubashev was arrested between the town of Malgobek and the village of Voznesenovskaya, while Dadayev was arrested in the city of Magas, Barakhayev told TASS.
The slain opposition leader's daughter, Zhanna Nemtsova, told CNN she is "not surprised both of them (are) of Caucasus origin. It was predictable."
Nemtsova said the only things she knew about the arrests came from media reports, as authorities did not contact her immediately.
Later Saturday, a southern Russian law enforcement official told state news agency RIA Novosti that two more men were arrested.
The two suspects in the second arrest were not named, but one of them was driving with Dadayev, and the other man is Gubashev's younger brother, Barakhayev said. Like Gubashev and Dadayev, those two suspects are also ethnic Chechens, according to Barakhayev.
Opposition blames Putin
After Nemtsov's shooting Putin blamed extremists and protesters who he said were trying to stir internal strife in Russia.
Many opposition sympathizers and people close to Nemtsov have pointed the finger at Putin and the Russian government he leads. They note that Nemtsov – the deputy prime minister under former President Boris Yeltsin – is the latest in a list of Putin's opponents who have been killed or imprisoned.
Nemtsov had also been arrested several times for speaking against the government.
In her first TV interview since her father's death, Nemtsova told CNN that Putin shares "political responsibility" for her father's assassination. She spoke from Germany.
"I don't believe in the official investigation," she said Saturday.
Jailed or killed
Other opposition figures previously jailed or killed include Anna Politkovskaya, a journalist critical of Russia's war in Chechnya. She was gunned down at the entrance to her Moscow apartment in 2006.
There was also business magnate Mikhail Khodorkovsky, who backed an opposition party and accused Putin of corruption. Khodorkovsky landed in jail after a conviction on tax fraud, which he said was a ploy to take away his oil company. The government rejected the claim. Putin pardoned him in 2013.
Former Russian security agent Alexander Litvinenko was poisoned by a lethal dose of radioactive polonium, his tea spiked in a London hotel during a meeting with two former Russian security service men in 2006.
He had blamed the agency for orchestrating a series of apartment bombings in Russia in 1999 that left hundreds dead and led to Russia's invasion of Chechnya later that year.
The Kremlin has staunchly denied accusations that it or its agents are targeting political opponents or had anything to do with the deaths.
Photos: Critics of Putin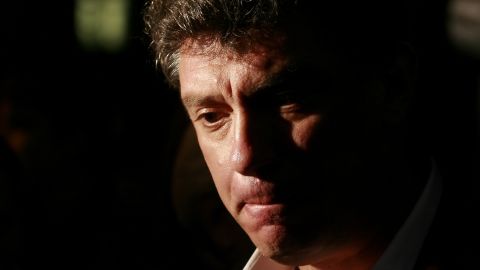 Photos: Critics of Putin
Photos: Critics of Putin
Photos: Critics of Putin
Photos: Critics of Putin
Photos: Critics of Putin
Photos: Critics of Putin
Photos: Critics of Putin
CNN's Catherine Shoichet, Ben Brumfield, Elena Sandyrev, Brian Walker, Greg Botelho, Joshua Berlinger and Alla Eshchenko contributed to this report.