Editor's Note: David M. Perry, a freelance journalist focusing on disability issues, is the author of a new book, "Sacred Plunder" and associate professor of history at Dominican University. He writes regularly at the blog: How Did We Get Into This Mess? Follow him on Twitter. The opinions expressed in this commentary are his.
Story highlights
Perry: Officers may be able to avoid the need for deadly force by rethinking how they approach suspects.
He says it's not only a matter of the moment when a suspect grabs for an officer's gun
Over the weekend, Los Angeles Police Department officers shot a man known as "Africa." The killing was caught on video by bystanders as well as by currently un-released body-cam and surveillance cameras. There are ongoing protests and an official investigation into the shooting has been launched.
Police Chief Charlie Beck came to the officers' defense. "I think that this is an awful tragedy, but the officers took – on the face of it – reasonable steps to avoid it. Had the individual not grabbed the officer's pistol, certainly we would not be having this discussion," he said.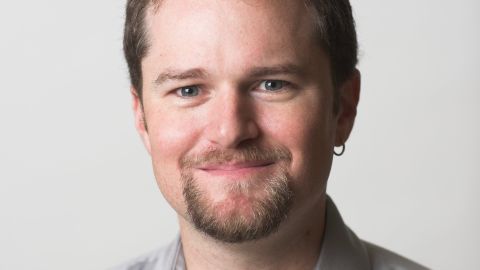 Indeed the media and the investigation will likely focus on whether Africa was reaching for an officer's gun when he got killed.
This is the wrong question. Instead, we need to look at why the officers decided to begin the encounter by aggressively charging into the victim's tent, dragging him out, and demanding compliance.
Africa was unarmed, homeless, African-American, and disabled. When these factors intersect in a single individual, as we've recently seen with high-profile case like the deaths of Eric Garner and Kajieme Powell, encounters with police too often escalate out of control.
Africa's death raises important questions about how we should assess culpability in officer-involved shootings. Do we look just at the moment in which the trigger was pulled, or can we zoom back in time and think about the whole incident?
The LAPD officers were responding to a 911 call that reported a robbery. They determined that Africa was the suspect and grabbed him. The situation worsened quickly, even as they threw him to the ground. According to the LAPD, Africa and an officer were struggling for control over a firearm when he was shot. The official statement from the LAPD says, "The officers attempted to use a Taser to subdue him but the suspect continued to fight and resist the officers and fell to the ground. While on the ground, the suspect and officers struggled over one of the officer's handguns and then an officer-involved shooting occurred." At least one witness has disputed this claim.
When police shoot unarmed people, they often emphasize that he or she was or could have been reaching for the officer's weapon. It's a way of turning a tragic victim into a potentially armed suspect. The statement that a struggle for control over a firearm precipitated an officer-involved shooting has immense power in both courts of law and the courts of public opinion.
For example, Ferguson, Missouri, officer Darren Wilson said he based his decision to use deadly force against Michael Brown on the claim that Brown grabbed for Wilson's gun. The LAPD blamed Ezell Ford, another unarmed mentally ill black man shot by police, for attempting "to remove the officer's handgun from its holster." Two New Jersey officers shouted, "Stop trying to take my gun" for the benefit of the camera, even though a later video revealed the victim was doing no such thing.
In fact, officers are very rarely shot with their own weapons. I went through every line-of-duty death from 2014 that involved firearms, as well as FBI data from 2004-2013. In 2014, in only one of 46 such deaths was an officer shot with his own firearm, and 33 total since 2004. It clearly is a genuine risk, and one that police are rightly trained to be concerned about. There are, though, many kinds of risks that law enforcement must consider in any incident, and this particular phrase cannot serve as carte blanche for justifying the killing of unarmed victims.
Instead, we need to back up. According to witnesses, the officers had dragged Africa out of his tent in the seconds just before the video starts. The victim spins around, flailing his arms, out of control. As with most American cities, given our failed mental health system, the homeless people of Los Angeles frequently struggle with mental illness. It is therefore reasonable to require the LAPD to think about accommodating Africa's psychiatric disabilities when engaging him. It is necessary to ask why the officers thought the best approach was to grab him, drag him into the open and corral him, and to hold the LAPD accountable to best practices in such situations.
That may not happen, or at least whatever answers we get about the overall tactical approach may have no legal power. Courts are split on how to examine use-of-force incidents when assessing criminal and civil liability.
According to Seth Stoughton, a law professor at the University of South Carolina who specializes in police regulation, there are two ways to look at use-of-force incidents. One position advocates for a narrow time frame in which we only examine the moment in which the trigger was pulled. The other argues for a broad time frame, in which the whole chain of decisions leading up to the moment of force is part of the assessment.
In fact, Stoughton notes that the Supreme Court may well rule on this matter in Sheehan vs San Francisco, a case also involving police violence and mental illness. On March 23, the court will hear whether San Francisco police should have considered Teresa Sheehan's disability before entering her room, and whether their failure to accommodate her disability violates the Fourth Amendment. Sheehan was shot, but survived, and is trying to keep her lawsuit from being thrown out. As with most Supreme Court cases, the decision will likely have broad implications.
The death of Africa demonstrates the stakes of these conversations about law, accountability, justifications for violence, and police procedure. Do we want a system in which police are allowed to grab an unarmed, psychiatrically disabled individual, and then shoot him when he reacts in an unpredictable fashion? Or can we do better?
There are lots of great ideas out there for how to refashion American policing, especially in encounters between law enforcement and people with disabilities. To empower these ideas, we have to be able to look at the whole picture, and hold police accountable for more than just the moment in which they pull a trigger.
Read CNNOpinion's new Flipboard magazine.
Follow us on Twitter @CNNOpinion.