Story highlights
Pictures released Monday show Fidel Castro meeting with five Cuban intelligence agents
The agents were jailed in the United States for many years
(CNN) —
Photos published in Cuba's state-run press on Monday show Fidel Castro meeting with five Cuban intelligence agents who served lengthy prison sentences in the United States.
Castro reportedly met the agents Saturday at his home in Havana, ending speculation over why the former Cuban President had not yet seen the men, who are referred to as "the five heroes" by Cuba's government.
The last of the agents returned to Cuba in December following a prisoner swap that also freed U.S. State Department contractor Alan Gross, who was jailed in Cuba. The swap coincided with an announcement of a change in U.S. policy toward Cuba.
Castro's wife, Dalia Soto del Valle, is also shown, as is his nephew Alejandro Castro Espín, the son of Cuban President Raul Castro and a colonel in Cuba's Interior Ministry.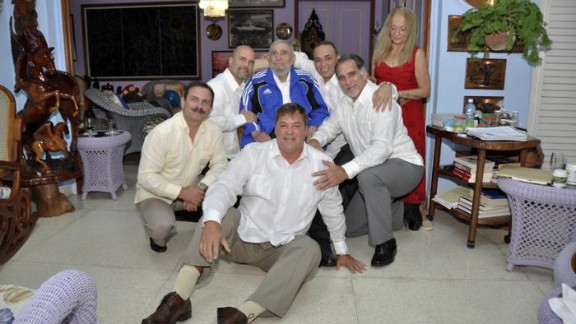 embajada de cuba en mexico
These "anti-terrorist heroes never did any harm to the United States," Fidel Castro wrote in an article published in the daily Communist Party newspaper Granma on Monday, which said he met with them for five hours. "They tried to prevent and impede terrorist acts against our people."
U.S. officials have said the men were part of a spy ring that monitored the anti-Castro Cuban exile community and military installations in Florida.
Castro on Monday though said the men were not spying on U.S. military capabilities, stating that a now-shuttered Russian spy station allowed the Cubans to be aware of any impending U.S. attack on the island.
"That center allowed us to be aware of any object that moved thousands of miles from our country," Castro wrote, referring the Lourdes spy base in Cuba, which Russia closed in 2001.
The men were arrested in 1998 and charged with carrying out a slew of intelligence gathering activities. Seven other agents agreed to cooperate with U.S. prosecutors, but five of the agents refused to switch sides.
The men were lauded as heroes by the Cuban government, which held large demonstrations demanding their release in front of the U.S. Interests Section in Havana.
Agents Rene Gonzalez, 58, and Fernandez Gonzalez, 51, returned to Cuba in 2014 after serving their prison sentences.
The remaining three agents – Gerardo Hernandez, 49; Antonio Guerrero, 56; and Ramon Labañino, 51 – were transferred to Cuba a part of a prisoner swap after serving 16 years in U.S. prisons.
Last month, all five were presented with the Hero of the Republic award, the highest honor presented by the Cuban government.
Many Cubans though wondered why the men had not yet met with Fidel Castro, who had championed their cause during his final years as President.
In the article published on Monday, Castro said he had not seen the men previously to allow them time with their families and to undergo extensive medical checkups.