Story highlights
Representative of Islamic group suspended by college denies any radical ties
Canadian authorities trying to locate at least four teens believed to be trying to join ISIS
(CNN) —
Canadian authorities are looking for at least four teenagers who may have flown to Turkey in a bid to join ISIS, a police source told CNN – the latest in a string of such defections by Westerners lured to the Middle East fight for the Islamist group.
Two of the four teenagers are women from Laval, Quebec, while at least one is a male from Montreal, the Canadian Broadcasting Corp. reported.
The teenagers reportedly flew from Montreal to Turkey in mid-January. Two days later, family members alerted the police. It's unclear where the teens are now.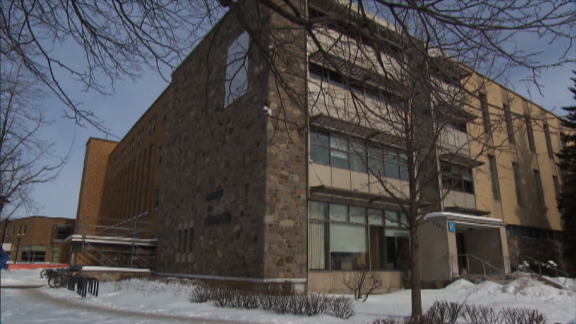 CBC
Three of them attended a Montreal community college that has now suspended its lease arrangement with an Islamic group after finding evidence of what administrators described as "hate speech" involving one of the group's leaders, according to a school official.
One of the students took two class sessions offered by the organization, its representative, Adil Charkaoui, told reporters.
He described the teenager as quiet and "very shy."
"We didn't evaluate him, so really we don't know about his level in religion and in Arabic," said Charkaoui, who denied any links to radical Islam.
Canadian authorities say they are looking at the possibility that other youths may have followed a similar path, but they won't say how many.
Friends of one of the teenagers identified her as 18-year-old Shayma Senouci, describing her as smart, kind and "normal" – not one to talk religion.
RCMP declined to comment when asked to confirm that Senouci is among those believed to be in the Middle East.
What is ISIS' appeal for young people?
The disappearances are the latest example of a troubling trend for Western authorities: a steady flow of young Muslims born or raised in the West, lured to Iraq and Syria by slick propaganda churned out by the Islamist group.
Some 3,400 Westerners have gone to fight for ISIS, Nicholas Rasmussen, director of the National Counterterrorism Center, said in recent U.S. congressional testimony.
In the Canadian case, three of the four students attended Montreal CEGEP Collège de Maisonneuve, according to an official there.
On Thursday, the school said it had decided to stop leasing classroom space to an Islamic organization that provided Arabic and Quran studies.
The organization, École des Compagnons, was suspended because the college found evidence of "hate speech and non-respect for our values" involving one of the group's leaders, spokeswoman Brigitte Desjardins said.
"We are going to interrupt the contract we have with this organization until we have more information," she said. The agreement is less than a year old, Desjardins said.
Charkaoui told reporters Friday that his organization isn't involved in radical Islam, and will sue if the college does not reverse course.
"We are teaching Arabic, (the) Quran and have given half-hour (lessons on) soccer and 20 minutes about religion," he said.
Charkaoui describes himself on his Twitter account as "Coordinator of the Collective Against Islamophobia Quebec, Professor, PhD student in Educational Sciences."
Some students at the school interviewed by the CBC were baffled by the news that some contemporaries might go fight for ISIS.
"It's shocking, I don't understand how this could happen," one student told the network.
"It just makes us think, what were they thinking?" another student said.
Paula Newton reported from Montreal and Kim Hutcherson wrote this report from Atlanta. CNN's Dominique Dodley contributed to this report.