Story highlights
"We are fighting with the Russian regular army," not rebels or guerrillas, Ukraine's PM says
A Kremlin spokesman rejects U.S. claims of Russian tanks and soldiers in Ukraine
Russia must pull back troops and weapons, close its border with Ukraine, Kerry says
(CNN) —
Russian leaders must be blind if they keep denying that forces from their country have crossed the border, Ukrainian Prime Minister Arseniy Yatsenyuk added.
"If they need, I can give them my glasses," Prime Minister Arseniy Yatsenyuk said, removing black frames from his face and holding them up to reporters.
"It is crystal clear that (the) Russian military is on the ground," he said, as U.S. Secretary of State John Kerry stood by his side.
"We are not fighting so-called rebels or guerrillas," Yatsenyuk said. "We are fighting with the Russian regular army."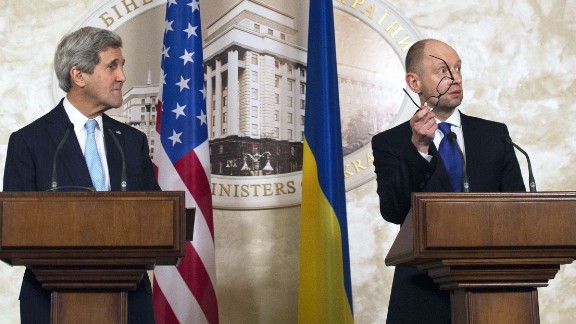 JIM WATSON/POOL/AFP/Getty Image/
It's an argument he's made before, but now the timing is key.
Kerry visited Ukraine Thursday in the midst of what State Department officials called a grave escalation on the ground as the conflict between Ukrainian forces and pro-Russian separatists claims a growing number of lives. Both sides in the conflict have been blamed for shelling civilian areas.
Kerry didn't mince words Thursday about who he believes is responsible for the bloodshed.
"Let there be no doubt about who is blocking the prospect of peace here. … Russia, with impunity, seemingly, has acted to cross that border at will with weapons, with personnel, with the instruments of death that they are bringing into Ukraine," he said. "Russia and the separatists are seizing more territory and continuing to refuse control to Ukraine of its rights as a sovereign nation."
French President Francois Hollande and German Chancellor Angela Merkel met with Ukrainian President Petro Poroshenko Thursday as part of a new diplomatic push for peace in the volatile region. On Friday they'll meet with Russian President Vladimir Putin.
Major questions loom as a solution to surging violence and escalating problems remains elusive: Will leaders strike a new ceasefire deal? Will the United States give Ukraine weapons to help defend its territory? And what's next for civilians caught in the crossfire?
'No Russian tanks'
Kerry called on Russia to take three steps he said would enable a diplomatic solution "that is staring everyone in the face."
Those are: pulling back heavy weapons beyond the range of civilian populations, removing foreign troops and heavy equipment from Ukraine, and closing the Russia-Ukraine border.
A spokesman for Putin, Dmitry Peskov, told CNN that Kerry's remarks in Ukraine "just shows the unwillingness and inability of the United States to participate in settlement of the Ukrainian crisis."
He said, "As for Russian tanks, allegedly crossing Russian-Ukrainian border, we've commented on this before – there are no R