Follow us at @CNNSport and like us on Facebook
Story highlights
MainSail presenter, Shirley Robertson, undergoes a harrowing sea survival training session
Scientists recreate extreme weather conditions before throwing sailors in the deep end
Elite athletes must learn to cope with cold water shock, keep calm in terrifying conditions
In a laboratory in the north of England, a group of scientists are playing God – or at least, they're brewing up an almighty storm.
At the Extreme Environments Lab, elite sailors are quite literally thrown in the deep end, undergoing harrowing survival training in a pool as close to the Southern Ocean as you'll find under one roof.
"I think for quite a lot of them it's all a bit of a game to start with – they're all jumping in the pool and having a bit of a laugh," said Alistair Hackett, who runs the three-day advanced sea survival course at South Tyneside College in Newcastle.
"Then we turn the waves on. Then we turn the rain on and it's pretty severe – you can't really breathe properly with it hitting your face. Then we turn the wind on and all of a sudden it's not quite like going to your local swimming pool anymore."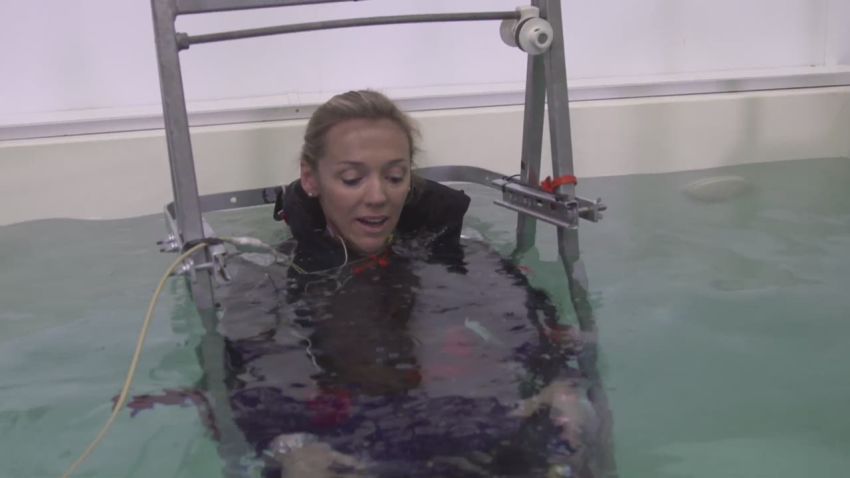 Thrown in at the deep end...the cold deep end
Then it was my turn to join the 24 sailors in the pool, who were training ahead of one of the most brutal sporting competitions on the planet – the Volvo Ocean Race.
Wearing survival suits, we're standing around what looks like an unfriendly industrial version of your local swimming pool. A siren starts, some unseen machinery strains somewhere deep below, the waters start to move, and as the air fills with spray from the overly aggressive rain makers, the wind machines kick in.
One by one we jump in. But it's fine, because it's a swimming pool. Very quickly though, it's not ok – I'm searching for the features on my lifejacket, someone's yelling something, but there's too much noise. I'm struggling to fit the spray hood, struggling to stay safe, struggling to breathe.
The sea safety course is a thorough demonstration of what to expect on the open waters, teaching us how to swim in waves and spray, and right upturned life rafts.
And yet it was still not a patch on what the real ocean could be. Even for these professional sailors about to set off around the planet, this course made them stop and think. It made them prioritize their safety and practice survival techniques as they would any other sailing maneuver. It made them stop assuming somebody else had it covered.
Most of the course was spent familiarizing ourselves with the safety kit onboard, discussing the "what ifs," and doing the right thing in the right order.
Did I check my lifejacket? Do I actually know how it works? Is my personal Emergency Position-Indicating Radio Beacon (EPIRB) in my pocket? Do I always wear that jacket? Is it registered correctly? Is it up to date? Do I know where the life raft is and what it even looks like when it's inflated? What's in our life raft and do I know how to use it?
Any complacency I may have had left was thoroughly purged by a morning spent with Professor Mike Tipton, a leading authority in environmental physiology at the Department of Sport and Exercise Science at Portsmouth University.
With the cool clarity of a man that really knows his field, Tipton told me that although hypothermia is often assumed the greatest danger, 60% of deaths in cold water happen within the first few minutes of immersion. Amazingly, 60% of those deaths will happen within 10 feet of a safe refuge, and 66% of those who die will be classified as good swimmers.
As Tipton lowered me into the cool pool, he told me that after 10 minutes my dexterity would be radically reduced and all but my core would be dangerously cold. As the water went down the neck of my jacket – not even over my head – I went into cold water shock.
Even in a very controlled environment, I was struggling. I learned though that the shock passes – you just need to ride it out, limit the damage, and keep your airway clear of water, knowing that could save your life.
I'd been in and out of the pool for about an hour, but dry and warm, with a cup of tea, I thought back to some of the harrowing stories of survival from sailors I'd interviewed.
These are stories that weren't set in a swimming pool, they're stories that took place in the harsh and frightening reality where there is no side, there is no ladder, there is no switch to turn the mayhem off.
Indeed, I'd listened for an hour, on the magnificent Heads that guard Sydney Harbor, gripped by the harrowing account of John "Steamer" Stanley's survival of the 1998 Sydney to Hobart race.
With composure and clarity, John recalled the day a terrific storm ripped through the Boxing Day fleet, and left him fighting, injured and afraid, in a decimated life raft. It was a day that his love of sailing turned into his own very precarious battle for survival, and tragically, it was a battle that more than one of his crew mates would lose.
I walked away from my interview with John in almost stunned silence. It had been a harrowing tale to tell, it had been a privilege to listen to him. And as the year progressed, that stunned silence was to be repeated again and again.
But what if I'm not the one in the water, but doing the rescuing?
Like Kiwi sailor Conrad Coleman's account of the moment his co-skipper was thrown from the bow of their race yacht. As the spray dispersed, he glanced sideways to see British sailor Sam Goodchild drift away from the speeding yacht. They made eye contact – racing forgotten, taken over in an instant, by the battle to save Goodchild's life.
When I asked Coleman how long he would have searched for his sailing partner, his answer was "forever." He could not face a life without finding him. After 35 minutes, some impressive seamanship and a bit of luck, Coleman saw his partner and saved his life.
Could I have done the same. I wondered? ​At least after my survival training session, I'm more likely to know the answer than ever before.
Read: Spectacular Sydney Harbour – A journey back in time
Photo gallery: Capturing the thrill of ocean racing