KDVR
Now playing
03:52
Teen who wanted to join ISIS faces 5 years in prison
Now playing
05:24
Fareed's Take: Iraq's promising elections
Now playing
02:08
Iraq registra la participación electoral más baja desde 2003: el 41% de votantes acudió a las urnas
Now playing
06:47
On GPS: President Barham Salih of Iraq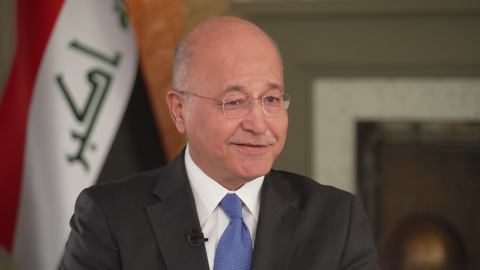 Now playing
04:50
GPS Web Extra: Is corruption Iraq's Achilles' heel?
CNN
Now playing
04:22
Clarissa Ward's chilling interview with ISIS-K leader (August 2021)
Philippe Wojazer/Pool/Reuters
Now playing
02:11
Macron claims 'major success' after French forces kill ISIS chief in Sahara
Now playing
04:02
Two new reports raise doubts about drone strike rationale
Now playing
14:42
An Iraq war critic in the room where it happened
Now playing
02:06
¿Cómo será el juicio por los atentados terroristas de 2015 en París?
Fiona Goodall/Getty Images
Now playing
02:09
Video muestra un supermercado de Nueva Zelandia durante un "ataque terrorista"