Be sure to tune in to "New Day," from 6 to 9 a.m. ET, join us at NewDayCNN.com and go and have a GREAT NEW DAY!
It's Wednesday and here are the 5 things to know for your New Day
FERGUSON SHOOTING
A high bar: Legal experts had said all along that it'd be a high bar – to get a federal indictment for Officer Darren Wilson in the shooting death of Michael Brown. Even then, the news last night came as a surprise to many. Sources told CNN that an FBI investigation into the August shooting in Ferguson, Missouri, is complete and it found there's not enough evidence to charge Wilson with the federal crime of violating Brown's civil rights. So, what's next? The final Justice Department report's not done yet. The Brown family says it'll wait for official word before commenting. "The family won't address speculation from anonymous sources," attorney Benjamin Crump said.
Will Darren Wilson face charges for Ferguson shooting?
YEMEN UNREST
Questions abound: After days of turmoil and talks of a coup in Yemen, the government and Houthi rebels reached a tentative deal yesterday. The rebels agreed to release the President's chief of staff and withdraw their militias from key government buildings. In return, they want to see changes in the constitution. That brings up a whole host of questions: What will a new constitution look like? How much power will the rebels get? Will President Abdu Rabu Mansour Hadi be reduced to a figurehead? But the fact that the sides are talking is good news – for Yemen, and for the U.S. Yemen's a key ally in the fight against al Qaeda in the Arabian Peninsula (AQAP), and the power vacuum could have helped the militants get a stronger foothold.
Breakthrough in tense standoff in Yemen
ISIS HOSTAGES
Time running out: On Tuesday, ISIS put out a video giving the Japanese government 72 hours to pony up $200 million, or else two Japanese hostages – like other ISIS captives before them – will be killed. That deadline will come at 12:50 a.m. ET Friday. Japan says it'll do its best to communicate with ISIS, but so far Tokyo hasn't heard a thing from ISIS. What happens next for both men is up to ISIS. Taking hostages has been part of its playbook. And not only has ISIS beheaded many of them, it's made a show of it by recording their deaths and posting them online.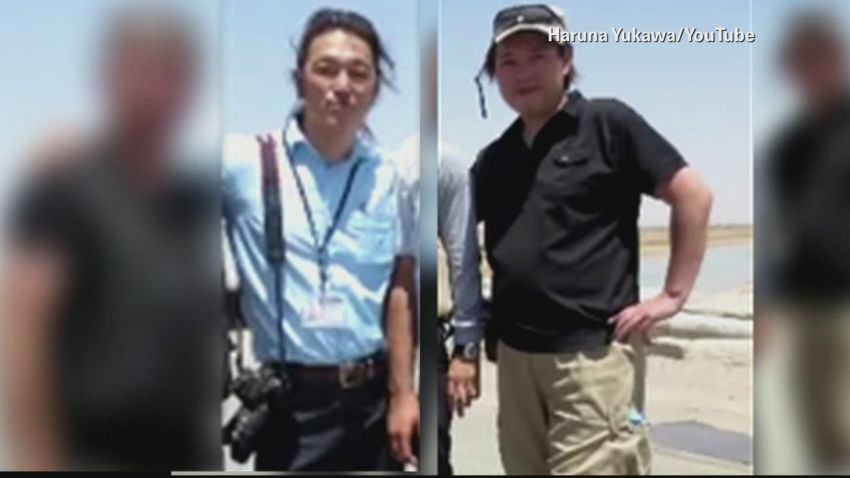 Japanese hostages held by ISIS met in Syria
SANDY HOOK
A bad memory: Newtown, Connecticut, council members voted unanimously yesterday to tear down the home of Adam Lanza, the site where he killed his mother before massacring 26 others at the nearby Sandy Hook Elementary School in 2012. There's no timetable, but the council wants it done as soon as it's practical. It's the right thing to do, says Mary Ann Jacob, the council chairman. The families who live in the neighborhood have been dealing with curiosity seekers. "I think they should have their neighborhood back."
DISNEYLAND MEASLES
Not over yet: Happiness isn't the only contagious thing at Disneyland. It's now dealing with a measles outbreak. Forty-two of California's 59 measles cases since December can be linked to initial exposure at Disneyland and the adjacent Disney California Adventure Park in Anaheim. Last week, California health officials were saying the outbreak linked to Disney was over. But the most recent case was diagnosed in a park employee Sunday. So, it's definitely not over, they say. What to do? If you're immunized, it's "perfectly safe" to visit, the CDC says. If you've never had a measles vaccine, might be best to stay away for now.
Measles outbreak linked to Disneyland
Those are your five biggies for the day. Here are a couple that have the Internet buzzing.
Don't shoot the messenger: He tried to do the right thing, he really did. But Daddy Da Da shouldn't be rapping – even if it is to shed light on domestic violence.
Dance like nobody's watching: These kids do just that whenever the teacher turns his back
A sight to behold: Mark Cornell lost his sight 20 years ago. Here, he sees again for the first time. He tears up. You might too.
We have a problem: Large bone. Small doggie door. What's Russet the English Bulldog to do?
Awe-and-then-some: This remarkable video of the universe made from high-res Hubble images will leave you speechless.