Progressives deride her as cozy with Wall Street but Hillary Clinton appears to be a near-ideological equal on banking policy with Elizabeth Warren, the liberal crusader for financial reform.
That convention-busting piece of data is one of the many surprises released Wednesday from a novel political ranking system that uses public campaign finance data to plot where potential White House contenders fall on the political spectrum. The results were provided exclusively to CNN before Wednesday's release.
Charting the course of a presidential candidate's money may be just as – if not more - important than keeping track of the words coming out of their mouths, according to the algorithm built by Stanford University researchers at Crowdpac, a for-profit group that rates candidates by their previous voting records, statements and campaign finance data.
The Crowdpac method suggests the money given to and from candidates creates a marker to map a candidate's political DNA.
New Jersey Gov. Chris Christie is the most moderate Republican considering a bid for the White House, according to Crowdpac's methodology. Jeb Bush is the potential candidate ideologically nearest to Mitt Romney, the party's presidential nominee in 2012. Both men are considering runs in 2016. Among Democrats, Vice President Joe Biden stands closest to the political center.
Founders of the political start-up hope users will be able to make more informed decisions when they donate to candidates. Crowdpac wants to help with that too, with the unveiling of a new way for donors to create a slate of candidates and give money to them based on their ideological ranking.
Crowdpac's findings – along with its new way to give money to campaigns - include 25 potential White House contenders, drawing from an exhaustive body of data. The algorithm displays the contenders on a liberal–conservative spectrum, and rates each person on 15 issue areas.
The third piece of the algorithm—which includes the ideology of donors and examines how the politicians spend their own money—makes Crowdpac's analysis unusual, and helps provide a clearer picture of how those seeking the White House compare to their peers.

The results can confound commonly held perceptions, as in the case of Clinton and Warren on finance and banking policy. Clinton's donor base is centered on Wall Street and her husband oversaw a spate of financial deregulation in the 1990s. Warren's entire political identity is built on calling for more regulation.
The data also suggest Bush, the former Florida governor who is one of the few to make public moves toward an official campaign, is nearly in line with the Republican mainstream on education and immigration, despite a wide perception on the right that he's too moderate because of his support for Common Core and an immigration overhaul.
"He's actually more conservative than a lot of people are assuming," said Crowdpac CEO and co-founder Steven Hilton, a veteran of British politics and former aide to Prime Minister David Cameron. "The data we have suggests that he's much more in line with the [Republican] average than people are thinking."
With such a broad slate of potential candidates, there are, of course, challenges to rating everyone equally. Sitting lawmakers and governors have a richer trove of recent data from which to draw, with hundreds of votes, statements and donors available for public view. Others, who left office years ago—or hopefuls who have never held office before, as is the case of Dr. Ben Carson and Carly Fiorina—provide a less complete picture. Rick Santorum's record as a swing state senator eight years ago is far different than his rhetoric as a conservative presidential candidate. That's why the donors are so important and provide much-needed insight into a possible candidate's views, according to Hilton.
"In terms of its accuracy, it's pretty much the same as a voting record," said Hilton.
Challenges in defining conservative, liberal and Rand Paul
Perhaps the most counterintuitive find suggests that Sen. Rand Paul, known as a vocal champion of non-interventionist policies, earned a slightly more conservative rating on defense and foreign policy than Florida Republican Sen. Marco Rubio, who supports a robust American action abroad.
Crowdpac advisers pointed to Paul's donor base and his Senate record. In particular, they cited four votes that they said push him to the "right" of Rubio: A 2014 vote to provide loan guarantees to Ukraine in which Paul opposed and Rubio supported; a 2012 Paul-proposed bill to restrict foreign aid that Rubio abstained from voting; another to renew import restrictions which Paul supported and Rubio opposed; and Paul's opposition to the 2014 defense authorization bill.
Of course, any ideological rating system that seeks to apply to a wide range of complicated issues is imperfect–and defining a "conservative foreign policy" is especially difficult.
The algorithm pulls politicians further to the extreme end of the spectrum the more they vote with their own party, said Mike Polyakov, Crowdpac's head of data. That helps explain Paul's placement furthest to the right.
"It looks at who tends to vote with whom," Polyakov said. "In simple terms, Republicans who tend to vote only with other Republicans in Congress get a more extreme score than those who frequently cross party lines. There's some theoretical tension in assigning scores on certain issues, like foreign policy. After all, 'conservative' can at times mean either aggressive or isolationist."
Overall, Paul took the award for Crowdpac's most conservative presidential contender although he's considered the "most liberal" on issues of government intelligence and surveillance. Of the potential Democrats, Vermont independent Sen. Bernie Sanders is the most liberal both overall and on the issue of surveillance.
"Senator Rand Paul has a very conservative outlook on foreign policy, yet his detractors try to paint him as something that he is not," said Paul spokesman Brian Darling, who was happy to see his boss named most conservative. "There is nothing conservative about spending billions of taxpayer dollars on foreign nation building and trying to be everywhere all the time. This study recognizes that the conservative tradition of defending freedom, yet using restraint when committing U.S. forces abroad and analyzing threats."
Sanders was asked by CNN if he agrees that he's the most liberal senator - he doesn't like that term, preferring "progressive," but did nod his head and explained he's considering a White House run even though he's to the left of most of the country.
"I think that there have not been enough voices out there, and I think there's a reservoir out there of people who are angry at the establishment," Sanders said. "And I mean certainly the economic establishment, the political establishment–the two parties–and the media establishment, frankly. I think people want to hear voices that are going to stand for working families. I think you're going to find that those arguments can resonate across the political spectrum more than you think."
Representatives for other potential candidates declined or did not respond to CNN's request for comment.
Displaying information that seems counterintuitive is part of the reason Crowdpac exists, Hilton said, especially in an environment so crowded with spin and highly-paid messaging.
"The whole point is to make it easier for people to get involved with politics," he said. "The way we do that is to give people simple, objective data about candidates and issues that cuts out the spin and the party positioning and gives people really clear, simple information that's objective about where the candidates are on the issues."
A new way to donate
Crowdpac established the rating system to help connect candidates with small-dollar donors, Hilton said. On Wednesday, the site also rolled out a service that allows supporters to donate to any of White House hopefuls, even before they announce a bid.
The site, which received approval to accept and process donations from the Federal Election Commission last year, will hand the money over to the candidate if he or she runs for president or return it to the donor in full if no campaign materializes.
Traditionally, the easiest way to support those who haven't officially announced candidacy is to donate to a leadership PAC or a super PAC that's legally barred from coordinating with the candidate.You can already show support for Bush, for example, by donating to his new PAC, "Right to Rise" or give to the "Ready for Hillary" super PAC, an unaffiliated group that's urging Clinton to run.
But Crowdpac—which, despite its name, is not a political action committee –says their model could upend the PAC format in what Hilton called "a total innovation in campaign finance."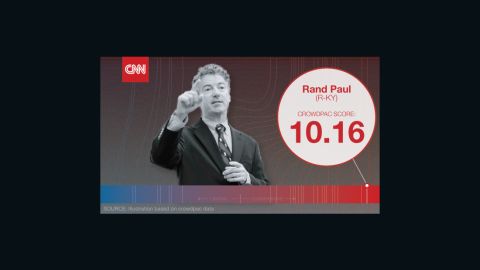 One of the goals, Hilton said, is to increase engagement between donors and candidates in a way that lets voters show their support publicly in ways that haven't been possible before. (The only catch is that Crowdpac will pocket an 3 percent fee and an additional 5 percent, which will go to Democracy Engine, a processing company.)
The idea is not totally new—the FEC granted similar privileges to the Democratic fundraising group Act Blue in 2006—but Crowdpac is the first to provide a platform to donate to any candidate from either party who has expressed interest in a presidential bid.
"Until now, this process of figuring out whether the candidates have enough money and support to run has taken place behind closed doors because they can't officially raise money," Hilton said. "We are opening up that process to everyone."