Story highlights
Radical Islamic cleric Abu Hamza al-Masri was convicted of supporting al Qaeda and Taliban terrorists
Al-Masri was sentenced to life in prison by a federal judge in New York
Judge Katherine Forrest tells al-Masri, "I don't believe the world would be safe with you in 10 years, 15 years or longer"
Radical Islamic cleric Abu Hamza al-Masri, who was convicted of supporting al Qaeda and Taliban terrorists, was sentenced to life in prison Friday by a federal judge in New York.
A federal jury in Manhattan convicted al-Masri in May of aiding kidnappers during a 1998 hostage-taking in Yemen, sending a young recruit to jihadists in Afghanistan, violating U.S. sanctions against the Taliban, and attempting to establish an al Qaeda-style training camp on the West Coast of the United States.
"Abu Hamza's blood-soaked journey from cleric to convict, from Imam to inmate, is now complete," Preet Bharara, United States attorney for the Southern District of New York, said in a statement after sentencing. "After years of fighting extradition, Abu Hamza finally faced justice, as all those who engage in terrorism against innocent civilians must, here in the U.S., and all around the globe, as the terrible events in Paris remind us."
On Friday, the cleric had a scruffy beard and wore a blue prison jumpsuit. He entered the courtroom with his arms exposed and without a prosthetic, which he put on occasionally to write.
The high-profile London mosque leader gained notoriety for the metal hook he is sometimes depicted wearing in place of one of his missing hands, but he wore only an occasional writing prosthesis in the Manhattan courtroom during his monthlong trial. Contrary to stories that he lost the limbs in battle, al-Masri testified, his maiming was the result of an engineering accident.
In imposing the life term, U.S. District Judge Katherine Forrest told al-Masri: "I don't believe the world would be safe with you in 10 years, 15 years or longer."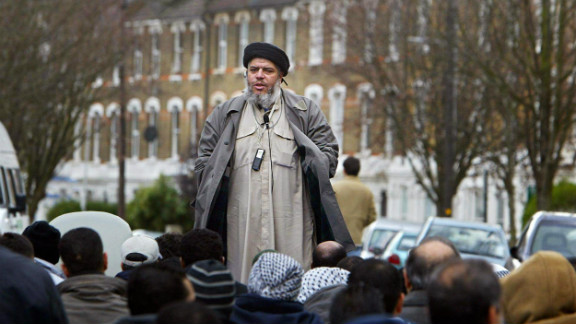 AFP/Getty Images
Al-Masri, 56, was found guilty of participating in a hostage-taking in Yemen in 1998 that resulted in four deaths, a conspiracy to establish a terrorist training camp in Bly, Oregon, and sending a follower to train and fight with al Qaeda in Afghanistan in 2000.
The cleric was extradited from the United Kingdom, where he had been convicted of inciting racial hatred and soliciting murder with his fiery sermons.
A highlight of the trial came when al-Masri took the stand in his own defense and accused federal prosecutors of using "pay-as-you-go witnesses" and a "cut-and-paste" approach to his inflammatory comments, including statements about his admiration for late al Qaeda leader Osama bin Laden.
Lawyers for al-Masri asked the judge to send him to a medical facility instead of prison but Forrest said that decision will be made by the Federal Bureau of Prisons.
CNN's Dominique Dodley contributed to this report.