Story highlights
"Camp Gyno" ad starring Macy McGrail has been seen nearly 10 million times
In new video, McGrail's character makes some bad decisions during middle school
The video is a trailer for McGrail's father's new book "Surviving Middle School"
(CNN) —
The tween who took the Internet by storm last year starring in the hilarious and empowering "Camp Gyno" ad, about a girl who is the first at her summer camp to get her period, is back.
Nearly 10 million video views later, Macy McGrail, now a sixth-grader, returns, but this time her focus is on middle school and the consequences of some very bad decisions her character makes along the way.
In a unique twist, 11-year-old McGrail plays the character from tweenhood into adulthood.
In the opening scene, we hear a few gunshots ring out and then see McGrail's character racing out of a motor home wearing heels and a leather jacket. She hops into a car with a guy who looks like bad news, telling herself, "Look at me, 38 years old and I'm running out of this place in this dress to this moron.
"At moments like this, you can't help but do a little soul-searching and ask yourself, 'How did I end up here?' " she says, at which point we go back in time.
We see her when she was six months pregnant at 24 and took back her partner, a serial cheater, before taking a drag on a cigarette. At 15, when her friend told her getting high was "awesome." When she faced a choice, that very first day of middle school, between joining the group of kids sporting angry looks, dressed in black and smoking versus another group smiling and waving, carrying books titled "Language and Gender."
"I guess there's no way to pinpoint that one moment where it all started to fall apart, but if I had to do it all over again, you bet your sweet ass I'd make some different choices."
Period Power: Talking to girls about 'Aunt Flo'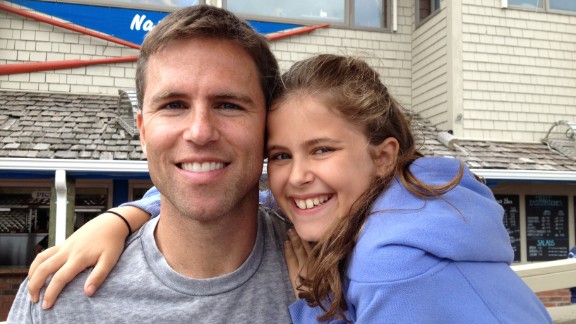 Sure, it's a tad over the top, but don't you remember kids who went with the wrong crowd in middle school and never quite recovered?
The video, which I'd love to show my girls when they get closer to middle school, is a unique trailer for McGrail's father's new book "Surviving Middle School: An Interactive Story for Girls."
Dave McGrail said the book was in the works long before his daughter's viral fame, but the trailer was, in fact, inspired by that success.
The idea came from Tommy Henvey, a relative who is an executive creative director for the ad agency Ogilvy and Mather, during a holiday party about a year ago.
"He offered on the spot to assemble a team, the best in the business, to try to create something that would star Macy, so how could I say no?" said McGrail, whose day job is running a two-person law firm from his home.
Replace the 'sex talk' with the 'tech talk'?
"It fit in really nicely with the book because it could convey the same point: that choices matter going all the way back to middle school."
The book, modeled around the "Choose Your Own Adventure" books McGrail enjoyed as a child, lets the reader decide what to do and tackles some pressing issues affecting today's tweens and teens, who are growing up in a digital age.
For instance, do you stick up for a female classmate from India who is being bulled in person and online by a mean girl who makes fun of her name and her Indian jewelry collection, or do you decide to stay out of it, knowing that if you speak up you might invite the attention of the bully?
"The idea was give them a decision that, at least, I think there's a right or wrong answer … and then couch it in a way so it looks really tantalizing to them to do the wrong thing and then see what they do," said McGrail.
Another choice readers of the book face centers on getting an Instagram account and becoming friends with a sixth grader in Ohio, who turns out not to be a sixth grader but a grown man. Do you continue the friendship or do you cut things off once you learn the truth and start feeling a bit uncomfortable?
"You can make the wrong choice and you can be down this road and you're stuck, and it's not a great outcome," said McGrail.
What parents can learn about the Internet from Kim Kardashian
"I think that something parents have to acknowledge these days is that with technology and earlier puberty and a whole host of other factors, girls are forced to make really tough choices that have serious consequences at a much earlier age than when we were kids and I'm seeing that on a day to day basis with my daughter."
The father of two (Macy has a younger sister) says he hopes his book and trailer will both entertain and spark conversation about issues affecting middle schoolers just as the "Camp Gyno" ad got people talking about menstruation and girl empowerment.
"In my ideal world, kids are standing around the playground discussing how they chose or bringing it up with their parents or disagreeing with one of the outcomes in the book," he said. "The discourse that was created and generated by 'Camp Gyno' is the same sort of thing that I would love to happen and be generated from the book."
"I mean, these are heavy issues, and I think that the best way to get kids talking about them is to present them with something they enjoy."
Chances are, your teen has sexted
As for Macy, life is pretty much back to normal after her "Camp Gyno" fame. Her classmates have for the most part been supportive, with the exception of some snickering by the boys from time to time, and she's now focused on middle school and continuing her acting career, said McGrail
"She's clearly got a nickname for life. It'll probably be the beginning of her college essay as well," said her proud dad. "She's embraced it, but she's moved on."
Do you think the video about the consequences of bad decisions in middle school helps get the point across to tweens and teens? Tell Kelly Wallace on Twitter or CNN Living on Facebook.