Story highlights
The Missouri town felt welcoming to biracial couple
Now Stefannie Wheat hates what has happened to Ferguson
The family's 10-year-old has seen his parents taunted, targeted
Wheat: "But now, there's a forced separation of the races"
Stefannie Wheat carried a yard sign all the way from her Midwestern town to the nation's capital. She visited the White House and tucked it into the guard rail.
"I Love Ferguson," it said.
It was mid-October and her beloved city turned restive after the police shooting death of black teenager Michael Brown. Businesses were boarded up and losing money, protests had on occasion turned violent and anxiety had spread through the city of 22,000 people northwest of St. Louis.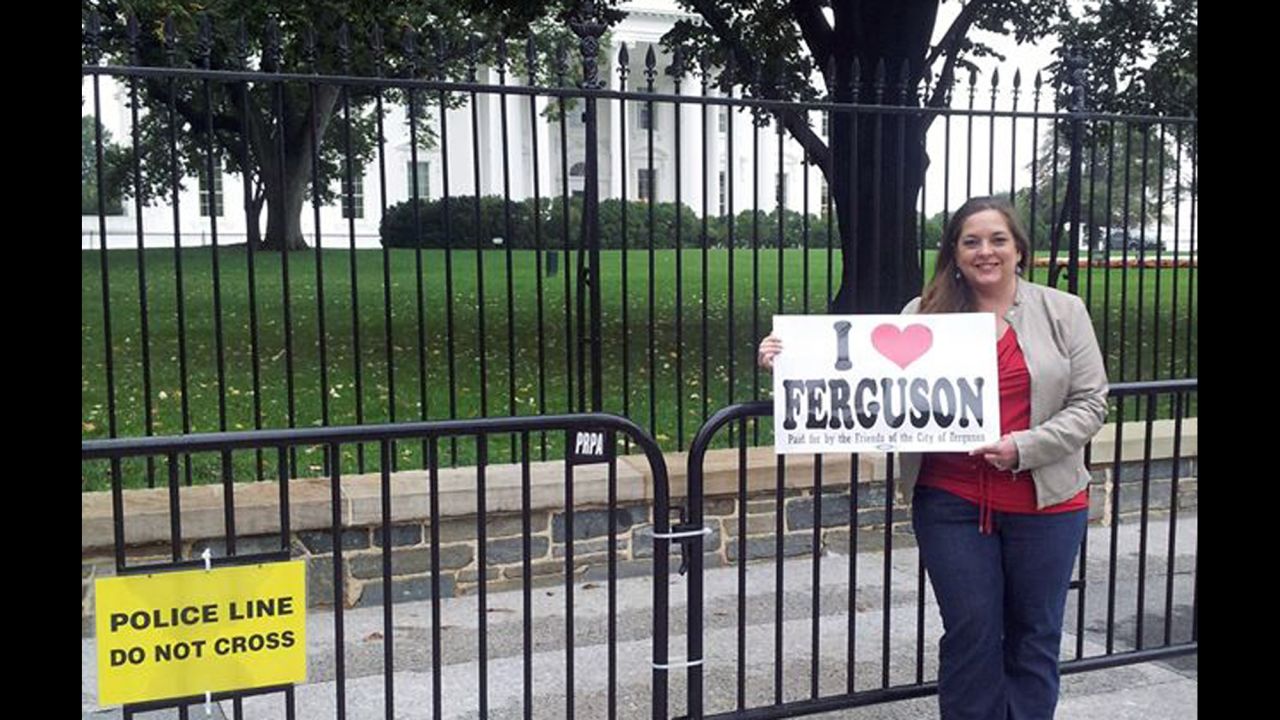 Ferguson, the quiet community she chose to make home, had become synonymous with racism, injustice and police brutality. Wheat wanted to scream.
Her Ferguson was not what it had become in the headlines.
For this 45-year-old white woman, things were far more complex than they appeared in the news. The world that she, like many others, saw as black and white had morphed into myriad shades of gray over the years.
She has been married to Ken, who is black, for almost two decades. She adopted Christopher, a black child from a foster home. In eight years, he will turn 18, Brown's age at the time of his death, and embark on life in a world she knows is still full of hate.
She raised him in a biracial home and tried to make race a nonissue. She wanted Christopher to grow up colorblind, even though America wasn't.
But after Brown's death, she couldn't shield him from race or anger anymore.
Ferguson changed overnight into what she describes as a poster child for the nation's racial woes.
"I do understand racial profiling exists," she says, explaining that she is not opposed to people demanding justice. "No one here has a problem with the peaceful protesters. But nothing good comes from violence."
She drives me along South Florissant Road, Ferguson's "Main Street," where there has been a recent push to revive downtown businesses. She takes me to the lake at nearby January-Wabash Park, where her son goes fishing, though he rarely catches anything, she laughs. And to a new community center that she helped open.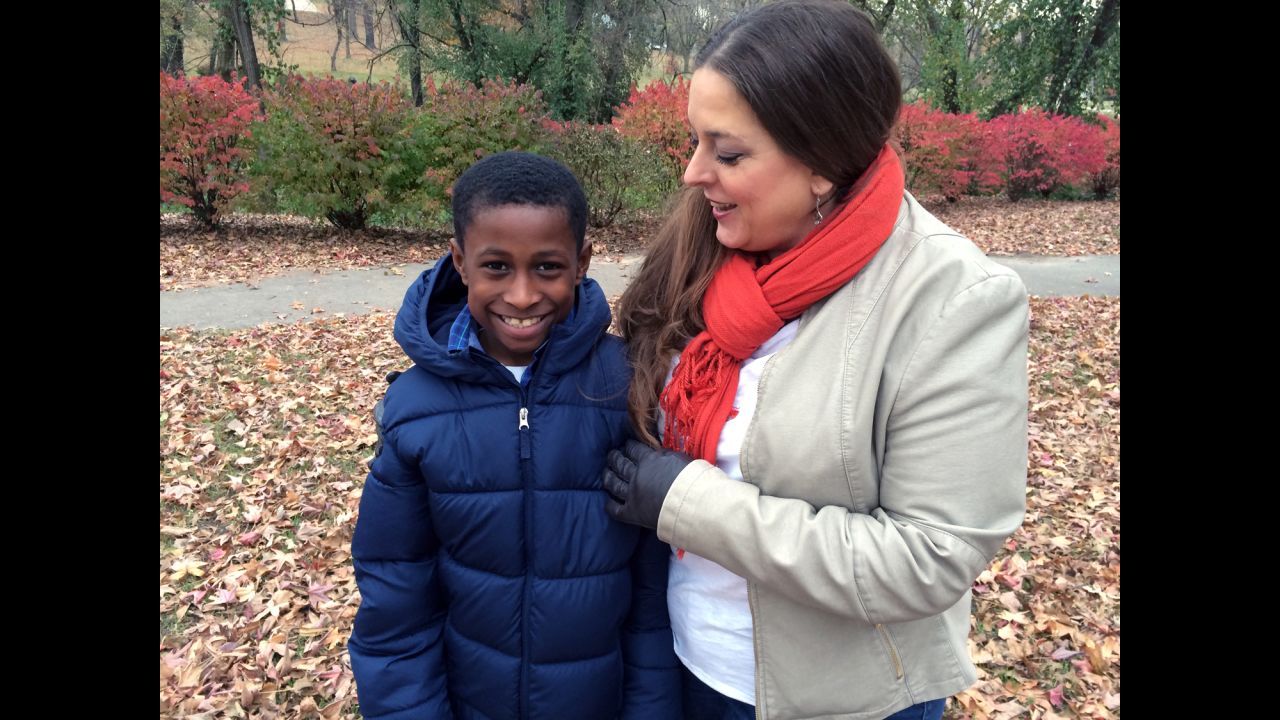 She stops her car in the vast parking lot of Schnucks grocery store, where one day in August, the Missouri National Guard amassed their armored vehicles.
"Mommy," enquires Christopher. "They had tanks? Why?"
Christopher is too young to grasp the magnitude of what has become known as "Ferguson" but he thinks it's "OK for people to be angry." He doesn't like that "bad things" are happening here. He heard a protester threaten his dad and hurl profanities at his mom.
We make our way to the QuikTrip gas station that became ground zero on the first night of violent protesting.
"This is the QT that was burned," Wheat says.
"For no reason," says Christopher, finishing his mother's thoughts.
Wheat understands that Ferguson is a tale of two cities. Her adopted hometown is made up of parks and gardens and historical homes; it's a place where families are trying to come together to build a community that benefits everyone.
She understands, too, that there are parts of the city in which another tale is unfolding: of impoverished young people who see no way out of their frustrations. She wishes more black families would get involved in the community by volunteering or simply turning out to vote.
She blames poor civic engagement by African-Americans for the gulf between the races. She believes that Ferguson's black youth are being co-opted by outsiders into inciting violence.
"We live here," she says. "This is our home. We have to live here long after everyone is gone." She is referring to the media and what she believes are mainly outsiders who have descended on Ferguson to protest and add chaos.
"Ken and I have never felt out of place here," she says. "We've never felt we couldn't cross the tracks. But now, there's a forced separation of the races. It's sad."
Growing up amid desegregation
Wheat grew up about an hour west of Ferguson in the cities of Eureka, best known for its Six Flags amusement park, and Times Beach, abandoned in 1982 because of the nation's worst dioxin contamination.
Her father sold cars for a living; her mom was a secretary. She was the youngest of four sisters growing up in an insulated community where most people knew one another by first name. Back then, the cities and towns that have now become part of the urban sprawl of St. Louis, were, as Wheat put it, "country."
Wheat knew of one black family in Eureka, and her ideas about African-Americans were formed through television shows like "Good Times." She believed black people could never be wealthy in America, that they were all like the characters on TV.
Eureka in the 1980s was racist, she says, and there is still a lot of racism there today.
The same year that dioxin scared Times Beach into extinction, St. Louis County began desegregating its schools. Wheat's parents were among many who opposed busing but nevertheless, about 30 black kids enrolled at Eureka High School and changed her life.
As a freshman, she became the first white girl in her school to date a black guy. It was the first time she heard the term "n—-r lover." A good friend of hers was ordered to stop talking to Wheat. Her own father was disapproving.
In her sophomore year, she began a more serious relationship with another black student. It was only then that her father became more accepting.
She left Eureka after high school because she felt too closed in but returned and eventually settled in St. Louis. One night in 1997, she met Ken Wheat at a bar. They exchanged glances and phone numbers. He called her and three months later, the two were married. They were living at the time in her apartment in south St. Louis. It was tough to be a biracial couple, she recalls. They got stares, heard slurs.
When they decided to ditch their apartment for a roomy house, they chose Ferguson.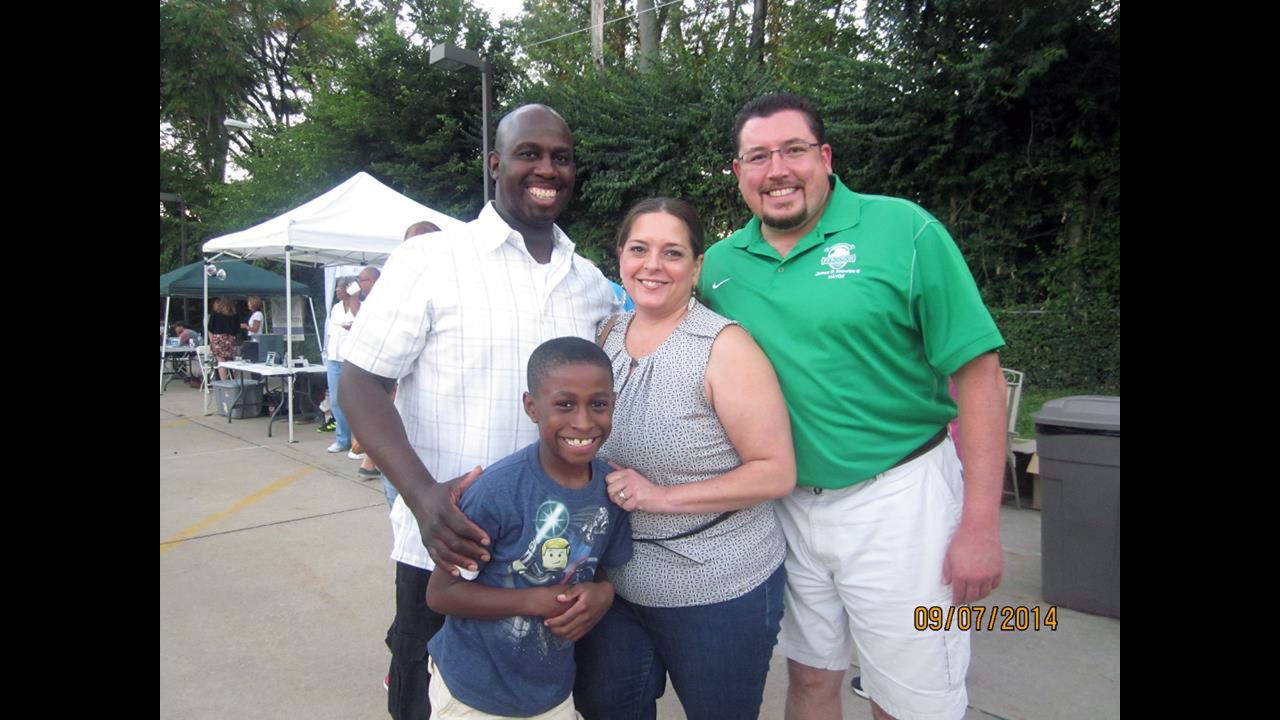 Ferguson had already begun its dramatic transformation from being a largely white suburb to a city that today is 68% African-American. When the Wheats moved there, Ferguson was split 50-50 among the races. But as black families continued their migration from St. Louis, whites moved farther out to cities like Florissant.
Wheat liked how mixed Ferguson was back then. Even now, she lives on a racially mixed street in an early 1900s bungalow. Her circles are diverse, but they also include people who are symbols of white authority. Like the mayor, James Knowles.
She and her husband are active in community events. She used to run a basketball camp and cooking classes for kids. Her name is on a plaque at the newly opened community center. Ken volunteers at the Ferguson Farmers Market, held every Saturday.
For that, she says, her family is paying a price.
After Brown's death, Wheat says she and Ken discussed for the first time whether they should be seen in downtown as a biracial family.
They, like many other Ferguson residents, purchased a gun. They'd never had a firearm in their house before, but they no longer felt safe. This week, they had floodlights and a surveillance system installed.
In September, protesters marched through the farmer's market. "We're shuttin' it down," they chanted.
Ken Wheat told them they had no business protesting at the market – that it was a community space and not an appropriate location. Later, at the Subway on South Florissant, one protester called Ken a police plant and threatened to cut him down.
"That's not true," Christopher says from the back seat of the car. "But my dad told me not to talk back at them. He said they're not smart enough to say anything smart."
The protester also called Stefannie Wheat a b—h.
Christopher told him to shut up.
"I know where you live" came the reply.
Another time, angry demonstrators attempted to overrun the Corner Coffee House during a meeting between residents and officials from the Department of Justice.
Wheat says she called her husband to come home from work, and as he drove by a protest site, people threw water bottles and verbal threats his way.
That night, she stayed calm for her son. After he fell asleep, she heard helicopters above and went to bed with a gun, knife, pepper spray and a bat.
Ken still volunteers for the "I Love Ferguson" campaign, started to raise money to give to businesses that were not covered by insurance for losses incurred during riots. But Wheat stopped going to meetings at City Hall. "They just turned into screaming matches."
Still pulling for her town
This week, Wheat, like the rest of Ferguson, is holding her breath for an explosion. A grand jury investigating whether Officer Darren Wilson should be indicted in Brown's killing is expected to render a decision at any moment.
"I just want them to get it over with," Wheat says.
She invited comments from her Facebook friends after she agreed to speak with me. One, Cathleen Bidlake Cohen, posted this:
"People aren't seeing that Ferguson isn't a poor inner city slum; it's a racially diverse community filled with families, community programs, small businesses, and kinship that has been thrust into the limelight. I feel bad that your community and Michael Brown have become scapegoats and poster child for social ills and policing policies that affect so many other areas. In the end I think the community of St. Louis as a whole is embarrassed like were having our dirty laundry aired for the world, and it's so hard to fix things and heal under such intense scrutiny. I love your positive spin and perseverance, keep your head up!"
Wheat says she will keep being vocal about Ferguson – she refuses to be held hostage in her hometown. She believes in its resiliency.
She is prepared for what might come in the days ahead. She has been notified by Christopher's school, Central Elementary, that she should come fetch him once a grand jury decision is returned.
But she has faith in her parenting and doesn't see much change in Christopher's upbringing.
"Our involvement in the community will not change based on society's possible perception of us," she says.
She helped build Ferguson. She refuses to let anyone tear it apart.