Story highlights
Images show area on comet where scientists believe Philae probe landed
"Rosetta is trying to answer the very big questions about the history of our solar system," ESA scientist says
Experts are excited about what kind of information Philae will deliver
Philae has nine experiments including drill to sample the surface, onboard oven
Scientists who pulled off a huge achievement in space exploration showed numerous black-and-white images Thursday of where they think the Philae probe landed on a comet 310 million miles from Earth.
Many at the European Space Agency have gone without sleep in the last few days, nervously anticipating whether Philae's difficult journey would actually end in success. A few who spoke to reporters in Darmstadt, Germany, choked up and said how much the mission – dubbed Rosetta – means to them and to space exploration.
"Rosetta is trying to answer the very big questions about the history of our solar system," said Matt Taylor, ESA Rosetta project scientist. "What were the conditions like at its infancy and how did it evolve? What role did comets play in this evolution? How do comets work?"
There were flaws with the landing – anchoring harpoons didn't deploy when Philae made impact, lander manager Stephan Ulamec said, and screws meant to burrow into the surface didn't work. But Philae bounced at least twice, they said, and stuck the landing. And that was all that counts.
A jubilant Jean-Pierre Bibring, who has reportedly spent more than two decades working on the Rosetta mission, showed photos that scientists were just beginning to receive.
ESA scientists and executives high-fived and hugged one another when the landing was confirmed on Wednesday. Spacecraft have crashed into comets before, but this was the first controlled landing in history.
'A place in the history books'
"Our ambitious Rosetta mission has secured a place in the history books: not only is it the first to rendezvous with and orbit a comet, but it is now also the first to deliver a lander to a comet's surface," Jean-Jacques Dordain, ESA's director general, said in a statement.
Photos: Rosetta: The comet chaser
Photos: Rosetta: The comet chaser
Photos: Rosetta: The comet chaser
Photos: Rosetta: The comet chaser
Photos: Rosetta: The comet chaser
Photos: Rosetta: The comet chaser
Photos: Rosetta: The comet chaser
Photos: Rosetta: The comet chaser
Photos: Rosetta: The comet chaser
Photos: Rosetta: The comet chaser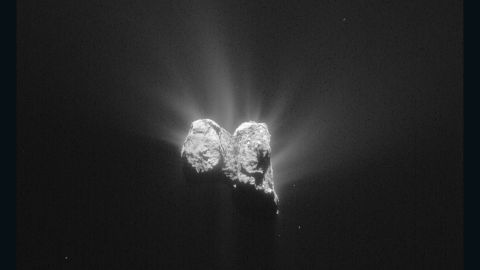 Photos: Rosetta: The comet chaser
Photos: Rosetta: The comet chaser
Photos: Rosetta: The comet chaser
Photos: Rosetta: The comet chaser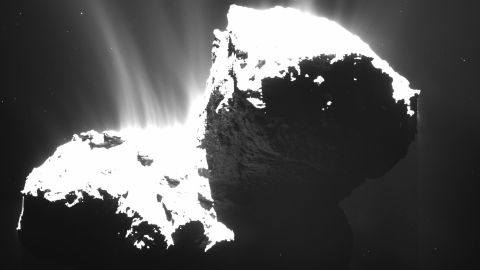 Photos: Rosetta: The comet chaser
Photos: Rosetta: The comet chaser
Photos: Rosetta: The comet chaser