Story highlights
NEW: Officials are offering a $10,000 reward in the case
A 22-year-old woman was seen being forced into a car Sunday night
Her abduction was captured by surveillance video
Authorities are looking for an unknown black male, medium-heavy build
(CNN) —
Even without sound, the video is disturbing.
In a series of black and white images, it shows a man appearing to drag a woman down the street and force her into a car.
Philadelphia police released the footage Monday in the hopes of catching the suspect, whom they describe as an unknown black male of medium-heavy build, 25-30 years old.
He's seen in the video wearing a dark jacket with a hood, a dark hat and dark pants.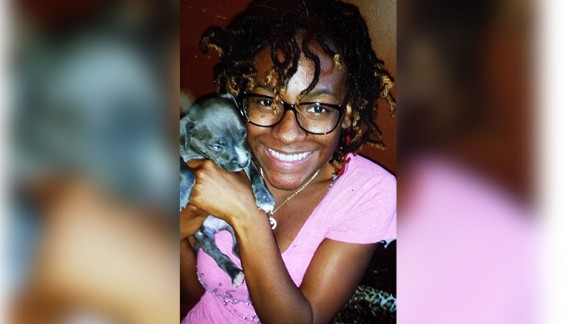 Philadelphia Police
Police have identified the victim as 22-year-old Carlesha Freeland-Gaither. She was taken in the Germantown-Penn Knox part of the city, shortly before 10 p.m. ET on Sunday.
A witness reported that Freeland-Gaither yelled for help. The video shows her tussling on the ground with her abductor, and being forced into a four-door vehicle, possibly a gray Ford Taurus.
Just before the vehicle pulled away, Freeland-Gaither broke out the driver and passenger side rear windows, police said. Her glasses and cell phone were dropped onto the road.
Freeland-Gaither's family told CNN affiliate WPVI that she worked as a nurse and was just blocks from her home when she was abducted.
Her grandmother described Freeland-Gaither as a "sweet child."
"We don't know if she was talking to them or whether they ended up asking her a question and just grabbed her. We don't know what happened at all," Connie Freeland told the affiliate.
WPVI reported that Freeland-Gaither's father posted flyers Monday morning around where she was taken.
"I don't care what anyone has to do, just let my daughter come home," Carl Freeland told WPVI. "That's all I'm asking."
Officials are offering a $10,000 reward for information leading to an arrest and conviction in the case.
"If you see this suspect do not approach him, contact 911 immediately," police wrote.