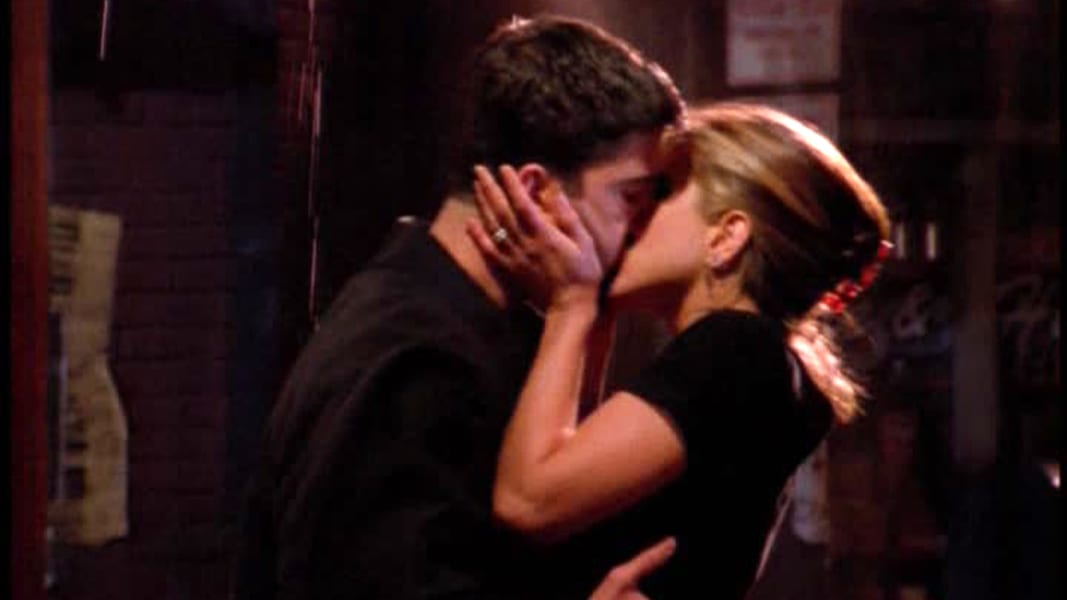 "The One Where Ross Finds Out:" After spending so much time watching a lovelorn Ross hold feelings for Rachel in the first season, the second season of "Friends" flipped that scenario on its head. Finally, in episode 7 of season 2, Ross learns that Rachel feels the same way, leading to "the kiss."
From Warner Bros.
"The One with the Videotape:" In season 8, after the group finally learns that it's Ross that Rachel's having a baby with, the lingering question was who came on to whom. That answer is solved with a videotape that Ross accidentally made of himself and Rachel getting intimate and which gave us the great reveal of Rachel using "the Europe story" on Ross.
From Warner Bros.
"The One with the Rumor:" Jennifer Aniston's then-husband Brad Pitt showed up for some fun in season 8. Pitt played an old friend of Ross' who couldn't stand Rachel in high school, leading to the reveal of a crude rumor the two started about Rachel.
From Warner Bros.
For a comedy as universal as "Friends," every fan has an episode (or 12) that they'd call among the best of the series. Here are our top 20 "Friends" episodes, ordered by season. We begin with the pilot, "The One Where Monica Gets a Roommate." It wasn't perfect, but it did start a 10-year phenomenon when it aired on September 22, 1994. For that honor alone, it makes it onto our list.
From Warner Bros.
"The One with the Blackout:" Among the season 1 episodes, this one is a favorite. When there's a power outage in NYC, all the "Friends" except for Chandler gather at Monica and Rachel's apartment. Chandler, meanwhile is stuck in an ATM vestibule having a flirtation fail with model-of-the-hour Jill Goodacre. "Gum would be perfection!"
From Warner Bros.
"The One with all the Poker:" Any episode that combined all of the "Friends" and a guys vs. girls faceoff was bound for greatness. But underneath the humor in this season 1 episode was a larger story unfolding of Ross' feelings for Rachel.
From Warner Bros.
"The One with the Prom Video:" In season 2, Monica and Rachel's old prom video is dug up and played for the group, showing just how long Ross has been swooning over Rachel. He got a kiss in the end, and we got '80s flashbacks. Win for everybody!
From Warner Bros.
"The One Where No One's Ready:" When Ross has a work event and everyone else is distracted, bellyaching shenanigans ensue. The MVP of the episode is Matt LeBlanc's Joey, who retaliates at Matthew Perry's Chandler with a hilarious visual stunt when they get into a fight over a chair. "Look at me! I'm Chandler! Could I be wearing any more clothes?"
From Warner Bros.
"The One with the Football:" "Friends" Thanksgiving episodes are always among the best of the series, and this season 3 episode is a standout. As proven in season 1, anytime you get this competitive group together and introduce a game, you're going to get classic moments.
From Warner Bros.
"The One with Chandler in a Box:" The Thanksgiving episode in season 4 was another winner thanks to a Joey-Chandler spat. To repair their friendship, Joey sentences Chandler to six hours in a box. The sight gag was excellent, but Chandler cracking wise from inside the box brought the episode to a timeless level of funny. And it gave us Monica's awesome defense for being interested in the son of an old flame.
From Warner Bros.
"The One with the Embryos:" This season 4 episode is just as well known by its unofficial name, "the one with the quiz." While Phoebe's hoping a fertility procedure works so she can carry her half-brother's kids (yes, real plot), the rest of the "Friends" set up an elaborate trivia game to see who knows each other the best. The prize of this game? Monica and Rachel's apartment.
From Warner Bros.
"The One with all the Thanksgivings:" A strong "Friends" episode for Thanksgiving was a tradition by season 5, and that year's installment didn't disappoint. Nothing makes a great comedy episode like flashbacks of past holiday dinners gone wrong -- like the time Joey got a turkey stuck on his head.
From Warner Bros.
"The One Where Everybody Finds Out:" A running gag in season 5 was the secret relationship between Monica and Chandler. One person was let in on it at a time, and in this episode the cat was let fully out of the bag with hilarious consequences. In the words of Phoebe, "they don't know that we know that they know we know."
From Warner Bros.
"The One Where Ross Can't Flirt:" David Schwimmer had some incredible moments as the romantically frustrated Ross Geller in season 5 ("The One with Ross's Sandwich" is another classic episode.) In this installment, he insists on proving he can flirt with the woman delivering pizzas -- and just continues to dig himself into a deeper hole. Bonus points for Joey's debut in a "Law & Order" episode.
From Warner Bros.
"The One Where Ross Got High:" The secrets came tumbling out in this season 6 episode, when the Geller parents come over for Thanksgiving dinner. Ross owns up to getting high in college; Rachel realizes she made a beef trifle; Chandler and Monica's cover is blown; and Phoebe blurts out her love for Jacques Cousteau. Fantastic timing all around.
From Warner Bros.
"The One that Could Have Been, Parts 1 and 2:" Where would our favorite "Friends" have ended up if they'd taken different paths? We find out in this comical two-part episode in season 6.
From Warner Bros.
"The One with the Proposal, Parts 1 and 2:" So we're cheating by including two-parters, but the relationship between BFFs Chandler and Monica was just as enjoyable as Ross and Rachel's, which usually got more attention. (A dynamic that led to our next favorite episode.) In season 6, these two decided to get married with a sweet proposal that Monica initiates and Chandler concludes.
From Warner Bros.
"The One with Monica's Thunder:" Season 7 starts off with a familiar scene: Rachel and Ross sharing a kiss once again. It's too much for Monica, who's upset that a Rachel-and-Ross reunion would outshine the news of her engagement. All is forgiven in the end after a frank talk between Rachel and Monica, reminding the audience that underneath the laughs "Friends" at its heart is a story of these evolving bonds and relationships.
From Warner Bros.
"The One with Monica and Chandler's Wedding, Part 2:" Season 7 as a whole had some gems -- the holiday armadillo; the one with Rachel's book and the one with all the cheesecakes, just to name a few -- but we'll cherry pick the season finale. Monica and Chandler make it to become Mr. and Mrs. Bing, but there was also the tease to Rachel's pregnancy in season 8.
From Warner Bros.
"The Last One, Part 2:" After several sessions on Central Perk's orange couch, this group of "Friends" said goodbye on May 6, 2004. They do it in classic "Friends" style with one last "will they or won't they?" moment between Ross and Rachel (a moment that was greatly aided by Phoebe's quick thinking regarding a plane's "left phalange"). As they exited Monica's apartment for the last time, they decided to grab a coffee. Cue Chandler asking with perfect timing, "Sure -- where?"
From Warner Bros.