Story highlights
Ruben Navarrette: Miley Cyrus concert in Monterrey, Mexico made tasteless use of Mexican flag
Navarrette: What made it particularly egregious was that it came on Mexican independence day
He says Cyrus should apologize and could be fined but don't make it an international incident
Editor's Note: Ruben Navarrette is a CNN contributor, Daily Beast columnist and a nationally syndicated columnist with the Washington Post Writers Group. Follow him on Twitter: @rubennavarrette. The opinions expressed in this commentary are solely those of the author.
What's Spanish for "twerk?"
Mexican officials are in no hurry to find out. This is one U.S. import our southern neighbor wants nothing to do with.
Ditto for Miley Cyrus, the controversial singer known less for her music than for her over-sexualized on-stage spectacles intended to get attention and shock the senses.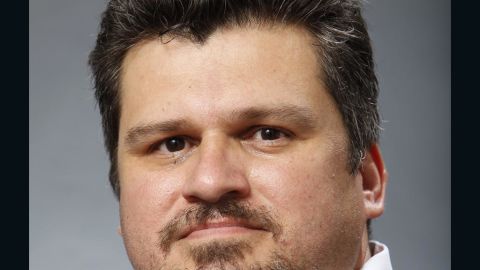 Cyrus accomplished both on the Diez y Seis de Septiembre – better known, on this side of the border, as September 16th.
North of the Rio Grande, that day is like any other, as insignificant as the Fourth of July is in Canada. However, in Mexico, the day is awfully important. It's Independence Day. And since Mexicans are a proud people who put a high value on respect, it's probably not a good idea for Americans – or anyone else for that matter – to go to Mexico on Mexican Independence Day and show disrespect to, oh, the Mexican flag.
That's what Cyrus and fellow performers did last week during a concert in the northern city of Monterrey in a stunt that gives new meaning to the phrase "ugly Americans."
As Cyrus "twerked" onstage, while wearing – yes, you read this right – a giant prosthetic butt, her backup singers whipped her with rolled up pieces of cloth that turned out to be miniature Mexican flags. It was a trifecta of bad judgment – the wrong thing to do, the wrong country to do it in, and all of it happening on the wrong day.
Before you could say international incident, outraged Mexican state legislators asked the federal government to fine the pop star for desecrating the Mexican flag. Under a law that prohibits abuse of "national emblems, the flag and the national anthem," such a transgression can normally earn someone a $1,270 fine as well as, in some cases, a couple of days in jail. The legislators are asking that Cyrus get locked up for 36 hours. Mexican authorities are investigating.
There are those in this country who will claim that the singer is being singled out because she is an American. But actually, in this case, equal treatment would call out for some sort of punishment. It's a good time to send a message.
In 2008, Mexican pop star Paulina Rubio was fined $4,000 for appearing in a Spanish magazine, clutching a Mexican flag wrapped around her naked body.
What the 21-year-old Cyrus and her crew did was tasteless and thoughtless. And whether or not Mexican officials decide to formally charge her with desecrating the Mexican flag, she ought to apologize – in person, and on Mexican soil.
Having said that, Mexican officials need to be careful not to overplay their hand and protest too much, lest they turn legitimate concerns about professional decorum in the entertainment industry into dinner theater.
The initial response was not encouraging.
Speaking to CNN, Mexican State Rep. Francisco Treviño said this: "I am truly offended and annoyed by the fact that a foreign artist feels like she can come here and make fun of and mock our national flag on Independence Day, September 16th."
Seriously? Trevino can't really believe that the stunt was intended as a direct assault on the Mexican flag. An assault on decency and good manners, maybe. Does he think this was some sort of political statement? He is probably giving Cyrus and her backup dancers too much credit. Finally, is this really an attempt to mock the flag? The dancers used it as a prop, but the idea was clearly to draw attention to Cyrus – not the flag.
As a Mexican-American, I realize that, in Mexico, my grandfather's homeland, the second-most popular sport – after soccer – is American bashing. And Cyrus played right into the hands of our neighbors by giving them a weapon to wield against us. But Mexicans don't always have to play that game. Let's hope that they treat this for what it is – an isolated incident by an immature and attention starved pop singer. Nothing more.
The U.S.-Mexico relationship is strong. It has suffered through war, conquest, revolution, migration, xenophobia, gun running, drugs, protectionism, Manifest Destiny, income disparity and more. It can suffer fools.
Read CNNOpinion's new Flipboard magazine.
Follow us on Twitter @CNNOpinion.