Story highlights
Jojo John crashed a speedboat into a barge in July 2013, killing two boat passengers
Prosecutors say he was under the influence of alcohol and drugs when the crash occurred
The crash victims were bride-to-be Lindsey Stewart and Mark Lennon, her fiance's best man
(CNN) —
The man who pleaded guilty to two counts of second-degree vehicular manslaughter after driving a speedboat into a barge on the Hudson River, killing a bride-to-be and her fiance's best man, was sentenced to two years in jail Tuesday, prosecutors said.
Jojo John, 36, was piloting a 19-foot Stingray powerboat around 10:40 p.m. on July 26, 2013, when it slammed into one of three construction barges strapped together near the Tappan Zee Bridge, 25 miles north of Manhattan, hurling Lindsey Stewart and Mark Lennon into the river, resulting in their deaths, according to court documents.
John's blood alcohol level was found to be 0.15, nearly twice the legal limit of .08, and "cocaine metabolites" were found in his system, prosecutors said.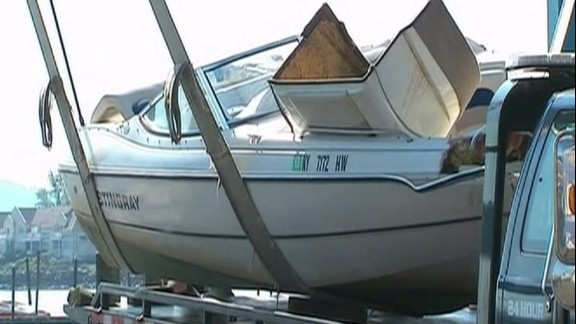 WPIX
"The defendant's reckless decision to drive a speedboat while under the influence of alcohol and drugs tragically caused the untimely deaths of two innocent people," Rockland County District Attorney Thomas Zugibe said in a statement.
"The sentence imposed today is more than justified," Zugibe said, adding that two years in Rockland County jail will give John "time to reflect on his thoughtless actions."
John and four others, including groom-to-be Brian Bond, were injured. John was arrested while recovering from his injuries at Nyack Hospital.
Stewart and Bond were to be married two weeks later, according to family, with Lennon as best man.
In a statement, John's attorney, David Narain, said his client "is truly remorseful for his actions."
"While justice is difficult to achieve in a case such as this, we hope that the victims and their families find some form of justice in today's disposition," Narain said. "Our thoughts and prayers continue to be with them as they deal with this tragic event."
CNN's Chris Boyette contributed to this report.