Story highlights
Adam Carolla has the most popular podcast ever, according to Guinness World Records
Trial over podcast begins this week; old friend claims partnership and is suing Carolla
Donny Misraje says he's due 30% of podcasting company's profits
Carolla's attorney, Mark Geragos, calls the case "nonsense"
It's a sad, familiar story in Hollywood: When somebody makes it big, somebody else gets left behind. Feelings get hurt. Positions harden.
And that's when the lawyers are unleashed.
A jury has been chosen in Los Angeles to hear a case involving two old friends and a podcast. Lawyers will give opening statements Wednesday. The friends, once inseparable, no longer speak. And the podcast isn't just any podcast. It is, according to the Guinness World Records, the most downloaded podcast ever, and it's hosted by Adam Carolla.
Carolla's name will be familiar to anybody who spent time on L.A.'s perpetually jammed freeways during the late '90s. Before there was satellite radio, Internet streaming and smartphones, radio station KROQ, pronounced "K-Rock," provided entertainment to a captive audience of millions of commuters with its stable of up-and-coming talent.
"Jimmy the Sports Guy" was none other than Jimmy Kimmel. Dr. Drew Pinsky, who now has a nightly show on CNN sister network HLN, hosted the sex advice show "Loveline," which was picked up by MTV and still airs over the Westwood One radio network.
Carolla, a listener who often called in, eventually played a wisecracking sidekick to both of them.
Now 50, he turned being a guy into an art form. Think Howard Stern without the leering, porn stars and strippers. Today Carolla is known for his podcast rants, live appearances and best-selling books, including his latest, "President Me: The America That's in My Head."
"The Adam Carolla Show" gives him the exposure to sell his books and a beverage he calls "Mangria" as well as promote live shows and regular guest spots with a couple of cable TV Bills, Maher and O'Reilly.
He probably won't be promoting this on his podcast, but Carolla is scheduled to appear live all week, and possibly next week, at the courthouse in downtown Los Angeles. It's not by choice. He is being sued by Donny Misraje, a boyhood friend who insists he was the brains behind the most popular podcast in the world. Carolla became the record holder, surpassing British funnyman Ricky Gervais by receiving nearly 60 million unique downloads between March 2009 and March 2011.
Misraje claims he pushed his friend into podcasting when CBS canceled Carolla's morning radio show in February 2009. The podcast was an instant hit. Within a month, he says, Carolla agreed to make him a partner and promised him a 30% stake in his company, Ace Broadcasting Network. But Misraje says he wound up with nothing.
Fast Company: How Adam Carolla became a podcast superstar
"This was a once-in-a-lifetime friendship ripped apart by money, greed and outside influences," says Misraje's attorney, Greg Doll. "For Donny Misraje, Adam's word was his bond. It was all he needed to jump headfirst into this enterprise. Is our case a cautionary tale? Sure. Is there a tragic element to it? Absolutely."
Podcast was immediately popular
Misraje never got anything in writing. Still, he says in his lawsuit, he quit his $231,000-a-year television production job and came on board knowing he wasn't going to get paid for a year or more. Because Carolla was pinned down by a noncompete clause in his CBS contract, the new company couldn't solicit advertisers during its first year.
Carolla was still getting paid under his CBS contract, but there was no way to create revenue to pay Misraje until the contract – and its noncompete clause – expired on December 31, 2009.
Misraje says he took out a second mortgage to make ends meet. He convinced his wife, a Grammy winner and top creative director, and his cousin, an Internet technical wizard, to join as well. They also are plaintiffs in the lawsuit.
Misraje says he was willing to stake his future on his presumed partnership with Carolla.
Carolla, the lawsuit states, assured them everyone was "all in this for the long haul," that they would "all get rich," and would be "sending their kids to an expensive college."
"We're taking this gamble together and it will pay off tenfold in the end," Carolla assured them, according to the lawsuit.
It didn't turn out that way. Despite the huge success of the podcast, Misraje's 30% payday never came. He contends Carolla cut him, his wife and cousin loose as soon as the cash started rolling in. He even changed the name of the company, Ace Broadcasting Network, to Carolla Digital.
According to the lawsuit, Carolla sent Misraje a scathing email firing his old friend. It is one of the major points in dispute. Can one partner fire another? To answer that question, the jury must decide: Was Misraje a partner, as he insists? Or was he just an employee?
Misraje's lawsuit cites multiple examples in which Carolla credits Misraje for the podcast.
"I want to thank my buddy Donny for setting this experiment up," he says in the first podcast, according to the lawsuit. Later, he is quoted as saying, "I'd never really heard of podcasting. Donny forced it upon me."
Partnership disputed
Carolla's attorney, Mark Geragos, had plenty to say about the case but did not make Carolla available for comment on the eve of trial. Geragos, who's a legal analyst for CNN, says that Misraje is seeking a big payday by taking advantage of an old friend. The suit, which alleges breach of contract, seeks a dissolution of the partnership, an accounting, and unspecified monetary damages.
It wasn't just Misraje's brainchild, Geragos said. Others also were responsible for convincing Carolla that podcasting and streaming on the Internet were the wave of the future, he added. The lawyer dismissed Misraje as "just a hanger-on, trying to cash in on an old friend." And yes, Hollywood is full of such people. "Donny is a rather pathetic character," Geragos added, describing his lawsuit as "nonsense."
"There was no partnership," Geragos insisted. "He wants a piece of Adam into perpetuity. But my understanding is, we've outlawed slavery in this country."
In a half-hour phone conversation with CNN, Misraje, now a producer for "The Queen Latifah Show," talked about the old days and a friendship that he valued and lost.
"We're definitely not friends. It's, it's wrenching," he said. "We were like brothers for 30 years. The relationship was extremely close and tight, and it came to an abrupt end."
Carolla also has told his personal story widely – on his podcasts, in his books and in countless interviews. He often has said he didn't get a lot of attention as a kid and that sports, and his friends, grounded him.
Los Angeles magazine: Inside the revved-up brain of Adam Carolla
Remembering Ace and The Weez
When Misraje spoke with CNN last week, he provided a few details about their time together but avoided discussing the specifics of the falling out that led to the lawsuit. What follows is his version of their early years, along with details gleaned from the public record, reviews of Carolla's best-selling books and his many media interviews.
He and Carolla were a year apart at North Hollywood High School. They ran in different circles: "Ace" Carolla hung with the jocks, while "The Weez" Misraje was more of a nerd.
Even back then Ace liked the limelight, Misraje recalled. He'd squawk into a bullhorn in the cafeteria, trying to convince people to buy tickets to football games. Few of them ever did.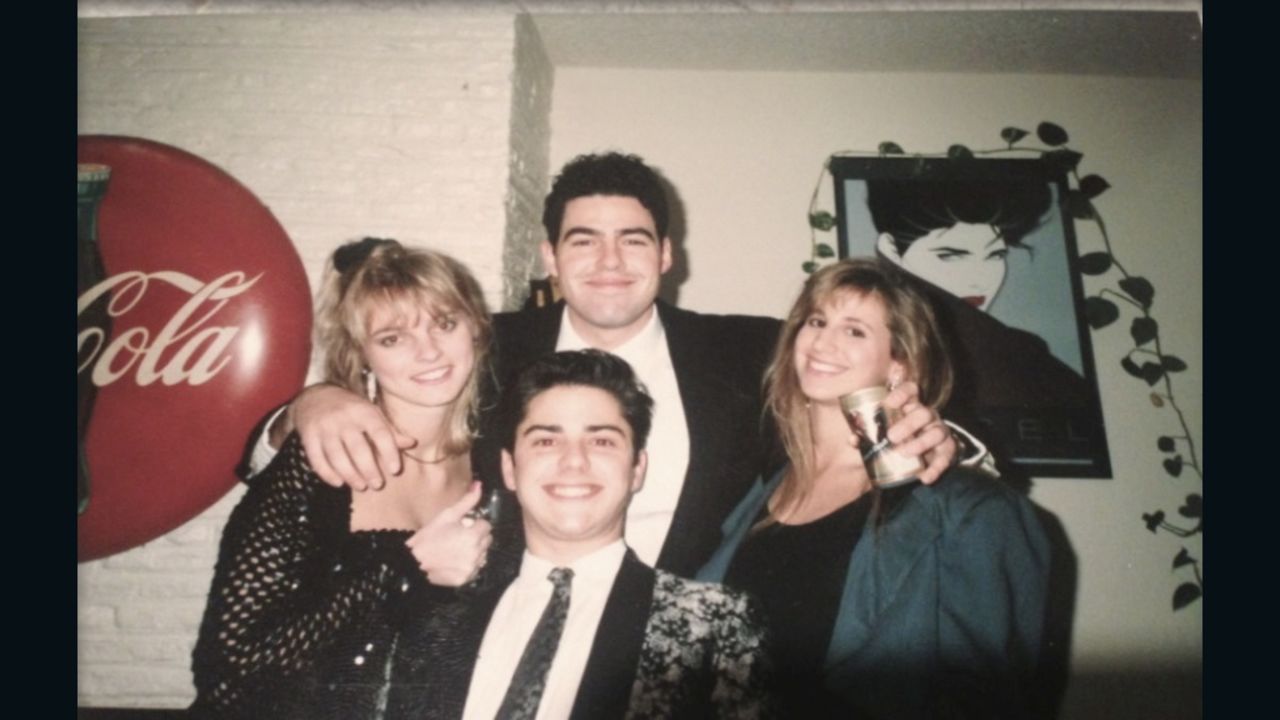 Ace and The Weez, as they were known then, really found each other after high school. While their friends headed off to college, they stayed behind in the San Fernando Valley. Carolla's parents kicked him out of their garage apartment, and he and The Weez found an apartment together. For about three years, they were just a couple of slackers, sharing an old futon.
Ace, the funny one, dug ditches for $15 an hour, and The Weez tended bar and fooled around with video equipment. They didn't seem to have a clue, much less a plan.
The Weez's family served as a safety net, keeping them from going totally feral. They'd go over for the occasional Sunday cookout, do laundry, raid the refrigerator. It was like a second home for Ace, except at this house people noticed him, seemed glad to see him.
They'd grown up fame-adjacent in the Valley, and adjacent they seemed destined to stay.
"We were knuckleheads," recalled Misraje. "I think we were both pretty scared."
But that didn't mean they didn't have style. They pooled their extremely limited resources and bought a '64 Cadillac limo. The Weez, who was handy, fixed it up.
Forbes: Adam Carolla makes it big despite not being hired by Taco Bell
Before long Ace, The Weez and their friends were rolling up at clubs in a custom party cruiser. It was an early, low-budget version of that bro-ride in the opening credits of the hit HBO series "Entourage," a tribute to the red-blooded, 20-something male's idea of livin' the dream.
Carolla left the Valley for a while, chasing his dream of finding a career in comedy. He ran with a crowd of stand-up comedians, and he was spending time with the Groundlings, the comedy improv group that launched the careers of performers such as Phil Hartman and Lisa Kudrow.
Carolla started hanging around a public-access cable station in Echo Park, what Angelenos call "over the hill" from the Valley.
But Ace and The Weez became neighbors again in Toluca Lake when Carolla moved across the street after his girlfriend's apartment was red-tagged as unsafe after the Northridge quake. By then The Weez was working for advertising agencies, editing commercials. Ace was no longer digging ditches; he'd moved up to construction work, hanging drywall and pounding nails.
Was he funny enough to turn pro? He started calling in to the "Kevin & Bean" morning show at KROQ. Everybody in L.A., it seemed, listened to that show, repeated the bits, turned the best lines into cultural inside jokes.
When the show put out the call for someone to train Jimmy the Sports Guy – Kimmel – for a boxing match dubbed "The Bleeda in Reseda," Carolla, a fight fan who worked out constantly, knew the gig was made for him. He walked over to the KROQ office and dropped his name in the basket at the front desk. It probably didn't hurt that the name he dropped was Adam Lakers Carolla.
His parents hadn't given him a middle name, so when it came time to get a driver's license, he chose his favorite sports team: the Lakers. It stuck; he uses the name to this day.
Rise of a radio star
Carolla got the gig training Kimmel and they clicked. Big time. Kimmel advised him that to get more airtime on the show, he should come up with a regular bit, and that is how Mr. Birchum came to be.
Mr. Birchum was a misogynistic, xenophobic Vietnam vet with PTSD who taught shop at a local high school. He called in to KROQ to teach lessons because he assumed his students were listening. Carolla did the shtick without pay for a year. It was hilarious, and it caught on. Mr. Birchum launched Carolla's career.
The bit caught Pinsky's attention, and he and Carolla would spend 11 years together, on the radio and later on the MTV version of "Loveline." With Kimmel he did "The Man Show" and "Crank Yankers" on cable and by 2009 had his own morning show on KLSX, the CBS radio station in Los Angeles.
The Weez was movin' on up, too. He jumped into digital media early, mastering Avid, the software program that made videotape obsolete. He started editing, and then producing for a laundry list of television shows, including "The Tonight Show With Jay Leno," "Extra," "Celebrity Justice," "Big Brother," "The Showbiz Show With David Spade" and "Deal or No Deal."
Misraje says he was moving into directing and producing when he stepped up to help Carolla launch his podcasting career in February 2009. His reasons may not have been purely altruistic when he rallied to help his old friend. There was opportunity there, no doubt. But he contends that Carolla used him and then threw him away.
"There's the business and there's the money, and then there's the relationship." Misraje says. "That's just debilitating to me. I can't begin to tell you how bad I feel. That's the hard part, that the relationship is over."
He compares it to a bad breakup. Or a death in the family.
"You know how you get sick of somebody? It wasn't like that. We have been close, tight, for more than 30 years. He's like a member of my family. Imagine having a fight with a brother or a sister. It's a mind-blower."
What puzzles him the most, Misraje says, is that Carolla didn't seem to understand that backing out of the partnership deal would end their 30-year friendship.
"I think he still wanted to have the relationship," Misraje says. But as far as he's concerned, "the friendship is over."
Two old friends who once shared a futon in a crummy apartment when nobody expected either of them to amount to much will meet face to face in court this week. It will be awkward. They haven't had much to say to each other in the two-plus years since Carolla fired Misraje in a vitriolic email.
It will be up to a jury to decide whether Carolla had a right to do that, or whether it should cost him more than it already has.