Africa
Musicians get mark of approval as artist immortalizes legends on stamps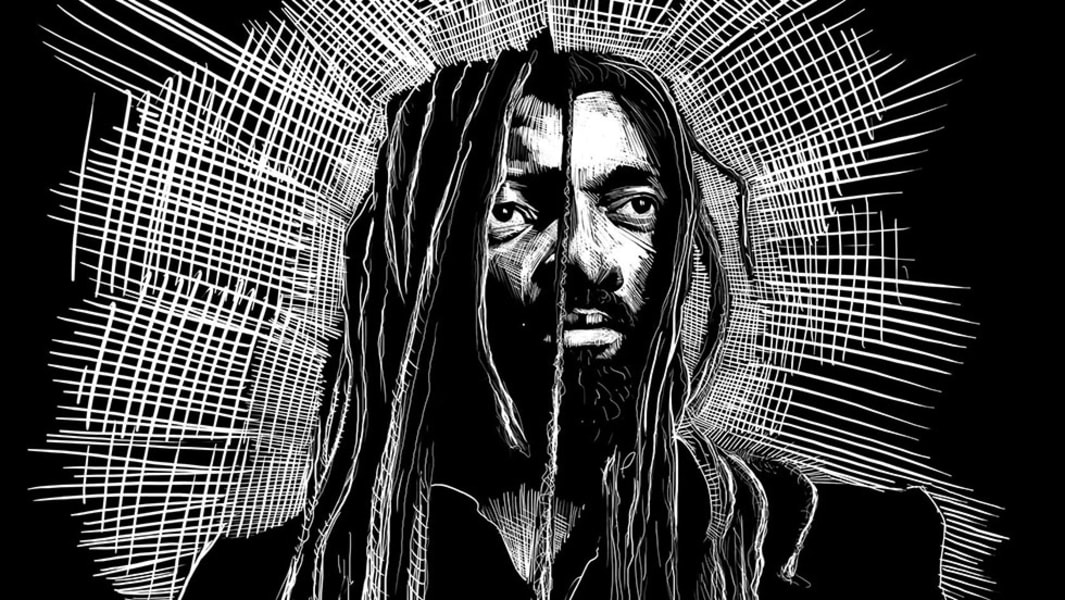 By Lauren Said-Moorhouse, for CNN

The sounds of South Africa have recently been immortalized with the help of the South African Post Office. Last month saw the launch of a special stamp collection that pays tribute to some of the country's most beloved creative souls. The incredible monochrome images were created by artist Hendrik Gericke, who told CNN about his process of capturing his nation's best-loved performers.

Gericke was brought onto the project by Cape Town-based design agency M&C Saatchi Abel, who were working with the South African Post Office. They curated a list of musicians and passed them on to the 33-year-old artist to interpret for the latest stamp collection, he tells CNN.

Lucky Dube was an obvious addition to the list. Known for singing in the traditional Zulu tongue of mbaqanga, Dube made a splash in the '80s with his politically charged songs about social injustice, set to the backdrop of uplifting beats and strong reggae sounds. It would be the start of a fruitful 25-year career that saw him release 22 albums in Zulu, Afrikaans and English before his untimely demise in 2007.

To evoke the power of the superstar -- Dube remains South Africa's all-time best-selling reggae artist -- and the many other musicians represented, Gericke opted for monochrome prints.

"The style [the post office] were after was a linocut, woodcut look because it has a strong presence in South African art historically across the board."
Courtesy Hendrik Gericke
He continues: "They wanted a new original approach to the postage stamp which has traditionally had a very soft, watercolor kind of look. A lot of animals of the country, flowers of the country -- those are the typical things you'd find on a postage stamp. They are normally very polite, the concept of them.

"That's OK but I think they wanted to move into a more graphically-innovative direction."

It's a project that caters to Gericke's artistic strengths -- heavy, tonal work -- as seen in this design of Bernoldus Niemand, a defiant rock musician and songwriter on the South African music scene in the 1970s.
Courtesy Hendrik Gericke
The South African-born artist has illustrated 10 musicians from his homeland for this first stamp collection for the South African Post Office including Miriam Makeba, pictured, who is largely recognized for helping bring African music off the continent to an eager global audience.

To create the digital etchings, he started by roughly sketching a pencil drawing using a photograph for inspiration. "You start with a pencil drawing and then I would take them to Photoshop and do a rough, tonal drawing over it."
Courtesy Hendrik Gericke
"The temptation is to work into every bit of visual information on the page. So where you find blacks in the finished product, the temptation is to put grays there. It's a challenge because it's a matter of less is more," says the artist who has been enthusiastically drawing since he was a young boy.

"The eye solves the puzzle. You have separate pen lines, but if you step back, they form a face. It's an interesting tightrope to walk when you always need to dial it back."

Courtesy Hendrik Gericke
Of the portraits he's done, Gericke says his representation of Simon Nkabinde -- the mbaqanga singer famous for his "groaning" style -- is his favorite.

"It was such an easy one to do -- it was perfectly lit in terms of the stage light on the back of the head and the hard light on the face," he explains.
Courtesy Hendrik Gericke
Gericke is nothing if not a perfectionist and it's clear through the way he describes his work that he's constantly looking for ways he can improve his craft. Another particular favorite of his in this series is that of Spokes Mashinani, the master pennywhistle player who rose to prominence in the 1950s, pictured, and Kippie Moeketsi, a saxophonist from the 1920's jazz scene.

"They are nicely balanced between the heavy blacks and the spatial highlights coming out," he says.
Courtesy Hendrik Gericke
Another singer represented in this collection of stamps is Brenda Fassie, the outspoken and larger-than-life singer best known for her Afro-pop tunes.

"I am a massive music fan and it was an honor to represent these people," Gericke says fondly.

"To have these people acknowledged is very comforting. That they are going back and saying [these are] people who made a difference. You had all these township musicians who culturally weren't regarded by the powers that be. But music doesn't care. Music will be made regardless and it's so good that they are acknowledged after all this time."
Courtesy Hendrik Gericke
Gericke says that his depiction of Johannes Kokkherol had particular emotional resonance for him.

"He formed part of a cultural movement called Voëlvry which means (in Afrikaans) 'Free as a bird.' It was a group of Afrikaans musicians who were speaking out against the state and no one did that..."

He adds: "These guys were Afrikaans guys saying 'You know what, to hell with this, we are going to follow our conscience.' And I have enormous respect for that because I know what the culture can be like in terms of rejecting someone who doesn't tow that line ... they risked jail time, they risked all kinds of things by objecting to the powers that be."
Courtesy Hendrik Gericke
"Some of these people have been dead for decades and the material available of them is very small ... so it's 'take what you can get out of it.' I had to go and figure out what information needed to be in there."

The artist hopes that people will see the stamps and gain a deeper appreciation for the legacies left behind by these dearly-departed icons -- like beloved musical-theater personality Taliep Peterson, pictured.

Gericke has just finished the second set of stamps which are slated for release next year. To see more of his artwork celebrating South Africa's musical heritage, click here.
Courtesy Hendrik Gericke