Story highlights
Ferguson, Missouri, is now known nationally as the city where Michael Brown died
It's also seen as a place of racial tension and questionable police tactics
But locals paint a different picture
For local coverage of the aftermath of the Michael Brown shooting, go to CNN affiliates KMOV, KSDK, KTVI and KPLR. And share your thoughts on iReport.
The August 9 police shooting of an unarmed African-American teenager in Ferguson, Missouri, plunged the city into chaos.
Suddenly, the small suburb outside St. Louis was a flashpoint in the debate over race and the proper use of police force.
Protests – some violent – have broken out nightly, heightening tensions and making Ferguson a national headline.
But behind that story are thousands of smaller stories – those of the people in Ferguson.
Here's what some of them are saying:
A father: Arvid Wilkerson
Arvid Wilkerson, 22, worries he made a mistake moving his family to Ferguson from Castle Point, Missouri.
"Two days later, that happened," he said, referring to the shooting of teenager Michael Brown.
Wilkerson says he used to get in trouble as a teen – "doing stupid stuff" – but now he keeps his distance. Though his actions then warranted police intervention, he still thinks many officers take advantage of their power.
"Police do what they want," he said. "They abuse that badge."
Wilkerson brought his 2-year-old daughter and 4-year-old son to Ferguson to "try to make it better for them. Castle Point was OK, but it was still bad." Ferguson was supposed to have more opportunities and less crime, he said.
Asked whether things could go back to normal and his reason for moving to Ferguson could still be realized, Wilkerson said: "It all depends on what they do to this officer," referring to the officer who shot Brown.
"If he don't get charged and justice is not served, it will get much worse," he said.
A nurse: Patricia Pendelton
Patricia Pendelton, a 41-year-old nurse, has lived in Ferguson almost five years. She was raised in the St. Louis area and has lived all over it.
She says she came to Ferguson because it's safe, has plenty of jobs – though there could be more – and has good schools for her three boys, who are now 17, 19 and 22.
"It was a nice community," she said, perhaps not realizing she used the past tense, though she notices her once-friendly neighborhood where people said hello to one another now carries an air of distrust. "Everything's so tense now. Everyone is just mean-mugging each other."
She's never had problems with the police in Ferguson. She chalks that up to her age. Like many Ferguson residents, she has heard that black youths and young black men have a different experience. Many say they were pulled over or stopped on the street for looking suspicious, which Pendelton thinks is a pretense for harassment.
There isn't much for young people to do, she said. The YMCA charges an entry fee and there aren't many recreational opportunities, so "they walk around, hang out, go to houses. … That's not uncommon for them to be walking in the streets."
Now, she feels trapped at home, like she's living in a police state. Her neighborhood is blocked off in the afternoon. At night, when police try to combat the violent demonstrations with tear gas, the smoke wafts down to her neighborhood. Even with the doors and windows closed, it burns her eyes and nose.
Even worse, she's terribly worried any time one of her sons leaves the house now. She knows he's not coming back until after dark. What happens if he gets caught up in the mess just down the street?
A mother: Marquita Rogers
Marquita Rogers, 27, is annoyed that her kids, Markell, 9 and Lonzell, 7, weren't in school Tuesday. What annoys her more is that she got no notice before she walked them the three-fourths of a mile to Koch Elementary.
This lack of communication has been typical lately, as police routinely block off part of the thoroughfare that leads to her subdivision, which abuts the Ferguson area where Brown was shot. No one told her about that, either – no fliers, no Facebook messages, no one on the news – until she tried to leave and realized that because of the chaos, she was basically stuck by the blocked-off street.
"I support the movement when it's the right way. I got two sons it, could've been one of them," she said, "but when it starts to get dark, that's when it starts to get ratchet," using slang for ugly.
Ferguson hasn't always been synonymous with police violence and looting, she said. There was a time when "you was able to go to QuikTrip and able to get you some doughnuts in the morning." That QuikTrip is now in shambles, looted and vandalized beyond recognition, its awning a jumble of bent metal.
"We're getting locked in back here, and we haven't done anything," she said.
Ferguson used to be peaceful. The streets were clean. Rogers used to sit on her front porch and just watch passersby. She could walk over to the QuikTrip by herself anytime she wanted, no matter the hour.
She wishes the police would just end this mess. It would be easier, she surmises. Just admit wrongdoing. And no, she doesn't care what the unarmed Brown did before his death.
"Jaywalking? Smarting off? Stealing cigars? Running? You're not supposed to die for that," she said.
Coworkers and protesters: Tom Steigerwald and Ashley
Tom Steigerwald, 31, has lived in Ferguson since 1994. His coworker at a mold remediation firm, Ashley, 25, who didn't give her last name because she promised her mother she'd stay out of Ferguson, joined him at Tuesday night's protests.
It's important that the peaceful people of Ferguson – and there are many of them – are represented, she said.
"We're not all trying to shoot the cops," she said.
Steigerwald said Ferguson has always been a diverse town, and race hasn't been such a defining issue for the city. Sure, there have been instances of unrest and violence, but they weren't a theme in the city until recently.
"It's always diverse, but they always got along," he said.
And the police?
"They all got a power trip problem, a lot of them," he said.
He and Ashley can see how the black community has issues with police.
"Ferguson is very diverse. The police force is not," Ashley said.
The biggest difference between Ferguson 20 years ago and Ferguson today is that there isn't as much for young people to do, he and Ashley said.
"The malls are shutting down. We used to go the mall all the time. The skating rink has shut down. You can't hang out in a big group without police messing with you," he said.
A business owner: Charles Stark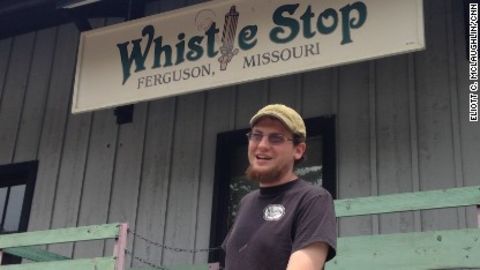 Charles Stark, 26, stopped the interview. A grandfather wanted him to fire up the steam boiler in the basement so his grandson could hear the train whistle atop the historic depot.
It'll take just a minute, Stark told him.
The lifelong Ferguson resident co-owns the Whistle Stop, a train depot-cum-museum and frozen-custard-and-sandwich shop located down the street from his home.
He sees the reports of the racial turmoil in his town, but he doesn't get it. Many races and nationalities live in his neighborhood, he said.
"Before this," he said referring to the Michael Brown shooting and aftermath, "I never really saw any racial problems around town, and I see tons of people every day … Everyone really seems to be getting along together, and I think it's portrayed more as a race thing than it actually is."
Community is important in Ferguson. Take the devastating tornadoes of 2011 and 2013, an EF4 then an EF3.
"The community banded together, neighbor helping neighbor," he said. "You'd barely know now the town was almost destroyed by tornadoes a few years ago."
That sense of community is on display for Ferguson StreetFest and the July 4 festival and parade with its impressive fireworks that draws spectators from surrounding cities, including St. Louis. It's also evident at the barbecues around the city, some of which have spilled onto the sidelines of the protests in recent days.
"Any excuse to make some food. We're good at doing that," he said.
He's seen the downtown area change a lot in the last 10 to 15 years. When he was a kid, there were few food stores, and "it was pretty rundown to be honest with you." Now, there are a wealth of small businesses along with mom-and-pop shops to accompany some of the major employers in the area.
A business owner: Mike Knox
The windows of Freestyle Barber & Beauty in Ferguson are unscathed. Owner Mike Knox has signs up that say "black owned, hands up don't shoot #ripmikebrown."
Since the teenager was killed, Knox has been leaving work at 4 p.m. to check on his kids, returning at 9 p.m. and then staying till 4 a.m. to ward off vandals and looters. If they see someone inside, they walk right past, he said.
"They don't want no physical confrontation," he said.
The 33-year-old opened his shop on the Ferguson border nine months ago after saving up his money while cutting hair in nearby Bellefontaine, another St. Louis suburb. Being a lifelong resident of the St. Louis area, he knows Ferguson well.
When Knox was a kid, St. Louis police walked the streets and handed kids Cardinals baseball cards, so he's seen real community-oriented policing, but there's a rift between the community and police in Ferguson – as well as in surrounding areas like Hazelwood and Florissant, he said.
"They all do it. People are just tired of that happening. Why should we get pulled over every time we get in the car?"
Knox has three sons – 15, 13 and 11 – and an 11-year-old daughter. They're used to hearing his guidance after a day of listening to people's troubles in a local barber shop.
"You don't want to tell them the police are bad. I tell them, 'Keep it moving,' " he said. "It's our job to educate our kids. When you see police, respect the police. Say 'Yes, sir' and 'No sir.' It'll get you a long way, and" – he reiterates because loitering can lead police to think you're up to no good – "keep it moving."
"If you let your attitude take over, that can be you laying on that ground," Knox said.
He is quick to emphasize that he likes Ferguson. It's a nice place with friendly people. It's safe. There are plenty of parks and businesses. You can find most things you need.
"Everyone just wants to make a little money, take care of their family and be cool, " he said. "We got some bad folks out here, too, that drug-deal and gang-bang, but they're not the majority."
A realtor: Pearce Neikirk
Pearce Neikirk is 63, and he's lived all but two of those years in Ferguson, where he owns a realty company downtown near the Ferguson Police Department. He doesn't recognize the town he's seeing on national television lately.
"The word, 'surreal' keeps coming up in almost every conversation we have," he said. "This has got to be a goldfish bowl. It can't be us. We're looking at something that doesn't belong here."
He's seen minor crimes in his years, but never once has he ever kept his rifle loaded on the kitchen table until recent days, when violent protesters and looters took over a stretch of West Florissant Avenue a half-mile from his home.
He remembers the Watts riots, the 12th Street Riots in Detroit, the Hough Riots in Cleveland. That was around the time Ferguson was witnessing its first blacks in public schools.
"I never expected to see that kind of stuff in my own community. We somehow never got involved with that. Our race relations never reached that boiling point," he said.
People like Ferguson, he said. Its festivals are topnotch. Its farmers' market is one of the most popular in the state. Missourians live in homes, on average, seven years. In Ferguson, it's 13.5 years, he said. Neikirk's dad, who is 96 and moved to Ferguson in 1943, still lives there.
"You've got to call home somewhere, and this has been a pretty decent place to call home," he said.
A freelance photographer: Ali Rafiq
Ali Rafiq's parents own a Subway sandwich store in Ferguson and the 32-year-old grew up there. On Saturday morning, Rafiq, a freelance photographer, was taking pictures near the QuikTrip that had been looted a day after Brown was killed. He is afraid that his parents' business will be looted, too.
While walking to his car, Rafiq noticed a man kneeling on the ground. The man was speaking quietly. Rafiq paused to take his picture, then asked what the man was doing. "He said he was praying for Ferguson because that's all he had left," Rafiq told CNN iReport.
The man said he was hurt that his community was slowly imploding.
"I told him this city is my home as well and we discussed how my parents business was doing," Rafiq said. "I thanked the man, shook his hand and walked to my car."
Rafiq's parents' business is the only income they have. "It saddens and frustrates me," he said, "watching people destroy a community."
CNN's Ashley Fantz and Dana Ford contributed to this report from Atlanta.