Story highlights
Mary Allen: Maternal mental illness is finally getting the attention it deserves
Allen's mother was mentally ill, and new research helps her understand her better
Allen: When you're a child, it's terrifying, but you find later that it was illness, not you
She says children of these mothers can learn from one another how to heal the damage
Editor's Note: Mary Allen is the author of "The Rooms of Heaven" and "Awake in the Dream House." The opinions in this commentary are solely those of the writer.
(CNN) —
When I was 3 years old, I was left alone in the house with my mother while my father was at work and my sister was in kindergarten. I spent the day hiding in a garment bag on my parents' sun porch. At one point I crept into the bathroom, looked in the mirror, and hallucinated the comforting sound of my father's voice saying my name.
My mother had just come home after a yearlong stay in a mental hospital, my sister and I had been retrieved from the foster family we lived with during my mother's hospitalization, and I was terrified of my mother.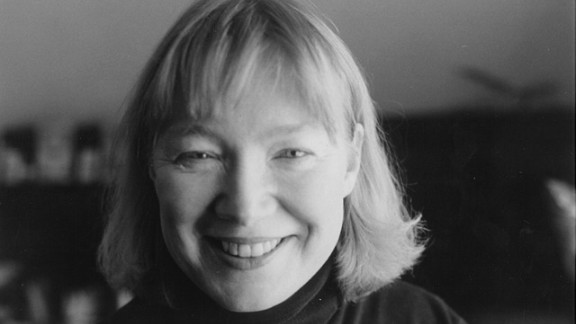 Maternal mental illness – postpartum depression and psychosis – are finally getting the attention they deserve. A growing body of research shows that maternal mental illness is far more common than previously thought, and many women are speaking up about their struggles with anxiety, depression, difficulty connecting with their newborns, and sometimes, their intrusive thoughts about harming their children.
Many of these women are receiving appropriate medical treatment and getting well. Reporting about them and their illnesses is often intelligent and compassionate. All this feels as if a closet that has been kept locked for years is finally being opened, letting in light and air.
My life has been defined by the lack of the very information coming out now, not because I'm a mother who has or has had maternal mental illness, but because I'm the daughter of one who did.
Although postpartum psychosis has been officially recognized since the 1800s, we didn't know about maternal mental illness back in 1953, when I was an infant. Not my father, my mother, my mother's psychiatrists, not the general public and, in the years to come, when I was growing up, not me. All I knew, for most of my life, was that I was terrified of my mother from my earliest, preverbal memories on.
I also knew certain things that my father told me.
She rejected you, he said, when I was growing up. She never really liked you. She didn't want to have anything to do with you when you were a baby. She put you out on the sun porch in the winter so your crying wouldn't wake up your sister. When you were a toddler she scolded you no matter what you did.
And once, my father said, my mother called her psychiatrist and reported, "There's a voice inside my head, and it's telling me to kill my children."
After that phone call and whatever precipitated it, she was taken to the Northampton State Hospital in Massachusetts for an extended stay. When she came home I couldn't get over my fear of her, and, after that awful day hiding in the garment bag and a few more days like it, my father allowed me to go back to the foster family who took in my sister and me during my mother's hospitalization. I lived with them, spending weekends with my parents, until I was 18 years old – dreading every single one of those weekends at my parents' house.
I did not understand why I was afraid of my mother or even question the fact that I was. My mother never really got well, and over the years when I was growing up, remnants of her maternal mental illness hardened into rage because I refused to live with her – and hysterical panic attacks in me when she suggested angrily that I should. She died in 1981, just when I was at an age where I might have been capable of overcoming my fear and getting to know her a little.
"Studies indicate that maternal stress may undermine women's ability to bond with or care for their children, and that children's emotional and cognitive health may suffer as a result," Pam Belluck wrote in a New York Times article, "New Findings on Range of Maternal Mental Illness."
"'When I'd walk into his room, he'd burst into tears,'" one mother reports in the article, describing her son's reaction to her.
For years I've plumbed the depths of my unconscious, using a therapy called EMDR, to heal the part of me that burst into tears at the sight of my mother. As a result I've become familiar and even comfortable with what happened to me on the inside.
But it's been harder to take ownership of this part of my story in the outside world – to see it in any sort of neutral, uncharged way. My early traumatic experiences took over any ability I might have had to be neutral about my mother's illness, and my profound infantile fear of her felt confusing and sort of embarrassing, like a personal weakness.
It's only been recently, with the new findings and the literature coming out, that some penny inside me finally dropped and I saw that being the child of a mother with maternal mental illness – having a mother who didn't like you, who rejected you and terrified you and whom you rejected in turn out of fear – isn't only or even really a personal event.
If, as reported by the Postpartum Support International, at least one in eight women in the United States suffer from some kind of mental illness during or after pregnancy, my mother was one of many. So my experiences are not unique, and I no longer have to feel ashamed of them or alone with them.
Because of therapy, I no longer have to carry around the fear of my mother, which as I was growing up turned into a generalized fear of everything. And now I can, finally, once and for all, forgive my mother and her illness.
It's a good time for those of us whose mothers were victims of maternal mental illness to start adding our voices to the literature coming out about it – to join in the healing taking place around this devastating illness.
Read CNNOpinion's new Flipboard magazine
Follow us on Twitter @CNNOpinion.