Story highlights
Mario Balotelli has a little fun with his Panini sticker album
Striker's self-regarding Facebook picture shows a full Italy squad made up of his photos
(CNN) —
"We all dream of a team of Carraghers" is a tribute to Liverpool FC's former player and cult hero, Jamie Carragher, which dares to imagine a first 11 made up entirely of the club's legendary defender.
It seems Italy's Mario Balotelli's mind is set on something else.
The striker posted a photo on his Facebook page featuring a Panini sticker book featuring the entire Italy squad made up entirely of his own stickers. It shows some real application on the part of Balo, as he is affectionately known – it wouldn't have been that easy to get so many copies of his own sticker.
The Italian is a divisive figure and has had more than his fair share of off-field headlines.
The A.C. Milan striker, who broke English hearts in Manaus over the weekend by scoring the winning goal in their group D match, is well known for not only his on-field prowess but also a series of ill-judged pranks, including one which culminated in his setting his house on fire with fireworks while at Manchester City.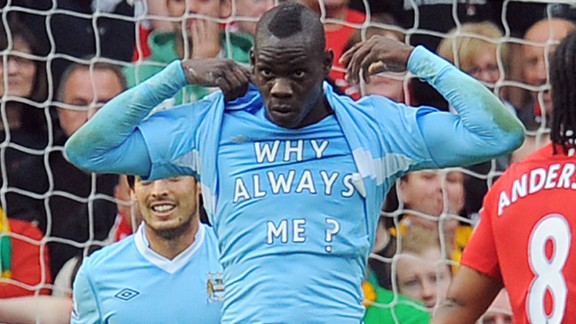 ANDREW YATES/AFP/Getty Images/file
That got him plenty of column inches, which he lapped up, acknowledging the fascination with his hijinks by wearing a t-shirt on-field which read, "Why always me?"
Now, it seems he's answered his own question with his vision for the perfect Italian lineup. Why not only him?