Story highlights
Two Western men went missing in Rishikesh, a holy spot in northern India
Some suspect "India Syndrome," say delusions on spiritual path sent them astray
Parents hang on to hope, despite years; a police official says he won't stop searching
An American father sounds alarm for daughter he fears is gone, too; CNN finds her
The photos were discolored, the paper stained, some of the Hindi words faded to white. But the weathered poster on a road lined with ashrams immediately captured me.
It featured the face of Jonathan Spollen, an Irish journalist last seen in Rishikesh more than two years ago at age 28.
I'd heard about Spollen before coming to Rishikesh while researching "India Syndrome," an unusual condition that afflicts young Westerners traveling in India. They become delusional and, in extreme cases, disappear – often during quests for enlightenment.
India Awakenings: How a holy place and its people helped a Western woman find wholeness
"More than any other country, India has a way of stimulating imagination and stirring intense aesthetic emotions which can at any moment plunge the traveler into utter anxiety," wrote Dr. Régis Airault, a French psychiatrist who penned the 2000 book "Fous de l'Inde" or "Crazy for India."
"Freud himself was sensitive to the intimate feelings stirred up by certain places," he wrote. "Travel, like hypnosis, is partly evocation, and some (people), more easily than others, let themselves be carried away without resistance."
It smacks of other rare travel-related syndromes known to throw tourists for a loop. There's Jerusalem Syndrome, in which visitors to that holy city become so overwhelmed, they have a break from reality and believe they're the messiah or any number of biblical figures. Or Stendhal (Florence) Syndrome, in which visitors lose it in the presence of artistic masterpieces in Italy.
No one knows what happened to Spollen, but India Syndrome is one of the theories that's been batted about. Most recently, there has been speculation he was attacked or eaten by a wild animal.
Spollen, though, is not the only 20-something Westerner to go missing in Rishikesh, a small Indian city popular among those seeking spiritual sustenance. There's also Ryan Chambers of Australia, who was 21 when he disappeared in 2005.
I went to Rishikesh this year on a journalism fellowship to write about spirituality. The focus became about personal discovery, but when I saw the Spollen poster, I set out to learn more.
I could not have guessed where that exploration would lead.
He's never stopped looking
The heavy rain pelted us as we ran through the mostly deserted streets. We leaped over growing puddles, weaved around unfazed cows and flew past small roadside temples.
Finally, panting and soaked, my translator and I arrived at Rishikesh's local police intelligence unit on the east side of the holy Ganga, or Ganges, river. Kundan Negi, the head constable, invited us inside the dark cinderblock building, waved us over to the seats in front of his desk and sent an assistant to fetch hot tea.
On Negi's old desk sat the bright orange and blue files for the two Western men I'd come to discuss. Their smiling faces peered up from flyers. I asked Negi whether these materials had been pulled out for my benefit. No, he told me, they're always here. He's never stopped looking for these men.
One of them, Spollen, simply vanished. The other man, Chambers, left a note.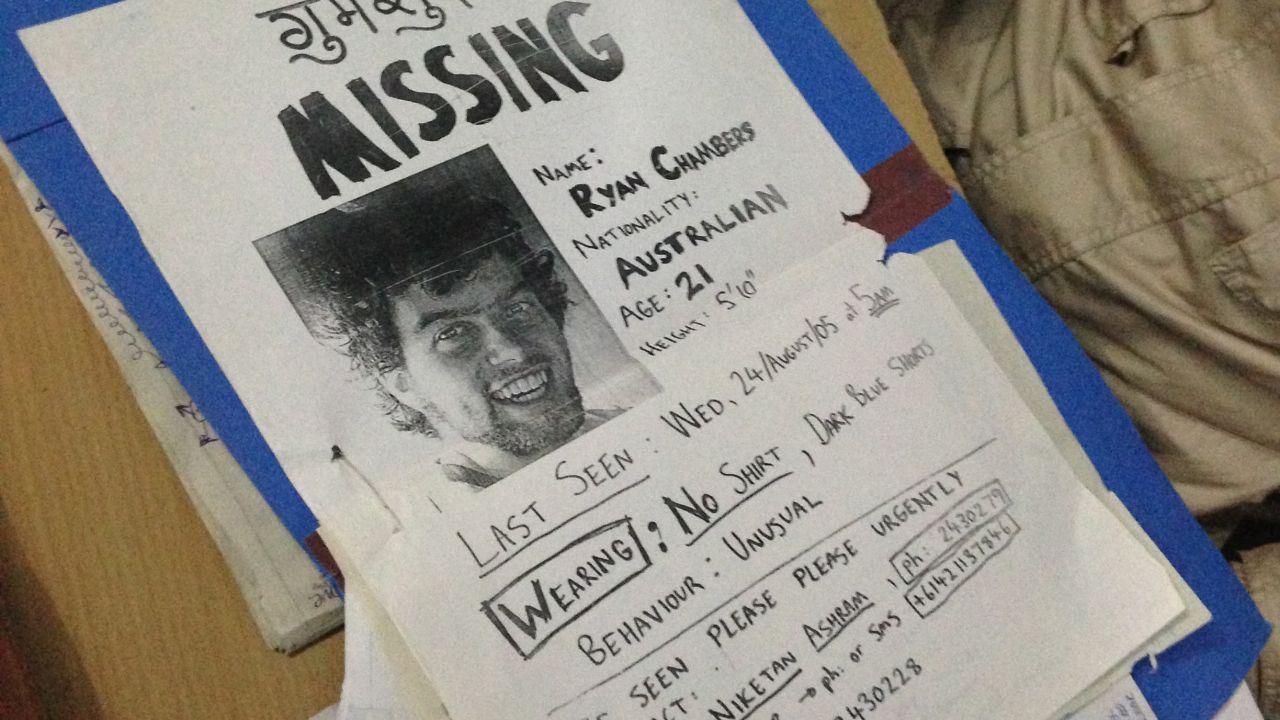 The story goes that early one morning, Chambers stepped out of a Rishikesh ashram where he was staying with a friend. He wore only shorts and never returned. Left behind in his journal were the words, "If I'm gone, don't worry. I'm not dead. I'm just freeing minds and to do that I had to free my own."
Negi said if he had to guess, he'd say Chambers drowned. The Ganga was especially high when he went missing, and even when it's not high, the currents can be deceptively fierce. Plus, some told Negi that Chambers was dabbling in drugs and acting odd in the days leading up to his disappearance.
The use by some Westerners of mind-altering substances in Rishikesh, including black weed, which grows in the area, is something with which Negi is all too familiar.
"Maybe they are tired of their lives," he said through my translator. "They're in search of divine power. They are totally indulgent spiritually and turn to drugs."
Before I left for India, I called Chambers' father, Jock Chambers, to ask about his son's disappearance. He said that the night before his son went missing, he announced he could fly. His father wonders whether the antimalarial medication Chambers was taking, Lariam – a drug known to have harsh side effects, including hallucinations – was to blame. Sometimes he thinks his youngest son might have jumped from one of Rishikesh's two suspension bridges.
Still, he manages to hang onto a shred of hope.
Jock Chambers maintains a website to help keep the search for his son alive. There's also a dedicated Facebook page, Ryan Chambers-Missing in India. He and his wife participated in a documentary about their hunt for Ryan: "Missing in the Land of Gods." Jock Chambers also stays in touch with contacts in India.
And until there's a body, he has to believe that maybe, just maybe, his boy is out there. He's seen friends grieve for children who've died, and he's never known that sort of pain.
"We prefer to believe he's alive and someone is looking out for him," Jock Chambers said. "There's just no evidence one way or the other."
The other file on Negi's desk held details about Jonathan, sometimes known as Jon, Spollen. Negi pulled out a fresh stack of colorful stickers he often distributes, seeking information about Spollen's whereabouts.
Before he disappeared, Spollen told his mother he was going on a solo trek into the Himalayas. He expected to be gone for several weeks, a last hurrah before his visa ran out, his mother told me this month.
Lynda Spollen asked him to consider going with a guide, a mother's protective instinct, but she already knew he'd go on his own. Her forever-curious son thrived while integrating with locals. It was just like him to travel this way, she said; he'd done the same in Kashmir and Iran. He'd worked as a journalist in Cairo, Abu Dhabi and Hong Kong. He was comfortable and happy walking alone, and he promised he'd text when he could and call as soon as he was back.
She never heard from him again. His belongings were found by a waterfall a few miles from Rishikesh.
His mother realized that something was deeply wrong but said it was hard, at first, to convince Indians. Many assumed he'd just wandered off on a spiritual journey – nothing unusual in their world. But she knew better. She also knew that her son, who'd waited so long for his journalist visa, wouldn't blow future access to India by overstaying his welcome.
A Facebook page, Find Jonathan Spollen, and webpage have been established to help make sure he's not forgotten.
And Negi has emerged as "a silver lining in this huge cloud," Lynda Spollen said. "I will forever be grateful to him, whatever the outcome. He is a man of great integrity and determination in a system which is gravely lacking in resources from a Western perspective."
Negi said he believes Spollen may still be alive, that the water where the personal items were found was too shallow in which to drown. Instead, Negi imagines Spollen wandered off to learn with a sadhu, or holy man, and is meditating in a remote cave.
Lynda Spollen has a hard time getting her head around this idea, but she wants to believe. Desperately.
"There's nothing I'd like more than to think he's meditating in a cave," she said. "It would be the most hopeful thing in terms of him being alive and my seeing him again."
Even Negi, though, admits that his theory has holes. He and his team have combed the mountains, visited villages throughout the region, hiked each trail, gone into every cave and spoken to every person they've met. They've followed tips of potential sightings and rushed to ashrams in the middle of the night.
One of those ashrams is Parmarth Niketan, Rishikesh's largest. Sadhvi Bhagawati Saraswati, or Sadhviji for short, has called it home for more than 17 years. She's a U.S.-born disciple of Swami Chidanand Saraswatiji, the ashram's president and spiritual head, and she became something of a guide during my stay in India.
At one point, Sadhviji told me, she became consumed by Spollen's disappearance. She said she "spent days being Sherlock Holmes, trying to figure it out." But today, she refuses to be a romantic in thinking about Spollen's fate. She assumes he drowned, if not by accident, then by force.
She says there's no way a white man could wander past others in remote regions of the Himalayas and go unnoticed.
Most of all, though, she thinks of how her swami insisted that she go home and see her parents before committing to her new life. How he encourages her to maintain relationships with family. No guru or holy man worth his spiritual salt, she said, would allow a disciple to vanish and leave loved ones in the dark.
Back at Negi's office, the constable wonders whether Spollen wandered off with a sadhu who practices black magic. Or maybe he died in the great monsoon and flood of July 2013.
Negi said he lost months of sleep after Spollen disappeared and is like an "Indian son" to Lynda Spollen. He said he'll keep looking, both for Spollen and for Chambers. Until bodies are found, he can't say they're dead.
"It would be a great honor," he said, "if I could find a mother's son."
What to believe
I left Negi, feeling haunted, and posted something on social media. I wanted readers to know about these young men. I wanted their families to know that they haven't been overlooked. What happened next left me flabbergasted.
A man from Oregon reached out to me directly via Facebook, asking whether I could help search for his 33-year-old daughter. She was in Rishikesh but hadn't been heard from in more than a week – something unusual, given that she'd been posting on Facebook at least twice a day. She'd left the place where she'd been staying and volunteering. He didn't know where she'd gone.
It's not always clear when a reporter should – or shouldn't – become part of a story. But when I got this note from a desperate father, I didn't think twice about whether to get involved. Here I was in Rishikesh with contacts. Why wouldn't I spend some time looking for this man's daughter?
I thought about my own parents and how nervous they were when I lived in Israel in the mid-1990s. I remembered the look of fear on my mother's face when I was leaving: "What if you never come back?" It was a time before Facebook existed and when even e-mail was a rarity, and I wondered whether the silences between letters and phone calls were any easier for my folks.
I asked the Oregon father for details about his daughter, where she'd last stayed, a photograph. I went back to Negi, passed on the information and put the father in touch with officials.
Then I went to the place where she'd been staying and volunteering: an orphanage with vast gardens and a popular café. I spoke to some of the children who lived there and showed them her photograph. They began offering stories. One had seen her two days ago. Another just that morning.
In the café, a former co-worker of hers told me where the woman was now working. I gleefully sent the father a note, saying I knew where to find her.
But then, as I sat down to eat a quick lunch, another employee approached to share stories about the woman's sudden departure.
Suddenly I didn't know what to believe or tell her father.
Still, I went to the store where she worked and spotted her outside, talking to customers. I perused the shelves, looking at organic cotton shirts, admiring teas and smelling candles, until she was alone.
After we exchanged small talk and were seated on mats outside the store, I told her why I'd come: that her father was looking for her.
Her face fell. She said she was mortified.
Her phone battery was dying, she said. She didn't have access to Facebook. She was busy, moving around, getting used to her new job. She was living her life on her terms.
Besides, she wondered, why can't a 33-year-old woman go a week without keeping in touch with her parents? The baby of the family resented being treated like one. Sometimes, she said, she wished she really could disappear.
I felt for her but also was concerned. She seemed jittery, nervous. But who was I to judge? With a promise she'd be calling her father after work, I walked away, knowing I'd done all I could.
Back at my guest house that night, I wrote her father one last time: "I sat down with her in the store where she works this evening. I'm glad she'll be calling and hope all goes well for all of you!"
It was as honest as I felt I could be. And I could go to sleep feeling relieved that her father wouldn't be saddled with the uncertainty that weighs on Lynda Spollen and Jock Chambers. Even if that uncertainty prods them along.
"It's the not knowing that gives you hope," Spollen said. "I'm dreading the day that I have closure. The hope, it's what keeps you alive. It's all you have. It's literally what keeps you breathing."
This story was made possible thanks to a global religion reporting fellowship granted by the International Center for Journalists, with funding from the Henry Luce Foundation.