Story highlights
When a person is terminally ill, the words "till death do us part" take on a new meaning
Some couples make marriage a priority to celebrate the time they have remaining
Expert: Manage expectations of the healthy spouse's caretaking role
Intimacy can remain until the very end, though what that means can evolve
As wedding season gears up this month, the words "in sickness and in health" and "till death do us part" will lie at the heart of many vows.
For couples who are facing a terminal illness, these promises are a bittersweet reminder of the limits of time; gratitude for the days and months they have, ache for those they might not.
On June 1, residents of Illinois will witness their state's first day of marriage equality, but for Pat Ewert, 66, the day's expressions of love will be tempered by a slight pang as she watches many of her friends lawfully unite.
"I don't have that person to celebrate with. It's painful, but I'm so happy for all my friends," Ewert says.
On November 27, 2013, Ewert and Vernita Gray, her partner of five years and one of Chicago's most steadfast gay rights activists, were granted an expedited marriage license by a federal judge. It was the state's first legally recognized same-sex marriage, and there was a purpose to the haste: Gray's breast cancer had metastasized in her sternum and eventually, her brain.
"These two women, who have loved and cared for each other in good times and bad, through sickness and through health, will get to know what it means to be married," Camilla Taylor, Marriage Project director for Lambda Legal, an LGBT rights organization, said in a statement shortly after the decision.
For Ewert and Gray, marriage is and was the ultimate display of commitment.
"It was weird for me to start using 'wife,'" Ewert says. "There is a real difference."
Gray passed away on March 19, 2014, at the age of 65 – just shy of the couple's four-month wedding anniversary.
Ewert says the marriage ceremony was a moment of pure, unbridled joy that had been a long time coming (the couple had been engaged since Christmas 2009), but that they had always been "just a couple of little old ladies who live in a condo in Chicago" with the wish that "at some point, people will get that we're just another couple."
"[She's] the first thing that I think about when I wake up, and the last thing at night," Ewert says of her late wife.
When a boyfriend dies, does the grief mean less?
Caring for both parties
Diana Denholm, a psychotherapist, wrote the book "The Caregiving Wife's Handbook," after her personal life and professional expertise overlapped. Her own husband, John Sammond, was diagnosed with colon cancer, then congestive heart failure.
Her husband received his diagnosis in 1994, one month into their engagement, along with the information that he was facing a 20% survival rate.
"It's a big decision, and it's not an easy decision. I know after my husband got his diagnosis, he let me out of saying 'yes,'" Denholm says.
But she walked down the aisle, and took care of Sammond until the time of his death 11½ years later on January 31, 2006.
Since then, she's devoted her professional career to helping people understand the realities of the day-to-day while partners navigate terminal illness. It might include issues of intimacy, household management or most importantly, the well partner's own self-care.
Denholm says it's primarily important to manage expectations of how hands-on the healthy spouse will be in the caretaking, for instance, if they will quit their job and focus on caretaking full-time.
"I can't stress that enough, and if you don't, then you're in it," Denholm says.
There's also guilt and denial: Guilt of being vilified if the relationship doesn't work out while one partner remains sick, and the guilt of "why them, not me," if it does.
Ewert readily admits she was in denial until Gray's final moments. Gray had survived breast cancer before, and Ewert was sure she could again.
"I told her she owed me another 19 years. You owe me more," Ewert recalls telling Gray, despite Gray admitting this time was different.
"Some of that [denial] is good. If we went into everything with a horrible outlook, that wouldn't be helpful," psychotherapist Denholm says.
Beyond that, Denholm explains, it's important to understand the concept of enabling; the healthy spouse often feels the need to do every single task, turning the sick person into an invalid. If it's something the afflicted person can manage, let them do it. It's about collaboration, not animosity.
When the relationship becomes more like that of a parent and child, intimacy is lost, she says.
Denholm stresses that physical affection and connection may no longer be expressed as "intercourse" in the sense most people understand it; it could just mean lying next to the person, gently holding their hand or massaging them.
"Intimacy can remain until the very end, and in some ways the intimacy can strengthen," she says.
Even though that's helpful for the couple on their journey, someone is eventually left behind to go it alone.
"No matter how prepared you are for when they die, it's always painful when they die," Denholm says.
'Hanging on a moment'
Jeff Lang just celebrated what would have been his wife's 36th birthday at her favorite gelato shop. For him, the wound is still raw.
"A lot of people say, 'You'll get over it.' I don't want to. I want to get on with it, but with this being a huge part of what has shaped my life and love now, I will always honor that," Lang said in an e-mail this week.
Lang married Jen Bulik-Lang in July 2013. She was diagnosed with stage 4 lung cancer in December 2012, but had recently been told that even after five months of treatments, continuing treatment would not help her prognosis.
The couple decided it was now or never.
Their wedding captivated the national media after an event planner, Erica Becks, got local vendors to step up and create their dream ceremony – all the way down to a New Orleans' style Second Line.
The couple's first dance was to an acoustic version of Lady Gaga's "Edge of Glory."
"That line – 'hanging on a moment with you' – that's what we're doing right now. We really don't know what's next. Even though we got this bad news, we're not letting that defeat us, we're still on that edge of glory," Lang told CNN in August right after their wedding.
"I'm choosing to live and be part of his life for how long forever is," Bulik-Lang said at the time.
Bulik-Lang passed away in their Mountain View, California, home three months later on October 12, 2013.
"Jen said to me once, 'I'm not afraid, I'm just sad' and we lived it that way," Lang says now, seven months after her passing. "We knew we would miss it if it was gone, so we made the most of every minute."
Lang says that not having a future dictated their outlook on life, and it is how he continues to live.
"I don't see accomplishments and money as the prime drivers of my day-to-day life. I love, and I have relationships that are deep and meaningful, I go out of my way to make that happen," he says.
Funny obits bring new life to a dying art
A wedding wish
Wedding planner Liz Guthrie always cherished the "special day," but she didn't quite know how special it could be to couples facing serious health problems until she began organizing a dream wedding giveaway in 2009 to couples who had endured some sort of hardship.
More than 400 applicants applied, and Guthrie noticed many had a common theme: Limited time together.
From there, she founded Wish Upon A Wedding, a nonprofit devoted to providing weddings and vow renewals to couples who are facing terminal illness. The organization is now working on its 65th wedding wish.
"The ceremony itself is so important to so many people," Guthrie says.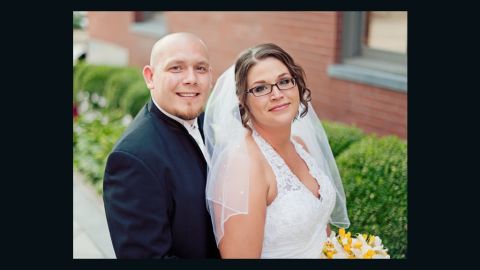 Tina and Lance Martin of St. Louis were granted their ceremony by the organization on June 27, 2011. When the couple first met, Tina was undergoing chemotherapy for stage 4 non-Hodgkin lymphoma.
Tina's chemotherapy treatments ended in February 2009, and she is now five years in remission.
Shortly before their engagement in March 2011, Lance was himself diagnosed with focal segmental glomerulosclerosis, a kidney disease that results in renal failure if not treated regularly with dialysis or, more permanently, a transplant.
Medical details and prognosis limits did not define their wedding day. Their moments – however many they had left – were at the core of the celebration.
Now, three years later, their story is still being written.
"Getting married to the love of my life is the greatest blessing," Tina says. "It was nice not to have to think about medical and health problems during this time, and we were able to focus on something bigger and better– our marriage."
"Every day is a struggle, but we have one goal in mind," she says. "Happily ever after."
Have you faced a terminal illness in your relationship? Share your story in the comments, on Twitter @CNNLiving, or on CNN Living's Facebook page.