Story highlights
NEW: Accused man's lawyer says alleged victim was "completely free"
NEW: Lawyer: The couple was having marital problems, in the process of splitting up
Alleged victim was 15 when she was first abused and her mother reported her missing
Baffled neighbors recall a happy couple who enjoyed dancing at elaborate parties
Tune in to "New Day" during the 8 a.m. ET hour when we'll speak to Charles Frisco, the attorney for Isidro Garcia.
(CNN) —
After an August 2004 domestic dispute, police say, a 15-year-old girl left her Santa Ana, California, home, seeking refuge in a nearby park adjacent to an elementary school.
Her mother's boyfriend, who police say had just attacked the mother, followed the girl.
She told him she wanted to go home, that she had a headache, according to police. The mother's boyfriend told the teen that her mother had called the cops to have her deported and gave her five unidentified pills, police say.
She woke up trapped in a Compton garage, about 25 miles from home.
And so began a decade-long kidnapping saga that police say came to an end this week when the woman – now married to her alleged kidnapper and mother to their daughter, 3 – reached out to her sister on Facebook in April before contacting authorities over the weekend, said Santa Ana police spokesman Cpl. Anthony Bertagna.
"You're talking about a 15-year-old, came to this country, doesn't speak English," Bertagna said, explaining how the teen had arrived in the United States only six months before her abduction. "Her mother's boyfriend decides he wants to physically and sexually abuse her. He tells her that her mother doesn't care, that she can't go to the police because they'll deport her."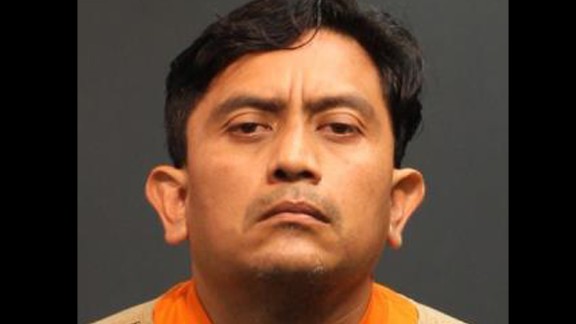 Isidro Garcia, 42, was arrested during a traffic stop Wednesday. He is charged with a felony count of forcible rape, three felony counts of lewd acts on a minor and a felony count of kidnapping to commit a sexual offense.
If convicted of all three crimes, he could face life in a state prison, according to prosecutors.
Until he's given the chance to convince the court otherwise, Garcia is being held on $1 million bail; if he somehow posted that, he'd stay detained because U.S. Immigration and Customs Enforcement has a hold on him.
"We're not talking about consensual sexual contact, we're talking about a forcible rape, and we're talking about repeated sexual abuse, emotional abuse and physical abuse," Farrah Emami, an Orange County District Attorney's spokeswoman, told reporters Thursday. "… This is a victim, no matter how you spin it."
Garcia's lawyer, Charles Frisco Jr., says his client is the one suffering, needlessly, now.
"He didn't do this," Frisco told CNN's Anderson Cooper. "It's that simple."
Accused's lawyer: 'She was very independent'
To hear Frisco tell it, Isidro Garcia is a "stellar" husband, a doting father, a hard worker and a good man – the type who worked two jobs, held raffles for disadvantaged children and loved his wife.
"I was told by numerous people that he treated her like a queen," Frisco told reporters, citing relatives, friends, neighbors, a nanny, even a police officer who knew the family. "He was devoted."
Isidro Garcia was not someone who held his wife against her will all these years, according to Frisco. Despite being repeatedly pressed by CNN's Cooper, the lawyer said he didn't have all the facts to confirm or deny that the alleged victim was only 15 at the time.
Regardless, Franco insisted, "there's nothing" to the prosecution's case beyond her claims.
"She had her own car. She had her own job," the lawyer said. "She was very independent – completely free."
Frisco mused that it didn't make sense for her to suddenly come forward now, after a decade together. He speculated it might have had something to do with marital problems, saying the couple was in the process of splitting up.
"We all know what happens when people break up," Frisco told CNN. "The marriage falls apart. People get angry. People say things that aren't necessarily true."
Decade-long mystery
But authorities say that it wasn't easy for this young woman to muster the courage to come forward. The fact it took her a decade to do so doesn't change the fact numerous crimes were committed, they say.
Lt. Scott Fairfield of the police force in Bell Gardens, where the woman – now 25 – had been living in an apartment with her husband and child, said she walked into the police station on her own earlier this year and said she had been kidnapped and "held … against her will."
The alleged victim told police that Garcia began sexually assaulting her in June 2004, shortly after she arrived in the country. Her mother suspected as much but had no evidence, a police news release said. When the teen woke up in the single-car Compton garage, its only exit was blocked by a vehicle, she further told police.
Garcia gave her false identification and made her work with him as a janitor at a night cleaning service, Bertagna said.
He kept a close eye on her at work, while physically, mentally and sexually abusing her, telling her that her parents weren't looking for her, the police corporal said. They moved four times to avoid being discovered, Bertagna said, and the two times she tried to escape, she was caught and "beaten for her efforts."
In 2007, Garcia married the girl in Los Angeles, police say, and in 2012 they had a child together.
It's that child who gave the woman the courage to finally report her abduction, Bertagna said.
"She wanted to break the cycle so the child wouldn't be abused," he said.
'Happy' reunion between mother, daughter
The alleged victim tearfully told CNN affiliate KABC the same thing and explained that she was afraid to report Garcia or seek help from her Bell Gardens neighbors because everyone thought Garcia was a good husband and provider.
"He was a workman. He works hard for me and my daughter and bought everything I want," she told the station, her back to the camera as she held her daughter. "I need the love of my family, not things."
She said that despite maintaining the facade of the happy couple, she longed only to be reunited with her family during the 10 years she was with Garcia.
"I'm so happy and God-blessed to be with my family. That's what I want all the time. All the time I cry for them, more for my mom and my sisters," she said. "I think I was alone, but I wasn't ever. My family was with me."
The woman's mother had one word to describe the reunion with her daughter.
"I'm so happy. God is everything," she told KABC. "Happy, happy, happy."
No sign of abuse
Neighbors don't know what to think. They recall "Tomas" and his wife, who also used a pseudonym (CNN is not identifying the woman because she is an alleged rape victim), as a happy couple who liked to dance at their elaborate parties complete with catering and clowns. Photos obtained by CNN affiliate KNBC show an apparently normal couple, embracing and grinning for the camera.
"They'd be happy, kissing, holding hands," said Maribel Garcia, who has lived at the same apartment complex as the couple for four years.
A next-door neighbor who identified herself only as Erika said Isidro Garcia – whom she knew as Tomas – was really nice, and Erika spoke to the couple every time she saw them. When the alleged victim became pregnant, "she was really happy with the news," Erika said.
"She never showed a sad face or worried face," she said.
Yet while Erika was told that the alleged victim's mother never liked Isidro Garcia, a different story was given to Maribel Garcia, who told CNN that she heard Isidro Garcia had recently bought a truck for his wife's mother.
Neighbors say Isidro Garcia also purchased a laptop and a car for his wife, and he was paying for womb massages because the couple was hoping to have another child. Neighbors recall meeting the couple's family members, as well as the couple taking trips to visit relatives.
Isidro Garcia's wife took off work during her pregnancy, they say, and after their daughter was born, she often took the girl to the park, market or local Circle K convenience store in a stroller. She was regularly unaccompanied, even in her car, they say.
"She had plenty of time to actually escape so it's hard to believe this is really going on because she had a lot of free time," Erika said.
Added Maribel Garcia, "They just seemed like a happy couple. That why it's hard for us to understand the situation. … She could've gone to the police station and said something. I just don't understand."
Regardless, police insist the woman was not a willing participant in the relationship and she told police she had no desire to have sex, get married or conceive a child.
"Sounds like she feared for her life," Bertagna said. "There's more ways to keep people down than just physically."
Asked about the neighbors' remarks that the woman should've fled or reached out to police sooner, Bertagna dismissed the idea and noted her age at the time of the alleged abduction.
"Where's she going to go?" he asked. "She's 15 years old. She's new here. She doesn't get it."
Ohio captive recalls being "punching bag"
Abused but alive: Lessons from survivors
CNN's Greg Botelho, Michael Martinez, Sara Sidner, Dana Ford and Mayra Cuevas contributed to this report. CNN was first alerted to the story via tweets from the Santa Ana Police Department.